By Anne Peters
A few years ago on a visit to the Scott County Museum in Georgetown, Ky., I turned a corner to face a large, impressive oil painting of a chestnut stallion in a landscape. It was unmistakably the work of artist Edward Troye (1808–1874) and no one needed to tell me who the horse was because I'd seen versions of this painting in books many times. It was Glencoe, one of the greatest horses ever brought to America.
Troye created the painting for his patron, Georgetown native A. Keene Richards, who bought Glencoe in August 1857, hoping for a few more foals by the old champion and to make the 26-year-old stallion's last years comfortable. Richards was one of the wealthiest men in Kentucky at the time and could afford to pay Frank Harper $3,000 for the aged horse. Unfortunately, a few weeks after the purchase Glencoe died, leaving behind a tremendous genetic legacy.
Glencoe was foaled in 1831 at Lord Jersey's Middleton Stoney Stud in Oxfordshire, England. An eye-filling golden chestnut, he was second only to Plenipotentiary in his generation, winning the Two Thousand Guineas, Goodwood Cup, and Ascot Gold Cup. Many of his victories were won "in a canter" and he was said to combine the brilliant speed of his sire Sultan with the great stamina of his dam's sire Tramp.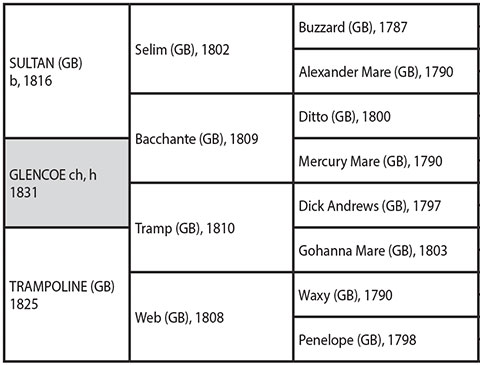 James Jackson, who owned the great plantation at Forks of Cypress, Ala., was in the market for a premier English bloodhorse. In early 1836, he acquired Glencoe for $10,000, on the condition from Lord Jersey that the horse made his first season in England. Glencoe covered mares at Dawley Wall Stud, then shipped to America, and bred a couple of mares at Forks of Cypress that fall, standing there until 1843. Jackson died in 1840, when his nephew, Thomas Kirkman, took over management of the horse, and he sent Glencoe to Tennessee for the 1844 season.
In 1848 Glencoe was sold to Frank Harper, who brought him to his farm near Spring Station, Woodford County, Ky., where he stood for many years. In 1857 Harper sold him to A. Keene Richards, and Glencoe made his last, short journey to Richards' Blue Grass Park near Georgetown.
Glencoe was an outstanding sire from the start. His single English crop included the stakes winners Darkness, Wardan, Vapour, and Glimpse; and the stakes-placed filly Pocahontas. There would be more from her later.
In America, Glencoe was the leading sire eight times between 1847 and 1858. His best runners included the champions Peytona, Charmer, and Reel, all great fillies, winning at upward of four-mile heats. His good sons included Pryor, Panic, Nicholas I, and Vandal. Oddly enough, Glencoe was known as "a notorious getter of fillies," with 370 fillies from 481 foals.
Although his son Star Davis sired the Kentucky Derby winner Day Star, only one son of Glencoe was considered a real stallion success, Vandal. He continued the male line through his son Virgil, the leading sire of 1885 and sire of three Kentucky Derby winners (Ben Ali, Hindoo, Vagrant). Virgil's son Hindoo sired the great champion Hanover, a four-time leading sire, plus Preakness winner Buddhist and the sire Jim Gore. Hanover sired Hamburg, leading sire in 1905, also Abe Frank (sire of Pan Zareta) and Blackstock, who carried on the male line to Wise Counsellor.
Glencoe's daughters outstripped their brothers, however, and he became one of the greatest of all broodmare sires.
The English filly, Pocahontas, set up a dynasty through her stallion sons Stockwell, Rataplan, and King Tom. Stockwell was the leading sire in England seven times, and a great broodmare sire. Through his son Doncaster his male line dominates the world today. King Tom was the leading sire twice and was another great broodmare sire.
In America, Glencoe's daughters became the most sought-after broodmares. Their progeny included a long list of American stars such as Lecomte, Starke, Prioress, War Dance, Kentucky, Asteroid, Norfolk, Brown Dick, Maiden, Lodi, Daniel Boone, Idlewild, Monarchist, Acrobat, Susan Beane, Colossus, Rhynodyne, La Polka, Joe Daniels, Bill Cheatham, Optimist, Thad Stevens, Sultana, Katie Pease, Hubbard, Merrill, and Fleetwing.
Most of this was far in the future when Keene Richards bought the aging Glencoe in the summer of 1857. After his arrival, Glencoe fell ill with colic and pneumonia but fought till the end. He died in the lavish brick stable at Blue Grass Park, which appears in the background of Troye's portrait. Richards buried Glencoe with honor in his garden under a great oak tree.
Although his portrait hangs in the museum in Georgetown, few know that somewhere up on the hill just west of town lies Glencoe, one of the most influential Thoroughbreds of all time.