Long before racing fans became acquainted with the brilliance of likely Kentucky Derby Presented by Yum Brands! (gr.I) favorite American Pharoah , J.B. and Kevin McKathan of McKathan Bros. Training Center near Ocala, Fla., recognized the vast potential of this supremely talented classic prospect.
A homebred for Ahmed Zayat's Zayat Stables, the son of Pioneerof the Nile arrived at the McKathans' facility after going through the ring—where his connections bought him back through Ingordo Bloodstock for $300,000—at Fasig-Tipton's 2013 Saratoga yearling sale.
American Pharoah stood out upon arrival in Central Florida, where he would begin his early conditioning before being sent to Hall of Fame trainer Bob Baffert. It didn't take long for the big bay colt out of the Yankee Gentleman mare Littleprincessemma to separate himself from the pack, even as a youngster going through his initial paces.
"Receiving him, he was a big, rugged, strong colt," said Kevin of a young American Pharoah. "He looked the part. Once he hit the racetrack, he was a different breed. He was the best horse on the farm all year. He was just by far the best horse there. And he's continued to be that in his racing career."
The champion 2-year-old male of 2014, American Pharoah was at the top of a strong class of Zayat Stables standouts being readied for the races by the McKathans last season. El Kabeir, who went on to capture the Gotham Stakes (gr. III), and Mr. Z , now a multiple grade I stakes-placed horse, also received their early lessons from the McKathans.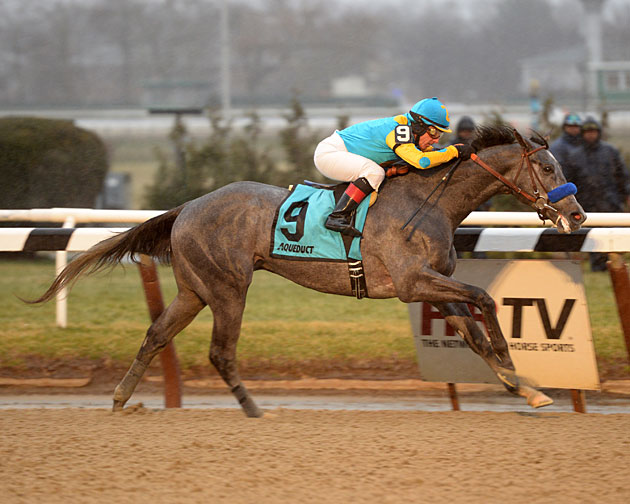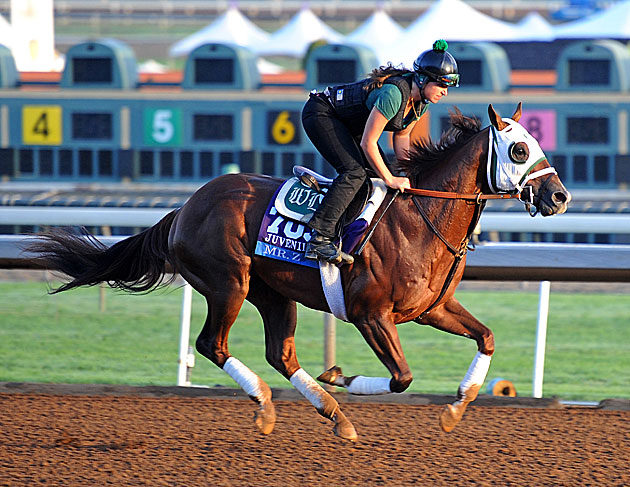 "American Pharoah was by far the standout at that time between those three really good horses," Kevin said. "He always did everything so easily."
Evidently, distinguishing himself from the herd has become a habit for American Pharoah, one his connections hope doesn't end any time soon.
American Pharoah tipped his hand as a 2 year-old. He dusted foes in the Del Mar Futurity (gr. I) and again in the FrontRunner Stakes (gr. I) at Santa Anita Park before being forced out of the Sentient Jet Breeders' Cup Juvenile (gr. I) with an issue in his left front foot.
A dominant eight-length winner of the $1 million Arkansas Derby (gr. I) in his most recent outing April 11, American Pharoah has made short work of his rivals in both of his 2015 starts and rides a four-race winning streak into the Kentucky Derby. His combined winning margin in those races was 22 1/4 lengths.
Prior to his exhibition in the Arkansas Derby, American Pharoah literally splashed his way to victory in the March 14 Rebel Stakes (gr. II). He won the traditional prep race for the Arkansas Derby by 6 1/4 lengths over a sloppy (sealed) racetrack, while springing a shoe in the race that was his first start since the 2014 FrontRunner last September.
The only blemish on American Pharoah's slate is a fifth-place finish in a maiden special weight at Del Mar in a troubled career debut, his only start outside of graded stakes company. All told, American Pharoah has bankrolled $1,411,500 in winning four of five lifetime starts.
While American Pharoah has yet to be tested in his four wins, Kevin is confident that there is much more to come from the patiently-handled Zayat Stables colobearer.
"I believe there is a lot to be seen from him," Kevin said. "Hopefully, he never gets tested. If everything goes perfectly, he won't be tested, but obviously he probably will be at some point. Right now, though, he's just cruising along like he has always done. Everything's been easy for him. He does everything without even trying. He's better than most without even trying."
The McKathans' feelings about American Pharoah were more than confirmed one morning last March.
"When we got him fit, Mr. Zayat came down and he brought his trainers with him. We put on a breeze show with just his horses," Kevin related. "There must have been 15 people in the stand that morning, and when American Pharoah came down the track in his breeze everyone went silent. He was just amazing. He worked so fast, and we always tried to make him go as easy as we could, but he always broke the stopwatch.
"J.B. told Mr. Zayat after that breeze that 'You have to get this horse off of our farm. This track is too small for this horse.' I told friends at the time 'You just have to see this horse. He's something else'.".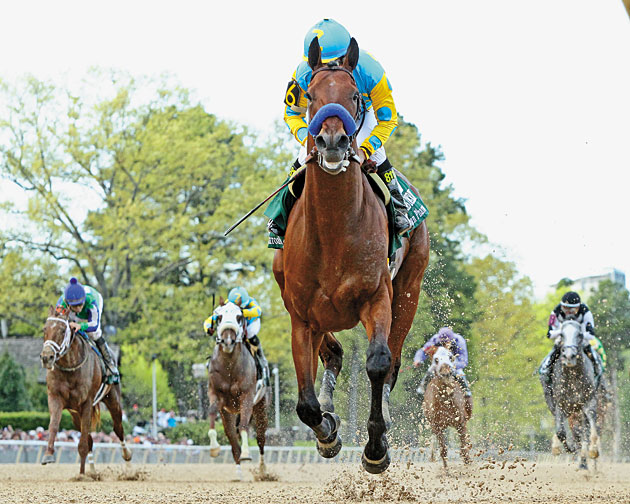 In addition to his gifted athleticism and his nose for the wire, American Pharoah is also known for his abnormally short tail. As for the mystery of how his tail got that way, Kevin offered little help.
"When he shipped to us out of the Saratoga sale, his tail was like that," Kevin said with a laugh. "He didn't get it chewed off at our place."
The McKathans are no strangers to success in the Kentucky Derby, having played a role in the development of two Kentucky Derby winners to date. They acquired 1997 Kentucky Derby winner Silver Charm privately as agents for Baffert when the gray son of Silver Buck was an unraced 2-year-old and started 1998 Kentucky Derby winner Real Quiet for owner Mike Pegram in the fall of 1996.
With the first Saturday in May fast approaching, the McKathans will seek to add yet another Derby winner to their stakes board. It appears that the brothers (as well as Zayat Stables) will have three starters in this year's race. Mr. Z, third to American Pharoah in the Arkansas Derby for Hall of Fame trainer D. Wayne Lukas, and El Kabeir, third in the TwinSpires.com Wood Memorial (gr. I) for trainer John Terranova II, both secured a spot in the starting gate alongside their more heralded classmate.
"I'm so excited," Kevin said. "It's just fun to be a part of it. Mr. Zayat plays the game hard, and he buys good horses to give himself every opportunity. I would be proud if he can win one. He deserves it."