When breeder Emilie Gerlinde Fojan looks at Kentucky Derby Presented by Yum! Brands (gr. I) hopeful Dortmund , she sees the athleticism of 2008 Derby winner Big Brown . When breeder Robert Munfuso looks at International Star, he sees some of the considerable talents of 2000 Derby victor Fusaichi Pegasus .
Those breeders join the other connections of Ken and Sarah Ramsey's International Star, Kaleem Shah's Dortmund, and DP Racing's Ocho Ocho Ocho, by Street Sense , in hoping this year's Kentucky Derby proves to be a "like father, like son" story.
In a sport where bloodlines reign, it's a bit surprising that a son or daughter of a Derby winner has not won the Derby since 1996 victor Grindstone, a son of1990 winner Unbridled. This year Louisiana Derby (gr. II) winner International Star and Santa Anita Derby (gr. I) victor Dortmund will try to add their sires to the list of Derby winners who have sired Derby winners.
Manfuso noted that when you send a mare to a Derby winner, that stallion's win under the Twin Spires usually is somewhere in your head.
"You always remember each of those Derby winners; each one of them is special," said Manfuso, who bred International Star with long-time companion Katy Voss. Voss and Manfuso own Chanceland Farm near New Freedom, Md., although International Star is a New York-bred who was born at Berkshire Stud near Pine Plains, N.Y. before moving to Chanceland for early training.
Fojan, whose Bona Terra Stud—formerly owned by George Brunacini—is the breeder of grade I winner and 2005 Derby starter Flower Alley, recalls being thrilled by the Derby victory of Big Brown.
"I loved Big Brown so much. I know there was a lot of drama around the horse, but the horse himself, he was unbelievable," Fojan said, referencing the controversy that would develop during Big Brown's Triple Crown run over the then-legal use of anabolic steroids. "He was an undefeated Derby winner; you have to love horses like that. The turmoil that surrounded him was not fair to the horse. If you're good, you're good."
In sending his winning French Deputy mare Parlez to Fusaichi Pegasus, Manfuso said he liked the talents of the classic winner and the talents of the Fusaichi Pegasus foals.
"I always thought that 'Fuzi' was underrated as a stallion," Manfuso said. "I loved his ability on the track and I think a lot of his runners have been underrated. He's had some nice horses."
While Parlez had not been sent to Fusaichi Pegasus, by Mr. Prospector, until the mating that produced International Star, she had previously produced three winners, including stakes winners Fools in Love and D C Dancer, in matings with Not For Love, also a son of Mr. Prospector.
"The mare had produced some solid runners by Mr. Prospector stallions. Those foals had run well," Manfuso said, adding that Parlez was sent back to Fusaichi Pegasus this year. "We couldn't resist trying for a full sibling to International Star after his success on the track."
Fojan said Dortmund's stakes-winning dam Our Josephina is 17 hands tall and she didn't want to venture a guess at her weight. In short, the mare is big, and Fojan was hoping for a smaller foal when she sent her to Big Brown.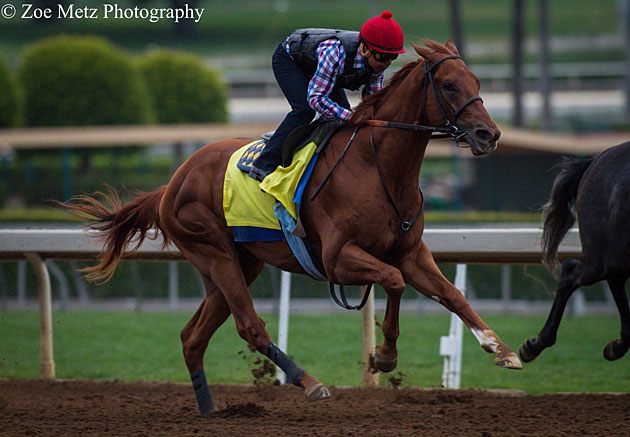 "She's large and she'd always had large babies; I was hoping to refine that some. I was searching for a refined baby and instead I got a horse who's bigger than she is," Fojan said with a laugh.
While Big Brown, by Boundary, did not help give Our Josephina a smaller foal, Fojan believes he did help Our Josephina produce a foal who carries that size well.
"I just loved the way Big Brown moved, he was so light on his feet, light as a feather," Fojan said. "Dortmund is big but he's so smooth and fast; his motion is light. Our Josephina was a nice runner but she was hard on herself, hard on her knees. Dortmund does everything so smoothly; he can work :58 and it looks like he's not moving. The first time I saw him work like that, I couldn't believe he was going that fast."
Dortmund is Our Josephina's first stakes winner. She has produced three other winners, including Joseph the Catfish who gained some notoriety when in his career debut he bolted, dropped his rider, and exited Turfway Park for a run around the neighborhood before being corralled just before approaching a busy interstate.
Fojan, who breeds 20 to 25 mares a year, said Our Josephina is a very calm mare and she said Dortmund has a similar personality. She thinks Dortmund has inherited the mare's size and personality with some added athleticism from Big Brown.
"I've loved Big Brown from the start. That first year was a bit expensive for me, but since then I've sent mares to him and we have quite a few nice Big Brown babies," Fojan said. "He was so tenacious but the way he moved was light as a feather."
Manfuso will watch the Derby with friends in Maryland. Fojan will join owner Shah and the other Dortmund connections at Churchill for the walk from the backstretch to the paddock before the Derby.
"It's been a dream to make that walk with one of my own babies," Fojan said. "I wouldn't miss that moment. I'm going to take my walking shoes and I know that when I'm with him, I'm going to be thinking back to that first moment when he stood up and I knew he'd be all right, and I'll remember how quickly he progressed from there."
Derby winners who sired Derby winners
1990 winner Unbridled sired 1996 winner Grindstone
1977 winner Seattle Slew sired 1984 winner Swale
1955 winner Swaps sired 1963 winner Chateaugay
1954 winner Determine sired 1962 winner Decidedly
1949 winner Ponder sired 1956 winner Needles
1944 winner Pensive sired 1949 winner Ponder
1943 winner Count Fleet sired 1951 winner Count Turf
1936 winner Bold Venture sired 1946 winner Assault & 1950 winner Middleground
1930 winner Gallant Fox sired 1935 winner Omaha
1928 winner Reigh Count sired 1943 winner Count Fleet
1926 winner Bubbling Over sired 1932 winner Burgoo King
1895 winner Halma sired 1902 winner Alan-a-Dale