Jockey Victor Espinoza admits he's a lucky man.
Fresh off a win in the 2014 Kentucky Derby Presented by Yum! Brands (gr. I) aboard California Chrome , Espinoza is back as the rider of American Pharoah , the likely favorite for the 2015 Run for the Roses.
"I'm a very lucky Mexican," joked Espinoza, who was born in Tulancingo, Mexico.
Espinoza will try to become the sixth jockey to win back-to-back runnings of the Derby and the first since Calvin Borel won the 2009 and 2010 Derby with Mine That Bird and Super Saver .
"I never thought I'd be in this situation again, back to back," said Espinoza, who turns 43 on May 23. "Every year I come here I think I'm going to do my best and enjoy myself because this might be the last year and for this to happen again a year later I'm ready for it."
Espinoza has won the Derby twice in his career, also taking the 2002 edition aboard War Emblem for trainer Bob Baffert, who trains American Pharoah.
"I think I always feel more confident when it's close like last year to this year," Espinoza said. "Last year it was over a decade from the time before (when War Emblem won). But this year for me it seems it's just like a routine. I'm excited and confident. I am very excited for this Derby, especially now that I am riding American Pharoah. I have always been high on American Pharoah. The first time I rode him, I knew he was special."
Jockey Martin Garcia rode American Pharoah in his debut on Aug. 9 at Del Mar, where the Zayat Stables homebred suffered his lone defeat, finishing fifth.
In his next start, American Pharoah was entered in the Del Mar Futurity (gr. I) on Sept. 3 and Garcia rode Holiday Camp in the race, freeing up the mount on American Pharoah for Espinoza, who rode the colt to an easy 4 3/4-length victory.
"Baffert told me to put him on the lead and that's all I did and I never looked back," Espinoza said. "It was the only time I ever hit him (with the whip) and it was amazing. I think it was the first horse I ever rode to break his maiden in a grade I race."
When asked if he could compare American Pharoah to California Chrome, Espinoza said they're different.
"There's no comparison between the two," Espinoza said. "They are different horses. It's hard for me to compare them. They're all different. They have completely different bodies. The way they move on the ground is different. Everything is different. American Pharoah is more stronger, wider, thicker and California Chrome was more lean, narrow. California Chrome always likes to bite and nip. American Pharoah is all about being focused."
And focused is what Espinoza will be for the $2 million Derby.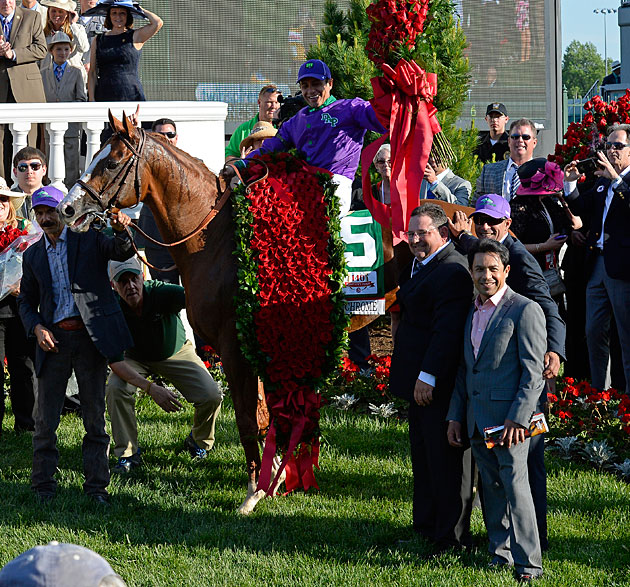 "There is always pressure, but in a way that it's a good thing," Espinoza said. "I will be 100 percent ready. I pay attention to my job. Really, I think pressure makes me a better rider. I have heard all the people talking about him and that is a good thing. I will be 100 percent ready, believe me. A little pressure makes me a better rider and I do things better."
The jockey is just hoping to avoid traffic on Saturday.
"Like everyone else in the race, I am going to try and get as clean a trip as possible," Espinoza said. "It's not going to be easy, but it's never easy when there are 20 horses in the field. He is a very kind horse, not a difficult horse to ride at all."
American Pharoah hasn't lost since Espinoza started riding him, winning four in a row, and the colt was named the 2-year-old champion of 2014 despite not starting in the Sentient Jet Breeders' Cup Juvenile (gr. I) when sidelined with a left front injury.
He returned to the races this year in the March 14 Rebel Stakes (gr. II), winning by 6 1/4 lengths before scoring by 8 lengths in the Arkansas Derby (gr. I) on April 11.
"When he came back after the injury I was very impressed," the jockey said. "He had everything against him (in the Rebel) but he just loves to run. And now he is back to normal. I have ridden a lot of good horses in my career, but sitting on him, it's like you are sitting in a jet."