Second Season Begins For 3-Year-Olds
by Steve Haskin
Date Posted: 8/3/2002 9:36:01 AM
Last Updated: 8/4/2002 3:20:00 PM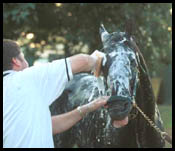 War Emblem is bathed by groom Roberto Luna at Monmouth Park earlier this week.
Photo: AP/Bill Denver

Although the Swaps Stakes at Hollywood Park has already started up racing's second season for 3-year-olds, the winner, Came Home, apparently is heading toward shorter races and will not try the top-class colts in the big events. That leaves Kentucky Derby and Preakness winner War Emblem as the horse to catch for championship honors.Tomorrow, many of the 3-year-olds competing in the Haskell Invitational and Jim Dandy will attempt to catch their second wind and make a strong run to the Breeders' Cup. War Emblem will head back to California after the Haskell and point for the Pacific Classic against older horses, none of which has yet attained the status of Eastern horses like Street Cry, Lido Palace, and Left Bank, who run in today's Whitney Handicap. That leaves an opportunity open for someone to knock off War Emblem in the Haskell, then go on and win the Travers, putting himself right in the thick of the championship race. Or a victory by Medaglia d'Oro in the Jim Dandy and Travers, added to his earlier top efforts in the big spring races, would put him right in the thick of it as well. But he still likely would have top knock off War Emblem somewhere down the road.All of which brings us to tomorrow's two races. The main question is whether War Emblem is a mortal lock, being the only apparent speed in the Haskell, or vulnerable, coming off an eight-week layoff; a poor, but unlucky, performance in the Belmont Stakes; and having to concede from six to 10 pounds to his opponents. Another factor is the heat that trainer Bob Baffert had feared when he first decided to pass the Haskell. That heat is here in full blast, with temperatures hitting 100 degrees Friday in many areas of New Jersey, and not much relief in sight.On paper, War Emblem, if he's the same horse we saw in April and May, should still rule the front end and run his opponents into the ground. But for betting purposes, this certainly is the time you might want to look for a potential upsetter. Magic Weisner, winner of the Ohio Derby and a fast-closing second in the Preakness, is the likely second choice, but just ran two weeks ago and loses his regular rider Richard Migliore. Island Skipper and Peekskill look to be outclassed, and at this writing, we still don't know where Easyfromthegitgo is going. That leaves Mr. Mellon, Puck, and Like a Hero as the most likely to pull off the upset.Puck has a victory over the track in the Long Branch Breeders' Cup, which gives him an edge, as Long Branch horses have come back and run well in the Haskell in the past. He is a big, strong horse who seems to be getting good at the right time. It's just a question of whether he has the class to defeat this caliber of competition.Like a Hero is another who has to be feared, especially pulling nine pounds from War Emblem. He made a strong run at Came Home in the Swaps, his first start since the Belmont, and ran on well in the final furlong as if there are better things to come. Being by Pleasant Colony, he should only now be reaching his peak. Also, Laffit Pincay flies in for the ride, and whenever Pincay journeys east, you know he feels he has a good chance to win.Finally, we have Mr. Mellon, who at 12-1 on the morning line could be a big overlay, and is the horse we would take a chance on to knock off the favorite. The $950,000 yearling purchase is a beautifully made colt, loaded with top-class Rokeby Stable bloodlines, who closely resembles Rokeby's Kentucky Derby winner Sea Hero. His earlier two dirt races in a Gulfstream allowance race and the Rushaway Stakes were very impressive, and he's coming off a brilliant score in the Arlington Classic, which gives him the grass-to-dirt angle that many handicappers like to see. Again, there's the question of class, but we were extremely impressed with the acceleration he showed in the Arlington Classic to run down a horse who was running a winning race. He also gets Pat Day, who teamed up with his trainer Elliott Walden to win the 1999 Haskell with Menifee.So, in short, if you like War Emblem, you can put him on top of the three aforementioned horses and still hope for a decent exacta price, or you can try to beat the favorite. Although any of the three has a decent shot at a price, we'll go with Mr. Mellon at the price, mainly because of rapid-fire acceleration, the grass-to-dirt angle, and his connections.As for the Jim Dandy, they all have to beat Medaglia d'Oro, who ran a super race in the Belmont Stakes, and who can adapt to any kind of scenario. The one horse who intrigues us is Quest, winner of his last two starts for Nick Zito. This a very promising colt who has shown a lot of professionalism, and who has made great strides in the last two months. Zito's other entry, Nothing flat, is a powerful closer with no early speed and would need a strong pace to pick up horses at the end. Not knowing where Easyfromthegitgo is running, we'll just say this hard-knocking colt can finish in the money in either race, but we're not quite sure if he's good enough to win either one. Obviously, he'd have a better shot in the Jim Dandy. The big question mark is Iron Deputy, who has not run since Jan. 2, yet still lured Migliore away from Magic Weisner and a $1 million purse. So, obviously The Mig is very high on him.



Copyright © 2015 The Blood-Horse, Inc. All Rights Reserved.