"He is the ultimate horseman. You look up 'trainer' in the dictionary and his picture is right there." — Bret Jones
The late Hall of Fame trainer Woody Stephens won the Kentucky Oaks (gr. I) a record five times.
Trainer Todd Pletcher has won the Oaks three times and has two fillies for the May 1 test.
But trainer Larry Jones is the man currently most synonymous with the sister race for the Kentucky Derby Presented by Yum! Brands (gr. I), and this year he holds a pocket pair for candidates for the $1 million test.

On May 1, the 58-year-old horseman from Hopkinsville, Ky., will saddle former Kentucky Gov. Brereton C. Jones' Lovely Maria, who will break from post 7 under veteran rider Kerwin Clark, and Fletcher and Carolyn Gray's homebred I'm a Chatterbox, who drew post 8 and will be ridden by Florent Geroux.

I'm a Chatterbox is the co-second choice on the Oaks' morning line at 4-1 while Lovely Maria is the 5-1 third choice.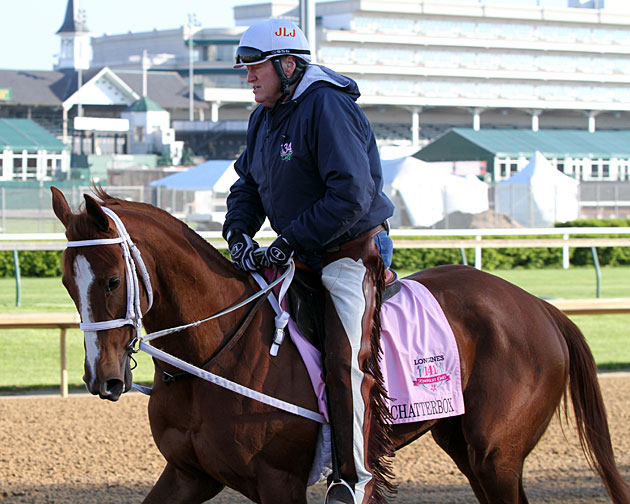 While the attitude has been loose and fun around Barn 43 at Churchill Downs leading up to the 2015 Oaks, the stable run by the trainer with the white cowboy hat has seen its share of adversity over the last several years.
A day after winning his first Oaks with Brereton Jones' Proud Spell in 2008—they also teamed with Believe You Can in 2012—Larry Jones saddled the filly Eight Belles, who broke down just past the wire after finishing second to Big Brown in the Derby.
The loss was devastating to the barn, but Jones and his wife, Cindy, dusted themselves off and came back to Churchill Downs the following year with the favorite. Fresian Fire, however, had a rough trip and finished next to last.

Burnt out, by November 2009 Jones announced he was retiring, turning the duties over to Cindy. But that plan was short-lived, and he returned in 2011 to run the shedrow, albeit with a greatly-reduced stable. That year, he conditioned 2011 Horse of the Year Havre de Grace for Rick Porter.

Then last season Jones—who serves as exercise rider as well—suffered two fractured ribs, a bruised lung, and bleeding on the brain following a spill while training at Delaware Park. A 2-year-old spooked on the track, throwing the trainer, who landed on his head. Thankfully surgery was not required.

"My whole world was really dizzy. That was the biggest thing bothering me—the constant swirling of the world," Jones recalled. "And I just had no energy level. It was all I could do, to go from the bed to eat lunch, to go to the recliner. That was my day's work.

"It took about five weeks before I could do the little things. I mowed my yard and found out, if I decided to run away from home, I didn't have to walk. I could ride my lawnmower," he joked.

Today, with a manageable stable of approximately 30 horses since his return, and maintaining his circuit between New Orleans in the winter, Kentucky, and Delaware Park in the summer, Jones has had extraordinary success.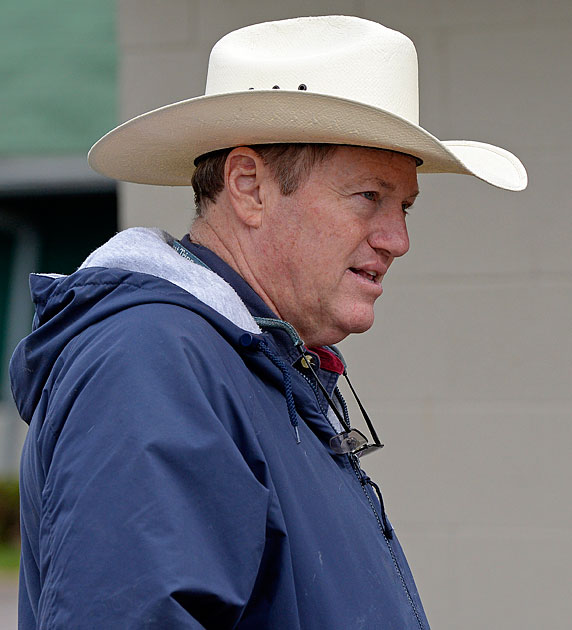 "Right now, everything is OK, but I still don't have the energy level I once did. But I think that is because people are telling me I'm getting old," Jones said, delivering his homespun smile.

"I'm starting to think age is as much a problem as the injury. I notice all the confusion, the loudness around Derby time now. It's really causing me to get a headache. Also, I've got no 'multi-task.' I've got to concentrate on what I'm doing more."

Jones' horsemanship is well respected throughout the backstretch at tracks across the country.

"He's a tremendous horseman and has a great natural touch," said John Asher, vice president of racing communications for Churchill Downs. "He started not as a horse farmer, but as a farmer, and then develops an interest in the game and comes in and drives to the highest level."

For the Record
Jones has sent out 4,881 runners in his career, winning 953 times (20%). He has a fantastic record in graded stakes: 60 wins from 247 starts, good for 24%. But it wasn't always that good.

"Back before he won Kentucky Oaks and had horses in the Derby, it wasn't too many years ago that we told him his horses weren't good enough to run here and he needed to go somewhere else," Asher said. "That was when he was scrapping and was up-and-coming in the game. The best thing about Larry is his attitude and he said those comments helped him get better."

While Proud Spell was his first Oaks winner, Jones came close to winning the Oaks with his first starter, Island Sand in 2004. The 16-1 shot ran second to eventual Hall of Famer Ashado. Island Sand would go on to be his first grade I winner, taking the Acorn Stakes (gr. I) later that summer at Belmont Park.

In 2007, the trainer came to Churchill with Hard Spun for the Derby and they ran second to Street Sense . Hard Spun would go on to run third in the Preakness Stakes (gr. I) and second to Curlin in the Breeders' Cup Classic (gr. I).

Then came the Eight Belles debacle. Despite a sea of unfair criticism, Jones remained true to himself. When others may have shied from the scrutiny, he took it head on, defending his stable and his reputation.

"I don't think there's ever been a measure of what Larry Jones is then what happened after the 2008 Derby," Asher said. "I've tried to put myself in his shoes and think how I would have reacted... you can't put it into words. I wouldn't have wanted to talk to anybody in the world for days. He came over to the press box and answered every question with dignity and sincerity, and with incredible composure. It takes a special person to do that. I don't know if I've ever been more impressed with anything in my time covering the Kentucky Derby."

Jones' character is etched in stone. His reputation today stems from his work with fillies with a pair of Oaks wins and conditioning a female Horse of the Year. He said his stable is two-thirds fillies, but only because "That's what they send me."

Jones' services are hard to come by. Just ask the Grays, who have been able to procure just one stall with Larry Jones. They make the most of it. From a limited number of broodmares on their farm in Missouri, the Grays have bred champions Left Bank and Stardom Bound.

Handing Jones horses they've been unable to sell commercially, they've watched him spin straw into gold, developing three stakes winners from four horses.

"Larry usually bails us out," Fletcher said. "We wind up with something we can't sell and Larry figures out how to make a stakes winner out of it. He's the best in the country."

Jones and the Grays were introduced through a mutual friend.

"Fletcher called me and said, 'I want to send you a horse,'" Jones said. "Do I have to call Cindy to get my stall or are you going to let me have it? So that's how we got Chatterbox. They've always got one stall."

I'm a Chatterbox, by first-crop sire Munnings out of Chit Chatter, by Lost Soldier, came to Jones from trainer Ken McPeek as 2014 rolled in 2015. In three starts at Jones' winter quarters in New Orleans, the filly swept the three sophomore filly stakes at Fair Grounds Race Course & Slots.

About 40% of his stable is taken by Brereton Jones and Airdrie.

"Basically he sends me what he thinks are going to be route horses," the trainer said. "I'm trying to get the classic distances, but I'll take whatever he sends us. If he puts a halter on them, I'll train them."

Lovely Maria, from the first crop of Airdrie stallion Majesticperfection , won the 1 1/16-mile Central Bank Ashland Stakes (gr. I) at Keeneland in her final Oaks prep. On Feb. 21 she ran second to I'm a Chatterbox in the Rachel Alexandra Stakes (gr. II) in New Orleans.

On April 26, Lovely Maria drilled five furlongs in :59 3/5, second only to Kentucky Derby favorite American Pharoah on the morning. I'm a Chatterbox went in 1:01. They walked the shedrow the following day and returned to the track—being galloped a mile by Jones—April 28.

"They were both eager to go about their work. We shortened it up and wanted to get the 'feel-good' back in them," he said. "They realize they have a race coming up."

The Ultimate Horseman
"(Larry and Cindy) figure out how to keep the horses happy," Carolyn Gray said. "Larry gets them into shape and if they have the ability, they run. He and Cindy are so passionate about their horses. The barn's happy. It is just a good environment.

"They are serious about it but they have a good time," she said. "There's no drama."

"He is the ultimate horseman," said Bret Jones, Brereton Jones' son. 'You look up 'trainer' in the dictionary and his picture is right there. It's amazing the run he gets out of the horses. He understands them. He keeps his numbers to where he knows every hair on every horse and it's a huge advantage.

"We'd talk to him every 30 minutes if we didn't think we'd drive him crazy. We love talking to him. It's kind of cliché, but we do have that 'family' relationship. Its special to win races with people you love."

Larry Jones has been with Gov. Jones his Airdrie Stud horses for years.

"While I was serving as governor (for the state of Kentucky, 1991-95), I wasn't as active with the horses," Gov. Jones said. "I had a horse I felt like I needed to get rid of. Somehow Larry got his hands on the horse and I thought to myself 'poor Larry.' The next year I saw in the Racing Form that the horse won pretty impressively. I wanted to meet him. When I did I told him, 'You might have shown me you're the best trainer in the world to be able to get that filly to win.'

"He gave me the normal smile. I asked him if he'd take a horse or two from me train. He said 'sure.' I was busy being governor and forgot about that. When I finished my term I was thinking of coming back to my roots with the horses. I found Larry and called him and asked if he was still willing to take a horse from me. He said, 'Well, I just figured you were one of those politicians. You said you were going to call me, but you didn't.'"

The Jones duo has been on a roll since.

"He makes the right things happen," Gov. Jones said.

And the right thing may happen again late Friday afternoon.