Judge horse racing's sophomore class of 2015 in human terms, and American Pharoah and Dortmund are your varsity athletes.
Talented and accomplished, they get letterman jackets and make headlines, overshadowing classmates with their natural ability. Headed into the May 16 Xpressbet Preakness Stakes (gr. I) for Hall of Fame trainer Bob Baffert off a one-three finish in the May 2 Kentucky Derby Presented by Yum! Brands (gr. I), these are the cool kids.
Then there's Derby runner-up Firing Line , Arnold Zetcher's Sunland Derby (gr. III) winner who grew up with a more modest background but kept on trying, putting in the time, until a breakout performance made folks take notice. He's the solid performer, not quite a superstar just yet, but you can see the potential simmering below the surface for trainer Simon Callaghan. Last time out, the Line of David colt made American Pharoah fight for the money.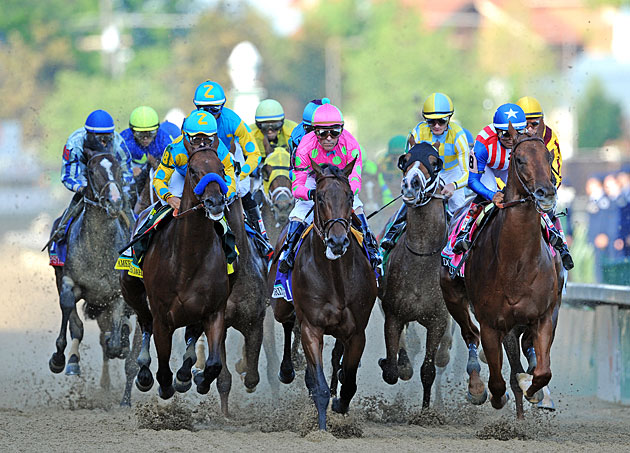 And then there's Mr. Z.
Mr. Z is the troubled one of the bunch—the kid who throws baseballs through windows instead of pitching toward home plate, whose focus often seems to wander, the wild-card player who barely made the team, whose connections had to pull strings just to keep him out of juvie.
Hall of Fame trainer D. Wayne Lukas has kept him running in tough company, picking up checks with mostly on-the-board results. And though you trace back to his first of 13 starts last June to find the Malibu Moon colt's one and only win, something about him was enough for Brad Kelley of Calumet Farm to buy the colt from Zayat Stables in an 11th-hour deal just so he could start in the Preakness.
Come Sunday, Mr. Z may be just an also-ran, another footnote on the Preakness chart. But until then, he's an enigma. And that's OK with Lukas.
"I'm in the business to win races, I'm in the business to run," said the 79-year-old conditioner, who last sent Mr. Z to a troubled 13th in the Derby. "People say I'm not realistic, but I've made a living running where I don't belong, (and) we've got a horse who is doing very good right now."
LAMARRA: Was Scenic Van Ride the Ticket for Mr. Z?
They load into the gate this Saturday for the 140th running of the Maryland classic, 1 3/16ths of a mile around the dirt surface at Pimlico Race Course with American Pharoah the one to beat from post 1, Dortmund and Mr. Z beside him in 2 and 3, respectively, and Firing Line on the far outside. With a scheduled post time of 6:18 p.m. EDT, Triple Crown hopes are on the line.
MITCHELL: Backside Quiet on Preakness Day
"I think it's going be very competitive. Those big three are going to be very tough again," Baffert said.
There are four other contenders—Coolmore Lexington (gr. III) winner Divining Rod ; Danzig Moon off a fifth in the Derby; Federico Tesio winner Bodhisattva, the only one in the field to have won at Pimlico, and recent maiden winner Tale of Verve. But in the leadup to the Preakness, that quartet has been overshadowed by the top trio and the wildcard contender.
American Pharoah, a Pioneerof the Nile homebred who comes in off a one-length Derby score on a five-race win streak for Zayat Stables, continues to impress in the mornings with strong gallops and his efortless way of moving. Tested for the first time on the first Saturday in May, he could be the sixth Preakness winner for Baffert, who last won with Lookin At Lucky in 2010.
"It's hard to really gauge the Derby. A lot of horses were struggling that day," Baffert said. "I don't really think Dortmund brought his A-game and Pharoah probably didn't bring his Super-A game, but they look really good. It looked like they came out of the race really well.
"American Pharoah hadn't had a hard race. It had me a little bit concerned coming to the quarter-pole. I thought maybe he wasn't running, he was struggling a little bit, and still wasn't really responding. He didn't look like a tired horse. I don't know if it was the crowd noise or what.
"A lot of it was that Firing Line was really running hard. Dortmund is a good horse and Firing Line was digging in and running hard and not giving up. It was just a great horse race the last quarter."
According to Baffert, both American Pharoah and Dortmund—a son of 2008 Kentucky Derby winner Big Brown who races for Kaleem Shah—wheel back into the Preakness two weeks after the Derby without signs of wear.
"They look healthy and bright, in top condition," the trainer said. "There is no regressing there. It looks like they are coming up to another big race."
NBC telecasts the Preakness beginning at 4:30 p.m. EDT, while coverage of the undercard races is on NBCSN from 2:30 to 4:30 p.m.. The Preakness is the 13th race on a 14-race card that begins with a first post of 10:30 a.m.
There is a 50% chance of thunderstorms Saturday afternoon, with a high of 84 degrees forecast for the Baltimore area.
Pimlico Race Course, Saturday, May 16, 2015, Race 13
Grade I
1 3/16m
Dirt
$1,500,000
3 yo
6:18 PM (local)