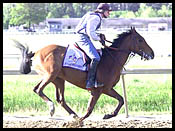 Classic Contenders' Puck, winner of the Long Branch Breeders' Cup Stakes (gr. III) at Monmouth on July 13, had his final Haskell blowout Wednesday morning when he breezed a half-mile in :48 2/5, with steady splits of :12 2/5, :12, :12, and :12.

"He was on cruise control," said Juan Duarte Arias, assistant to trainer Bill White and exercise rider for the gray colt. "He can do 12's all day when he's going like that."

Work watchers agreed with that assessment. Monmouth clocker Tyrone Artis said, "The rider was standing up all the way. He could have worked in :46 or better if he wanted."

"He would have gone :45, :44 if I asked," Arias said. "But Bill wanted him to do a half in about :49, so that's what I tried to do. I couldn't hold him back much more than I did. I had him out in the middle of the track and he went as slow as he could.

"He came back fine and cooled out perfectly," Arias said. "I don't care who else is coming, he's ready for anything."

White, vacationing with his family in the Florida Keys, said, "Juan was really enthusiastic about the work. He has a great sense of pace and told me the horse could have done much more.

"The way he worked," White said, "indicates to me he's really good right now."

He will carry 117 pounds in the Haskell, with Cornelio Velasquez back aboard. White is due at Monmouth on Saturday afternoon.

Puck has become the "local" horse because he's been on the Monmouth grounds ever since he won the Long Branch three weeks ago. He's been stabled in the John Forbes barn, where Arias' brother, Gus Duarte, is an assistant. Juan uses his full name, Juan Duarte Arias and rode under the name Juan Arias. Brother Gus uses Duarte as his last name.

Juan is not related to trainer Juan Arias, who saddled Canonero II to win the Kentucky Derby and Preakness Stakes in 1971.

With entries closing Thursday, a field of at least seven is in prospect for the Haskell. The Thoroughbred Corp's War Emblem, topweight at 124 pounds, was due in Wednesday afternoon after a flight from California. He will be ridden by Victor Espinoza.

Also expected are Nancy Alberts' Magic Weisner, 118, Richard Migliore; Winstar Farm and Thomas Van Meter's Mr. Mellon, 118, Pat Day; Columbine Stable's Like a Hero, 115, Laffit Pincay Jr.; Golden Age Stable's Island Skipper, 114, Jose A. Rivera 2nd, and Diane and Guy Snowden's Peekskill, 114, Jose Santos. Cassels & Zollars' Easyfromthegitgo, 116, remains a possibility.