The drought is over. After 37 years, American racing has a Triple Crown champion in American Pharoah , who won his laurels with an emphatic front-running score in the Belmont Stakes presented by DraftKings (gr. I). Along the way he proved that stamina can come from either side in a pedigree, reversing the usual American pattern of speed over stamina. He also became a link connecting the future of American breeding with some of the Triple Crown champions of the past.
With his son's victory, Pioneerof the Nile became the first living sire of a Triple Crown winner since Affirmed's sire Exclusive Native died in 1983. He also became a potential gold mine for Ahmed Zayat, who retained a 75% interest in his homebred stallion when the horse retired to Vinery (he now stands at WinStar Farm). The 9-year-old son of 2003 Belmont Stakes winner Empire Maker currently stands for $60,000 but will probably stand for substantially more in 2016.
Pioneerof the Nile fits into the general profile of horses that have sired Triple Crown winners. Of the 11 previous stallions to do so, seven were 10 or younger at the time their champion sons were conceived. Eight of the 11 won races that are the equivalent of grade/group I races, and the remaining three—Star Shoot, Bold Reasoning, and Exclusive Native—were not far off that level in racing careers hampered by physical issues. Of those that did win races at the top level, all did so at 3 or older and, excepting Bull Lea, either won or placed in races considered classics in their countries of origin.
The dams of Triple Crown winners have been more of a mixed bag, but like American Pharoah's dam Littleprincessemma, most were young and not particularly accomplished on the racetrack. The best runner in the group was Omaha's dam Flambino, winner of the 1927 Gazelle Stakes and third in the Belmont Stakes and the Coaching Club American Oaks. My Charmer, dam of Seattle Slew, won the 1972 Fair Grounds Oaks, and the rest ranged from the hard-knocking Quickly, dam of Count Fleet, to mares that either never started or never won. Seven were 10 or younger when their champions were foaled, but Somethingroyal produced Secretariat at age 18, and Lady Sterling was 17 when Sir Barton came along.
If history is any guide, Littleprincessemma has a good chance of coming up with another good runner, though her chances of producing an equal to American Pharoah are slim. Of the younger mares who produced Triple Crown winners as one of their first four foals, four of the seven later produced at least one more major stakes winner. Of the other four mares who produced Triple Crown winners as older matrons, three had already produced high-class runners; the exception was Won't Tell You, who produced Affirmed as her seventh foal and came up with two minor stakes winners after him.
All great horses owe their heritage to those who have gone before them, and American Pharoah is no exception, as four previous American Triple Crown winners make appearances in his pedigree. While all are far enough removed in generations that their influence on his makeup is open to debate, tracing the lines of descent is still interesting.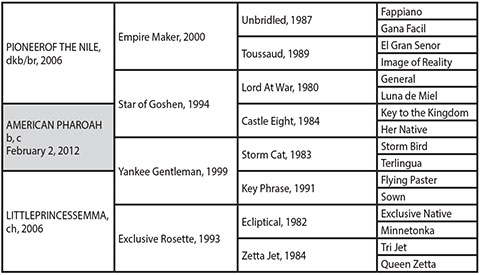 Gallant Fox, the 1930 Triple Crown winner, is the earliest of these ancestors, appearing in the ninth generation. While the "Fox of Belair" sired Omaha, the 1935 Triple Crown winner, his place in American Pharoah's ancestry is through Omaha's full brother Flares, winner of the 1937 Champion Stakes and 1938 Ascot Gold Cup.
As a late-maturing stayer, Flares was not an attractive stud prospect for the American market and eventually ended up in Canada, where he sired 1952 Queen's Plate winner Epigram. But before leaving the United States, he sired Chop Chop, who also went to Canada and became a five-time leading sire there. Among his foals was Shining Sun, who produced 1970 Canadian Oaks winner South Ocean to the cover of 1959 Canadian Triple Crown winner New Providence. Bred to Northern Dancer, South Ocean produced 1980 English champion 2-year-old male Storm Bird, whose great sire son Storm Cat sired Yankee Gentleman, broodmare sire of American Pharoah.
Storm Cat is also the connecting link to 1973 Triple Crown winner Secretariat (a fifth-generation ancestor of American Pharoah) through his dam Terlingua, one of Secretariat's best racing daughters. Terlingua inherited her sire's powerful hindquarters, long hip, and strong hind leg, and she stamped these characteristics on her son along with the prepotent speed of her dam Crimson Saint. Storm Cat, in turn, tended to pass these traits on consistently, making mares from his line a good complement for more stamina-oriented sires with less power behind the saddle.
Count Fleet, the 1943 Triple Crown champion, makes two appearances in American Pharoah's pedigree, both in the eighth generation. The first is through his stakes-winning daughter Sequence. Produced from 1942 Kentucky Oaks winner Miss Dogwood, Sequence in her turn produced the tough Nashua mare Gold Digger, dam of American Pharoah's direct male ancestor Mr. Prospector. The other strain is through his daughter Happy Go Fleet, dam of the speedy Fleet Nasrullah, who sired the important California stallion Gummo. Gummo, in turn, sired Spectacular Bid's talented rival Flying Paster, whose grade I-winning daughter Key Phrase produced Yankee Gentleman.
Finally, there is 1937 Triple Crown winner War Admiral, who may be the most influential stallion of all the Triple Crown champions. While the male line of the little brown son of Man o' War did not persist, his daughters spread his genes with such effect that he appears eight times in American Pharoah's pedigree at the seventh through ninth removes—seven times on the sire's side and once on the dam's.
The great producer Toussaud, dam of American Pharoah's grandsire Empire Maker, carries three of those crosses. Two are through her sire El Gran Senor, whose dam Sex Appeal is inbred 3x4 to War Admiral through Busanda (the dam of her sire Buckpasser) and Mr. Busher (the sire of her second dam, Stolen Hour). Both high-class stakes winners, Busanda and Mr. Busher were closely related as their dams were daughters of La Troienne, and this cross of War Admiral to the family of La Troienne has proved a fountain of speed and class in American breeding. The third War Admiral cross in Toussaud's pedigree comes through the Admiral's stakes-winning daughter Iron Maiden, whose Beau Pere daughter Iron Reward produced Swaps. Swaps, in turn, sired Ortalan, third dam of Toussaud. In addition, Swaps appears in American Pharoah's pedigree as the sire of champion race mare and Kentucky Broodmare of the Year Primonetta, whose son Grenfall sired Sown, dam of Key Phrase.
Buckpasser, the 1966 Horse of the Year and a four-time champion broodmare sire, also makes a second appearance in American Pharoah's ancestry as the sire of Magic, whose daughter Charedi is the second dam of American Pharoah's great-grandsire Unbridled. Like Sex Appeal, Magic is inbred 3x4 to War Admiral; in her case, the second cross is through the Admiral's high-class daughter Bee Mac, whose son Better Self sired Magic's dam Aspidistra. As Aspidistra also produced Dr. Fager, broodmare sire of Unbridled's sire Fappiano, Unbridled carries a 5x5 cross to Better Self through Aspidistra.
That leaves one cross of War Admiral unaccounted for, and this comes through the great horse's stakes-winning daughter Blue Banner, whose Princequillo daughter Key Bridge produced the Bold Ruler horse Key to the Kingdom. A half brother to champions Fort Marcy and Key to the Mint, Key to the Kingdom was much less talented but did sire Castle Eight, second dam of Pioneerof the Nile.
Whether American Pharoah will wield influence comparable to War Admiral's is a question for the future to answer, but the record of previous Triple Crown winners suggests he has a better than average chance of becoming a good sire. Three of the previous 11 Triple Crown winners—War Admiral, Seattle Slew, and Count Fleet—all earned at least one title each as a leading sire and leading broodmare sire. Secretariat was a good sire whose daughters made him the leading broodmare sire of 1992, and Affirmed also did well as a sire and broodmare sire.
Of the rest, all but Assault (who proved virtually sterile) made some contribution to pedigrees. Gallant Fox made a spectacular start at stud with Omaha, Flares, and 1936 Horse of the Year Granville before tailing off. Whirl-away sired 1948 Coaching Club American Oaks winner Scattered; Rock Drill, dam of 1966 champion 3-year-old filly Lady Pitt, whose classy daughter Blitey became a foundation mare for Ogden Phipps; and Whirling Girl, third dam of three-time Horse of the Year Forego. Citation sired 1956 Preakness winner Fabius and 1959 co-champion 3-year-old filly Silver Spoon, ancestress of a good family. Omaha, though a poor sire, made one notable contribution in Flaming Top, third dam of the great racer and sire Nijinsky II. Even Sir Barton, who suffered the indignity of being given to the Army Remount service, managed to sire Easter Stockings, generally considered the co-champion 3-year-old filly of 1928.
Regardless of what American Pharoah does as a sire, he has already joined racing's immortals, and any future triumphs can only add to his luster.