By Anne Peters
In the 1940s organized Quarter Horse racing was on the rise, and its aficionados were cocky about proving their horses were, in fact, the fastest at a quarter mile. In 1947 the Gill Brothers' Quarter Horse filly Barbara B was matched with Charles Howard's (of Seabiscuit fame) Thoroughbred Fair Truckle, and she handed him his hat. In 1949 the 4-year-old Quarter Horse Stella Moore was matched with the just-turned 3-year-old Thoroughbred Olympia. Olympia ran like a buzz saw and beat her by a head in :22 3/5. Owner Fred Hooper went home with allegedly a $25,000 purse and $93,000 in side bets.
Hooper was new to the Thoroughbred game, but he was lucky. His first purchase, Hoop Jr., won the 1945 Kentucky Derby, and the sportsman was active until his death in 2000. One of his homebreds, Zetta Jet, is the third dam of American Pharoah, but his influence goes well beyond that, most of it linked to Olympia.
Olympia was bred by Ivan Parke and foaled in 1946 at Coldstream Stud in Kentucky where his sire, Heliopolis (Hyperion—Drift, by Swynford), was standing. Small like Heliopolis, Olympia was built like a tank, extremely broad across the chest and sprung with muscle. His dam was stakes winner Miss Dolphin, a daughter of the speedy but unsound Stimulus, whose pedigree was all short-lived speed, by Ultimus out of a mare by Uncle. Parke, who also trained for Hooper, put his patron on to the colt, and he stayed on as trainer.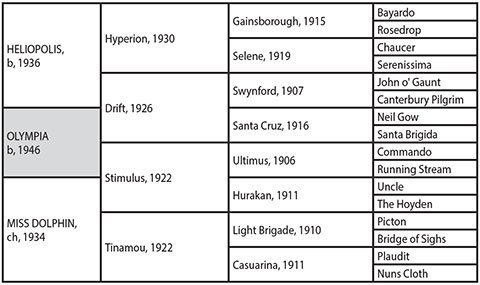 Olympia made 14 starts at 2, winning three stakes including the Breeders' Futurity at Keeneland. Olympia could come out of the gate like a lightning bolt. This helped make him Hooper's candidate for the quarter-mile match with Stella Moore on Jan. 5 at Tropical Park, which he won, saving the reputation of his breed.
Olympia then went coast to coast, winning seven stakes in California, Florida, New York, and Kentucky, including the Flamingo and Wood Memorial stakes, before he started as the favorite in the 1949 Kentucky Derby. Leading from the gate, Olympia hit the wall at the top of the stretch and faded to finish sixth behind Ponder. Brought back in the Withers Stakes at a mile, he won, and then placed in three more stakes that year.
At 4 Olympia won the Paumonok, Camden, and Roseben handicaps, all at six furlongs. He retired with 15 wins, 12 seconds, and four thirds from 41 starts, proving a model of consistency and gutsy speed. He had his limits, however, and was clearly better going shorter.
Olympia entered stud in 1951 at Danada Farm in Kentucky and proved a prolific sire, getting 40 stakes winners (12%) until his retirement in 1967. His progeny tended to have ample speed like himself, such as the dual sprint champion Decathlon, but he also sired champion handicap female Pucker Up, champion steeplechaser Top Bid, Kentucky Oaks winner My Portrait, plus Talent Show, Pia Star, Alhambra, Air Pilot, Greek Game, Editorialist, Gandharva, Candalita, and Crème dela Crème.
Pia Star was a good sire and broodmare sire. Crème dela Crème's son Rich Cream sired 1985 Belmont Stakes (gr. I) winner Crème Fraiche. California-based Lucky Mel proved an important conduit through his daughter Lucky Spell, who left a pair of daughters in Trolley Song, dam of the brilliant Unbridled's Song; and Lucky Soph, who foaled Lucky Pulpit, the sire of California Chrome.
Hooper and others struck gold with Olympia's daughters, who produced stars such as Crozier, Admiral's Voyage, and Tri Jet. Tri Jet and Darby Dan's True Knight led Olympia to the leading broodmare sire title in 1974.
Crozier's best included the champion sprinter Precisionist, Journey At Sea, and the broodmare Linda Summers (dam of three stakes winners). Admiral's Voyage got a nice filly in Pas de Nom, later the dam of the breed-shaping international sire Danzig. Tri Jet sired several grade I winners including Copelan as well as the broodmare Thirty Zip, granddam of Ghostzapper and City Zip.
Olympia's daughter Heavenly Sun was granddam of Hooper's three-time champion Susan's Girl, who, when bred to Tri Jet, produced Copelan, inbred 3x4 to Olympia. Inbreeding to Olympia became the rule for Hooper, and late in life, many of his runners, such as Diplomatic Jet and Recommended List, had upward of 5 crosses of Olympia. American Pharoah has four strains (6x6x7x7) including Pioneerof the Nile's fourth dam, Little Blessing, and in Littleprincessemma's second dam, Zetta Jet, through Haze, Miss Olympia, and Greek Game.
Olympia mares have established strong families that have produced Monarchos, Dynaformer, Offlee Wild, Quadratic, Smart Angle, Smarten, Lion Heart, Successful Appeal, Street Sense, Ruler On Ice, and Royal Delta.
Without Olympia our world would be a much slower place.