On the long walk from the Doug O'Neill barn to the track during the mornings at Los Alamitos Race Course, it's no wonder why Passionforfashion draws the attention of anyone with a set of eyes.
As the 2-year-old daughter of Old Fashioned moves through the backstretch, exercise riders almost turn around entirely while still on their mounts, to follow her up the path to the track. Jockey Drayden Van Dyke even has to look twice.
It doesn't take long for the word to get out, as backside workers whistle to get each other's attention.
"Psssst, mira," one worker says with wide eyes, stepping out from a barn and pointing to the filly. "Caballo blanco."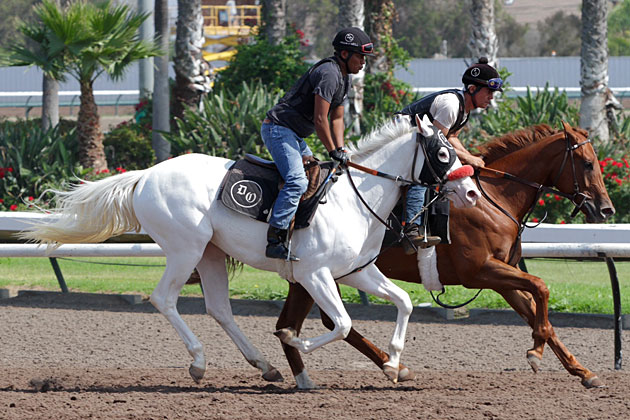 Like the workers indicate, Passionforfashion is entirely white, head to hoof. The only portion that isn't white is her set of black blinkers, a red shadow roll, her dark eyes, and the skin on her chest, which is pink underneath a relatively thin coat.
---
Majority owner Daniel Kramer and minority owner Steve Rothblum—who also manages his share of horses in O'Neill's stable—discovered the white filly when they were visiting another at Goodwin Farm in Paris, Ky.
"We had a really nice Into Mischief filly, who we thought could run, so we found and bought her mother, who just happened to be in foal to Big Brown ," Rothblum said. "We went to Kentucky to see the foal and there's this little white filly chasing this gray mare around and she was really attractive. She would have been attractive even if she was a bay. We asked about her and the guy thought about it, but turned it down. Then a little later, Danny, my partner, walked up to me and said, 'Partner, we bought one.'"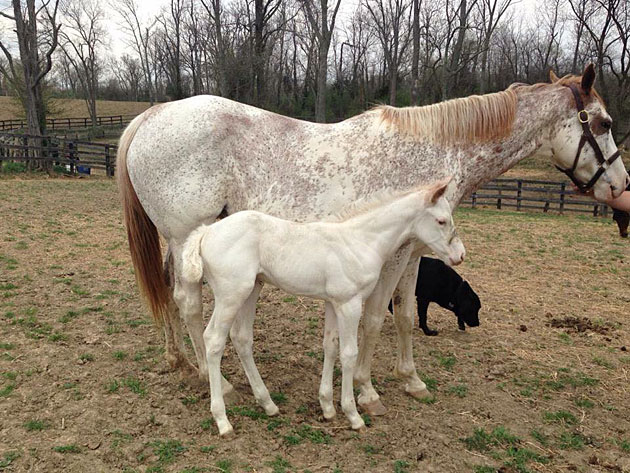 Rothblum was right to think Passionforfashion's dam, the Trust N Luck mare Turf Club, was gray or roan, because she has brown intermixed with her primarily white coat, but Turf Club is actually registered as white with The Jockey Club. Turf Club, now 10, didn't win in six starts at Turfway Park, Churchill Downs, and Hollywood Casino at Charles Town Races from 2007 through 2009, but her color lives on in Passionforfashion, her fourth foal.
According to Dr. Samantha Brooks, a professor of equine physiology at the University of Florida who has authored several papers on the topic of white horses, the white coat genetic line started with Turf Club because of a spontaneous genetic mutation in a gene labeled "KIT," which is hereditary and dominant.
"What we found, is the majority of these occurrences in horses occur in KIT," Brooks said. "What KIT does is direct the migration of the type of cell that sends hair and skin pigment in an embryo. (The mutation) disrupts the migration, so pigment cells fail to migrate, resulting in a lack of pigment, which presents itself as white."
But it was still some form of genetic lottery for Passionforfashion to come out entirely white. The modified KIT gene can sometimes result in horses who have white portions of their coat, but aren't completely white.
"We call many of these mutations variable-like," Brooks said. "For reasons we don't understand, some will have 50 percent white, 75, or 100 percent white. The KIT gene in mice is even sensitive to epigenetic (non-genetic) changes. It modifies the structure of the DNA, but not the sequence."
The variations are also what make the label of "white" in Thoroughbreds so rare. According to The Jockey Club, only 27 horses foaled in 2011-2013 have been registered as white (although the data is still incomplete for newly registered 2-year-olds), meaning a white horse comes up once in about every 2,625 registered. Passionforfashion's connections had only seen a white Thoroughbred on television before, but never in person.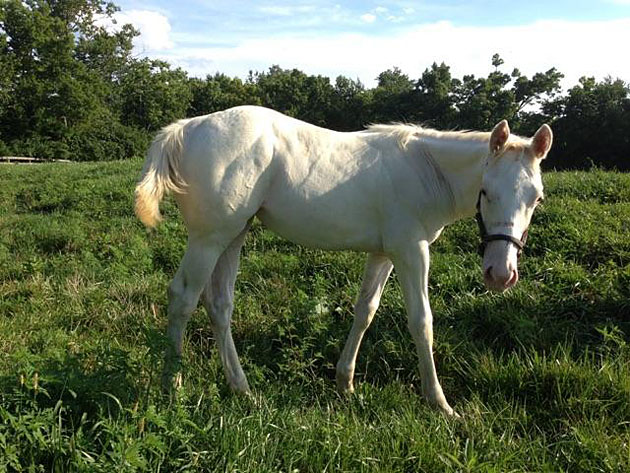 The genetics aren't just of interest to explain the rarity of an entirely white coat. They're also functional for breeding purposes, because of the potential risk of breeding two horses with mutated KIT genes.
According to Brooks, if a foal were to obtain the dominant KIT gene from both sire and dam, it can lead to significant complications, including fetal death. The KIT gene also controls other aspects of development, not just pigment distribution.
"You probably wouldn't want to breed Turf Club or her babies to another white horse," Brooks said.
---
But all that doesn't factor into the Passionforfashion's handling, for the time being, although her connections have already found out the filly's inherent value, even if she never wins a race. They've turned down offers to purchase her for as much as $75,000.
"We knew she'd have residual value being white—we kinda figured that," Rothblum said. "They want white horses. I mean, there are white horse associations and we got offered quite a bit of money for her because she was white—for no other reason ... I probably would have sold her, but my partner, his daughters love her. He'd rather have his daughters be happy."
So she'll train under O'Neill and shoot for a debut late in Del Mar's summer meet. She still has kinks to work out, of course. When she first arrived at Los Alamitos, she hated her stall inside the barn, so they have her in an outside pen, where she can see everything going on. They do have to cover her up with a blanket, though, so her delicate skin doesn't burn in the Southern California sun.
Passionforfashion recorded her first timed workout July 1, when she covered three furlongs in :38 3/5, and her trainer has been encouraged by her progress.
"She worked great," O'Neill said. "We're at a stage where it's just basic stuff, but we'll be asking for more. That was just a 50 percent use of fuel. She has a pretty way of going and she's done everything right. With her look, to see her have a good stride is great."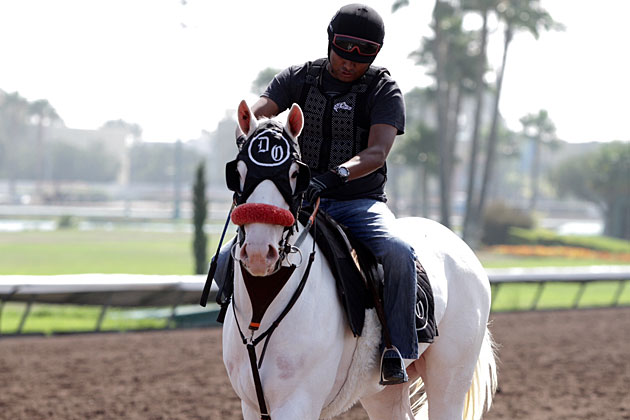 That sentiment seems to be a large part of the equation. It's so rare to have a white horse—Los Alamitos clocker Russ Hudak last remembers a white horse roaming the Cypress, Calif. track by the name of Zacaro, a 2011 foal who trained but never made it to a race—that having a runner would be a bonus.
A white Thoroughbred has never won a stakes race in North America, but in Japan, Yukichan (by Kurofune out of the white Sunday Silence mare Shirayukihime) won three stakes from 2008 to 2010.
"If she can run, she'll be a real draw," Rothblum said. "If she has the ability, that'll be a home run."