Perhaps because of a carryover from human taboos, the topic of inbreeding has always tended to be an emotive one as far as Thoroughbred breeding is concerned. Discussion of the subject tends to become particularly animated when a really dominant stallion begins to be duplicated in pedigrees.

As far back as the 1930s, inbreeding to the mighty St. Simon was blamed for a supposed decline in the breed. More recently we remember discussions as to whether one should duplicate eight-time leading sire Bold Ruler, and, subsequently, inbreeding to Northern Dancer and Mr. Prospector came under similar scrutiny.

Discussion of the merits of inbreeding to major sires also tends to be confused by the fact the method most frequently employed—that of crossing a stallion back over a mare from his own immediate sire line—is also, in general, an underperforming one.

Some years ago we conducted a study of such inbreeding to Northern Dancer, taking into consideration all known foals bred on a Northern Dancer/Northern Dancer cross, with Northern Dancer 4x4 or closer. At the time 489 stakes winners had been bred on that pattern, but the percentage of stakes winners to foals bred that way was significantly lower than the percentage of stakes winners to foals produced when the same Northern Dancer-line sires and mares were crossed with representatives of all other sire or broodmare sire lines. This also held true when we looked at what were then the nine leading branches of the Northern Dancer line: Individually all had done worse when crossed back over mares from the Northern Dancer line than when crossed over mares from all other lines.

A stallion who is now being duplicated in pedigrees with increasing frequency is Northern Dancer's son Danzig, particularly in Europe, where Danehill and Green Desert have founded thriving lines, and in Australia where Danehill has been even more dominant. As the above might have caused us to expect, inbreeding to Danzig through the male line of the sire and dam is the most frequently employed method, and such crosses are responsible for just over half of the starters with Danzig 4x4 or closer (51.8%), but as with Northern Dancer, this version has underperformed relative to opportunity, providing only 44.6% of the stakes winners with Danzig 4x4 or closer.

Of course, while the Danzig/Danzig cross may not be the most effective method of inbreeding to Danzig, it still produces high-class winners, and there were two examples during England's Newmarket July meeting. On July 9 Shalaa won the Arqana July Stakes (Eng-II). The following day, over the same six furlongs, another juvenile, the filly Illuminate, prevailed in a three-way photo-finish for the Qipco Duchess of Cambridge Stakes (Eng-II).

Shalaa is by Invincible Spirit, a group I-winning sprinter and one of the best stallion sons of Green Desert.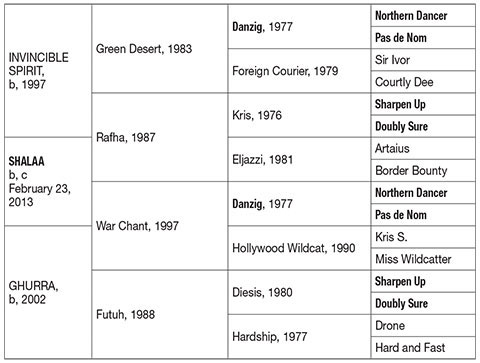 Shalaa's dam, Ghurra, won three races in England and the U.S. and finished third in the Wilshire Handicap (gr. IIIT). Ghurra is by Danzig's son War Chant.

While Shalaa is by a horse who has long been established as one of Europe's top sires, Illuminate is by the freshman sire Zoffany. A son of the Danehill stallion Dansili, Zoffany won five of seven starts at 2, including the Keeneland Phoenix Stakes (Ire-I) and finished second in a pair of group Is at 3. Zoffany has made a sensational start to his stud career and is already responsible for four first-crop stakes winners, including a trio at Royal Ascot. Illuminate is out of Queen of Stars, an unraced daughter of Green Desert and the French listed winner Queen Catherine.

When we conducted the study into the Northern Dancer/Northern Dancer cross, we noted the performance male line/male line nicks might be improved by what we've called, for want of a better description, a "parallel pattern," where the mare or the broodmare sire is bred on a similar cross to the stallion.

A look at the pedigrees of Shalaa and Illuminate show they fit the "parallel pattern" formula. Shalaa's sire is by a son of Danzig out of a mare by Kris, and Shalaa's dam is by a son of Danzig out of a mare by Diesis (a brother to Kris). Illuminate's sire is by a grandson of Danzig out of a mare by Machiavellian, and Illuminate's dam is by a son of Danzig out of a mare by Machiavellian. Shalaa and Illuminate aren't isolated examples either. Brazen Beau—the top-rated 3-year-old sprinter on the World Racehorse Rankings—Able One, La Montagna, and Rockdale have some variation of the "parallel pattern."