By Anne Peters
The Spinaway Stakes (gr. I), the top prize for juvenile fillies at the Saratoga meet, is one of the oldest on the American stakes schedule, dating back to 1881. It was named for Spinaway, who had dominated the 2-year-old landscape the previous season. Spinaway's thriving female family includes 2015 classic winner Gleneagles, as well as three-time leading sire Giant's Causeway, and the great broodmare Hasili.
Spinaway was foaled in 1878 at the Erdenheim Stud of her breeder Aristides Welch, in Pennsylvania. Her sire, imported Leamington, had been based there for nearly a decade and was America's leading sire at the time. His top runners included champions Longfellow, Enquirer, Olitipa, Parole, Susquehanna, Harold, and Sensation to that point. Leamington died in May 1878, putting his final crops in high demand.
Brothers George and Pierre Lorillard, heirs to the Lorillard tobacco fortune, were the dominant owners of the period, and Pierre purchased a batch of 14 Leamington yearlings from Erdenheim in 1879, which he and George divided between them. Pierre's went to England and included the Derby and St. Leger Stakes winner Iroquois, and the good filly Paw-Paw (a younger sister to Lorillard's legendary gelding Parole). George's dividends included the good colts Saunterer and Blazes, and the filly Spinaway.
Spinaway was out of the mare Megara, by imported Eclipse, and her blood was royal. Megara was a half sister to brilliant 2-year-old Memento, the stakes-winning Ventura, and Kentucky Derby winner Ben Ali. Megara's dam Ulrica was a half sister to the top sire, imported Australian.
Spinaway came to the races early, breaking her maiden on June 3, 1870, in the half-mile Juvenile Stakes at Jerome Park. In quick succession she won the Foam, Surf, Hopeful (at Monmouth), and July stakes, but a colt named Barrett, owned by Pierre, beat her in the August and Criterion stakes.
The filly defeated Barrett in the Bouquet Stakes in early September and finished the season with a win in the Chestnut Hill Stakes on Sept. 16. Suffering from a foot bruise, the phenom was unable to return to competition at 3. Spinaway stayed in training but never raced again and ultimately was retired with her juvenile record of seven wins and two seconds from nine starts.
Lorillard's stud farm was at Westbrook on Long Island, but in 1883 he moved his prize stallion Sensation (also by Leamington) to Bowling Brook Farm in Maryland, and that year bred Spinaway to the top handicapper Glenmore, standing at Glengar Farm in Maryland. Considering retiring from the turf, George sold Spinaway to Pierre, and she took up residence at Rancocas Stud in New Jersey. In Pierre's dispersal in October 1886 she sold for $3,250 to Milton Young, of McGrathiana Stud in Kentucky. In December 1896, Milton Young dispersed, and 19-year-old Spinaway sold to racing newcomer E.C. Cowdin for $3,500. Spinaway's last recorded foal is Spindrift, a 1900 filly by Cowdin's stallion Requital.
Spinaway's record as a broodmare is impressive, producing four stakes winners. Her first foal, bred by Pierre, was sweepstakes winner Strideaway (1884 colt by Glenmore). For Young, she produced three stakes winners including the high-class Lazzarone (1891 colt by Spendthrift), winner of the Latonia Derby at 3 and the Suburban Handicap at 4.
Spinaway's daughter Spinalong (1889 filly by Duke of Montrose) won the Tremont and Casanova stakes at 2 but died in a fire the next year.
Spinaway's best was Handspun (1892 filly by Hanover), who won five stakes at 2 including the Kentucky Stakes at Saratoga. At 3 she won the Tennessee Oaks. As a broodmare, Handspun became one of the pillars of the W.C. Whitney Stud. Her daughters Tanya (foaled 1902) and Tangle (1903), were the best fillies of their crops at 3, and Tanya beat the boys in the 1905 Belmont Stakes.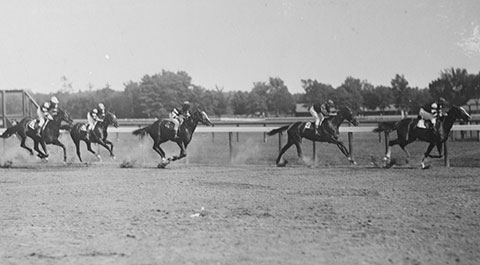 Tanya, granddaughter of Spinaway, won the 1904 Spinaway - George D. Widener collection
Four of Handspun's daughters produced stakes winners, including Spun Glass (dam of 1921 Preakness winner Broomspun), but it's through Tangle that Handspun's branch of the family has flourished.
Tangle is the ancestress of Dearly Precious, Giant's Causeway, Freud, You'resothrilling, Marvellous, and this year's Qipco Two Thousand Guineas (Eng-I) and Tattersalls Irish Two Thousand Guineas (Ire-I) winner Gleneagles. Her family also produced Sookera; Hawksley Hill; Leroidesanimaux; and Hasili, dam of Champs Elysees, Cacique, Dansili, Banks Hill, Heat Haze, Deluxe, and Intercontinental.
Spinaway's daughter Homespun (1897 by Hanover), an unraced full sister to Handspun, established another strong family, starring runners such as Crack Reward, Star Pilot, King's Bishop, Spearfish, Gaily, Pilsudski, Creachadoir, Youmzain, By Land By Sea, and Cash Included.
Spinaway's family continues to produce runners of the highest class, so the race that carries her name at Saratoga is a wonderful way to keep her memory alive.