John Nerud, the legendary horseman and Hall of Fame trainer, died the morning of Aug. 13 in New York. He turned 102 Feb. 9.

Nerud died at his home in Old Brookville, N.Y., in the early hours from heart failure. His daughter-in-law, Debra Nerud, confirmed that Mr. Nerud had been in the hospital for a few days prior to his passing but he had come home Aug. 11.

"He went to the hospital Sunday night (Aug. 9) and they wanted to put in a pacemaker," she said. "His heart actually stopped beating for about three minutes Tuesday but he came back. His will was so great, so strong."
HASKIN: The Legacy of John Nerud

Nerud's influence was far-reaching in the industry. As a trainer he was inducted into the National Museum of Racing and Hall of Fame in 1972. He retired from training in 1978.

He rose from the ranks of ranch hand to rodeo cowboy, to jockey, to jockey's agent, to trainer, to co-founder of the Breeders' Cup, to influential breeder who built a breeding and racing dynasty with William McKnight of the 3M company, who at the time was one of the richest men in America.

As trainer, president, and general manager of Tartan Farms near Ocala, Fla., he developed Dr. Fager into a four-time champion in 1968. Dr. Fager was named champion sprinter, turf horse, handicap horse (older male), and Horse of the Year. Dr. Fager was listed as No. 6 on The Blood-Horse's "Top 100 Horses of the 20th Century."

Red Smith of the New York Times described Dr. Fager as "the fasted horse in the world."

Nerud had sustained a near-fatal head injury after being thrown from his lead pony on the racetrack. Famed neurosurgeon Charles Fager of the Leahy Clinic in Boston saved his life and became forever immortalized by the horse who bore his name.

Nerud also trained champions Delegate, Intentionally, Ta Wee, and Dr. Patches. He saddled Gallant Man to a runner-up effort in the 1957 Kentucky Derby.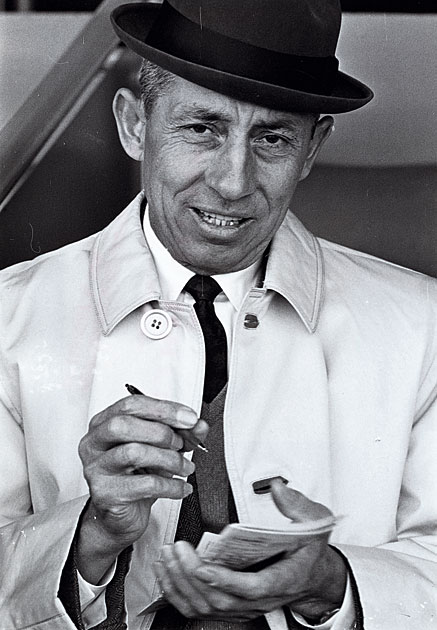 Gallant Man would go on to win the 1957 Belmont Stakes by eight lengths establishing an American record which stood until Secretariat bested it in the 1973 Belmont.
He was owner and/or breeder of influential stallions Fappiano and Cozzene, among others.

Nerud also was instrumental in the early days of the Breeders' Cup as a founding member. He served as chairman of the marketing committee for Breeders' Cup in its first few years.

"Few individuals made as indelible an impact on our sport as John Nerud did over many decades," said Breeders' Cup president and CEO Craig Fravel. "Mr. Nerud made an enormous contribution to the formation of the Breeders' Cup. Working closely with John Gaines and the initial founders, Mr. Nerud combined acute judgement, incredible boldness, and powers of persuasion to help create a unique international championship event for horse racing. His interest and participation as a member of the Breeders' Cup continued to the end. Mr. Nerud leaves a remarkable legacy, and all of us who love racing mourn his passing."

As an owner he won the 1985 Breeders' Cup Mile (gr. IT) with Cozzene, who was trained by his son, Jan. Cozzene went on to become the leading sire of 1996 based on the strength his son, Alphabet Soup, winner of that year's Breeders' Cup Classic (gr. I).

Nerud also served as vice president for New York Thoroughbred Breeders.

Of all of his accomplishments, Nerud often stated his greatest was his 69-year marriage to his wife, Charlotte, who passed away in August 2009.
For more on Nerud's life, click here.