On a glorious morning at Saratoga Race Course Aug. 28, an estimated crowd of 15,000 flocked to the track to watch Triple Crown winner American Pharoah in his final gallop before his bid in the following day's $1.6 million Travers Stakes (gr. I).

The New York Racing Association opened its gates free of charge to allow fans to watch American Pharoah train during a special session reserved for Travers entrants.

In a scene reminiscent of an afternoon of racing, throngs of fans lined the rails of both the grandstand and clubhouse. The entire box section at the track was filled to capacity, and NYRA security personnel urged people to remove themselves from the aisles, which were quickly becoming congested.

In advance of American Pharoah's gallop, video of him winning the Kentucky Derby (gr. I) Presented by Yum! Brands, Preakness Stakes (gr. I) and Belmont Stakes presented by Draftkings (gr. I) were shown on the infield's big board.

Zayat Stables' homebred runner walked onto the main track at about 8:45 a.m. ET for a 1 1/2-mile gallop, under exercise rider Georgie Alvarez. As NYRA track announcer Larry Collmus announced the colt's presence on the track, people clapped, hooted, and called out his name. On the ground level of the clubhouse, people were standing on chairs to gain a better view of the Bob Baffert-trained colt, who passed by the stands two times before exiting the track.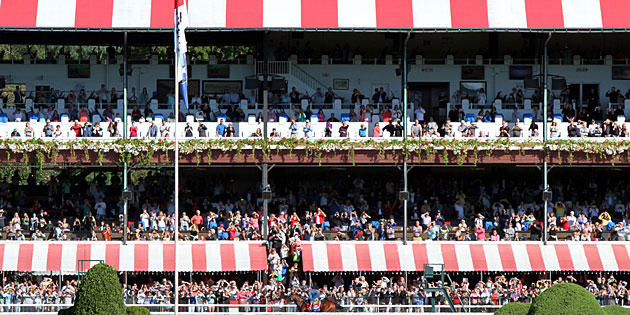 Ann Wallace, a racing fan and a resident of Saratoga Springs, N.Y., has seats to the sold-out Travers, but said she was very eager to get a glimpse of the champion a day in advance of the big race.

"I feel this horse has brought an extraordinary surge of enthusiasm to horse racing," Wallace said. "Saratoga is such a beautiful jewel of a racetrack, and a wonderful place to share this horse with the public."

Several young people mentioned they were just as excited to see Smokey, American Pharoah's traveling companion and Baffert stable pony, who is quickly gaining his own legion of fans.

"Look, it's Smokey!" exclaimed Marisa Breault, 19, to her friend, Nicolina Foti, 20. "Yup, these photos will definitely make Facebook," Foti responded.

Back at Barn 25, after American Pharoah was bathed, Baffert held the shank of the son of Pioneerof the Nile and posed him for a swarm of media. The colt stood regally, as is his wont, and coolly surveyed the scene. When he got a gentle tug on the shank that signaled it was time to resume his walk around the barn, American Pharoah was very reluctant to move away from the large gathering—which drew chuckles.

"We had a nice little gallop today and it looked like everything went really smooth," Baffert said. "I could tell he really liked the track. He was floating around there like he usually does. I feel very happy with the way he went today. It looks like he made the ship well. You can't beat the weather here. It's cooler here than it is in California right now. He's really enjoying himself. I think he thinks he is at camp. This is beautiful horse country."

Baffert went on to say that the reception American Pharoah received at Saratoga during the training session was remarkable.

"I was pretty overwhelmed by everyone and all the fans," remarked Baffert, who watched the gallop from the winner's circle. "It was pretty incredible. I know he has a big backing, and a lot of fans. It just keeps growing and growing and growing, so every time I see the reception American Pharoah receives, it puts more pressure on me as his guardian. But I think it's great. A lot of kids, younger kids, will remember (today)."

American Pharoah is coming off an easy win in the Aug. 2 William Hill Haskell Invitational (gr. I) and will face a field of nine other 3-year-olds in the 1 1/4-mile Travers. He is the 1-5 favorite on the morning line.

NYRA officials previously announced a decision to cap Travers Day attendance at 50,000. General admission and reserved seats have been sold out, and fans who do not hold a ticket will not be granted access on race day.