By Anne Peters
Juvenile racing has held a controversial place in American racing since the late 1800s. Many of the sport's greatest champions have run well as 2-year-olds and gone on to further greatness, but there has always been an on-going discussion about the "evils" of 2-year-old racing, that it puts too much stress on immature legs and bodies.
Can we justify juvenile form as important criteria in evaluating a superior horse, particularly a stallion prospect, or is it a pointless test with too much collateral damage?
Research has shown a necessary level of exercise-induced stress is required to build stronger bones in young Thoroughbreds, but the level of stress becomes the question. There's an art to putting a strong foundation of miles and honing the speed, but even the best trainers have inadvertently pushed a young body too far or faced just plain bad racing luck.
Two of the greatest stallions of the last half of the 20th century are cases in point. Hail to Reason and Raise a Native, both champions, suffered career-ending injuries at 2. Hail to Reason shattered sesamoids during a workout after winning nine of his 18 juvenile starts. While some might say 18 starts was too much, his trainer, Hall of Famer Hirsch Jacobs, insisted the colt was sound and had stepped on something.
Raise a Native's case is a little different, as he was undefeated in four races before he blew a tendon prepping for his fifth start in August. He was finished before most of his crop had even begun their careers. Hall of Fame trainer Burley Parke also insisted the colt had shown no signs of unsoundness.
Both proved to be exceptionally good stallions. Raise a Native became a source of brilliance and precociousness while Hail to Reason sired platoons of rugged, talented routers. For Hail to Reason at least, a breakdown wasn't a sign of a delicate constitution.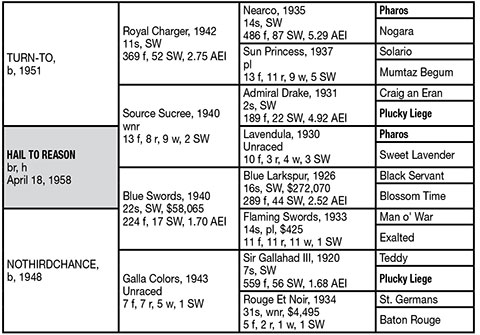 Since the inception of the Breeders' Cup in 1984 to the present, only one juvenile champion has been named champion at 3: Lookin At Lucky. American Pharoah will undoubtedly be the second (neither of whom won the Breeders' Cup Juvenile, gr. I). Many came back to high-class form including Chief's Crown, Forty Niner, Easy Goer, Street Sense , Uncle Mo , and Shared Belief. Likewise, many of our champions at 3 were at or near the top of their class the previous year.
In the same time frame seven juvenile champions have broken down and retired prematurely before or early in their 3-year-old years: Dehere, Maria's Mon, Boston Harbor (by juvenile champion Capote), Anees, Vindication, Stevie Wonderboy, and War Pass. Surprisingly, most became successful sires, and only Stevie Wonderboy was a flop. Anees and War Pass sired only three and two crops, respectively, and both sired enough to suggest their early deaths were a loss.
In general terms, being a champion at 2 is, more often than not, a solid credit toward sire success. Cracking under the strain of racing doesn't seem to be a significant deterrent to a successful breeding career.
Hold on! I'm not proposing it's better to use a horse that breaks down than one that stays sound. The point is that when a horse is brilliant early, it is a high indicator of something genetically positive, and as we've seen with Hail to Reason, "breaking down" is not always an indication of fragility or unsoundness.
Reversing this, look at the top 25 leading sires in North America in 2014, led by Tapit . In this roll call only five were unraced at 2 (Candy Ride , Curlin , Tiznow , Smart Strike, Bernardini ) and two more were unplaced at 2 (Speightstown , Stormy Atlantic ). Medaglia d'Oro was just placed at 2. This lack of juvenile wins applies to eight of the 25 leading sires, or 32%, meaning 68% were winners or better at 2.
Curlin, Tiznow, Bernardini, and Medaglia d'Oro were big, later-maturing types while Smart Strike, Speightstown, and Stormy Atlantic were sidelined by early injuries rather than immaturity and have good records as sires of juveniles. Knowing the reason for a lack of good form at 2 is important in interpreting what they might have to offer as a sire.
Ten of the top 25 leading sires of 2014 were group/graded stakes winners at 2, including grade I winners Street Sense, Giant's Causeway , City Zip, Lemon Drop Kid , Afleet Alex , and Sky Mesa ; grade II winner More Than Ready ; and grade/group III winners Tapit, Harlan's Holiday, and Bernstein. Hard Spun was a stakes winner; Street Cry and Wildcat Heir were graded stakes-placed; Kitten's Joy , Ghostzapper , Malibu Moon , and Offlee Wild were winners.
Good form at 2 seems to be a common factor among leading sires, and early breakdowns are not equivalent to bad genetics.