---
Let's go to the Red Ransom, hip No. 4. Buzz, you want to go?
---
Chace: I thought he was a plain headed horse, a little light boned under his knee, and he toed in a bit. Kind of upright. He had a good girth on him. I'd put an 'OK' on him, but I found a lot of little faults with him. He wouldn't be one of my choices.
Farrell: I would have to agree. He was pretty balanced, sort of short coupled; had a few issues in front, sort of a short shoulder. He walked pretty well. If I were being a first-looker, he wouldn't be one I'd keep on for the people I was looking for.
Ward: First off, when a Red Ransom walks out to you you're not expecting to see a perfect animal, so you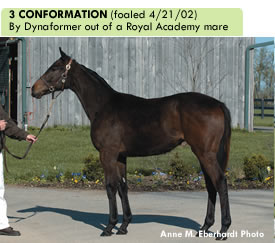 start making excuses for them right away. I had him being back in his knees slightly, knees a little offset, toeing in in the right front, had him crooked in the left hind, and I gave him a grade of a 3, which is a big horse, pretty racy looking, but I gave him an X grade because I didn't think he'd stay sound for my use.
Moynihan: I would agree with Johnny. The first thing I saw was unsoundness down the road. His degree of deformity is severe enough for me to make a bad face. He's a bunchy type horse who would be heavy down the line, and I don't think his front end will keep him around very long.
Welker: Well, when you said Red Ransom when he first came out I looked at him from the side. He had a little more type to me than the normal Red Ransom; he wasn't quite as raw and rough. But the more I picked him apart, I agree with Buzz, he was a little light of bone under the knee. He was a little bit upright, a little bit flat through his knees. When he walked to me, that was a telltale sign because as he gets bigger he's going to get heavier, his knees are going to want to break out and he's going to start toeing in. It's just one of those things from a commercial standpoint that's going to put people off.
Ward: If you send him to Europe he'll probably have a better shot of standing (training). In this country, send him to Bill Mott, because he's the only guy I know who can train Red Ransoms.
Bandoroff: I didn't want you to think we just raise correct horses. (laughter)
---
Let's go to hip No. 5. This is the Unbridled.
---
Ward: For an Unbridled, this is a pretty smooth kind of horse. Big, rangy, slightly stiff and his left hind toes out a little bit. A little crooked in the left hind, but that goes along with Unbridleds. Toes out and faces out and offset a little bit in the right front knee, and that also goes along with Unbridleds. He's going to be a great big animal. He's a little straight-shouldered. The knock I had on him, and I can explain this, is I consider him to be dish-faced. I gave him a good grade, this is like "American Idol," a 3-3-B, but I have problems with horses who don't have good, wide faces and nos
trils because I think it sometimes limits the air passage into the lungs. Most times when they scope the horses, my people will tell me whether it has a good wide air passage or not. I would rather have the Storm Cat, but this horse's breeding will probably outrun the Storm Cat.
Moynihan: I liked him. For the stallion I think he's a very good horse. Breeding to that stallion, who is now deceased, it was a difficult situation to get a real beautiful horse like Unbridled's Song that Buzz bought. You don't see many of those. Unbridled was a sire that either got you brilliance or he didn't get you a horse that could win an allowance race. This horse I would classify as a very nice Unbridled. He's very tall and leggy. You look for certain attributes in certain horses, and one thing about this horse is he can get you the distance in the classic races if he's good enough, and that's one attribute I love about him. He's going to be a two-turn horse; he's tall and leggy. I like the fact he's a little narrow now in his frame because I think he has the ability to fill all that out. I love buying a horse that isn't overdone; you're buying something that's going to fill out and mature over time and this horse fits that category. I like him a whole lot.
Welker: I felt the same way when he came out. He's a leggy, racy looking colt. The one thing that jumped out at me as an Unbridled was his head. He did have that dish head. He didn't have what I consider an Unbridled head, which wouldn't turn me off of him by any means. To me it didn't fit Unbridled. He kind of has some Unbridled traits--he's a little straight through his shoulder, a little straight down through his right knee, and a little straight up on his right pastern. It goes with the horse. Unbridled was one of the few good, good horses that had a straight shoulder. But he's a pretty smooth walking horse and I think he'll be able to cover a lot of ground as a racehorse. One thing about him: for a big horse he's very immature looking. You see this horse in a year and he's going to be a totally different animal. He won't look mature until he's three years old. I liked him.
Chace: The first comment I wrote down was 'big, leggy, two-turn horse.' I thought he had a nice long neck and a great walk. I didn't mind his hind leg, I thought that was pretty nice. As far as his head goes I agree--he's got a nice head but that would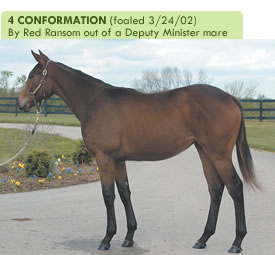 make me come back and look at him more and more; that would make my decision whether to go with this horse or not. Whether he matured more. He's got almost a filly head on him for the nice big colt he is. I would consider going back and looking at him because physically he's a nice colt.
Farrell: I thought he was a lovely, big, two-turn horse. I thought he'd develop really nicely by the sale, a nice athletic walk, correct enough. The head was just a tad feminine to me and I worried about the air passages too. As a first-looker, he'd be on the list.
Ward: As I remember the mare, she had very much the same head and face, and I remember the mare from watching her at the spit box after running second to her. (laughter)
Bandoroff: When we did this mating, if I could have drawn a painting of what I was hoping to get...the thing I've seen with (dam's named deleted) is that she puts her head on them, puts her hip on them. I've always loved his head, but I'm not very impartial.
Moynihan: It's such a pretty head. It just didn't fit an Unbridled head. For a show horse you'd love it, but for a runner it's just a little bit feminine.
Bandoroff: She's got a pretty head. She's a pretty mare. So, would the scoping answer that question, John?
Ward: Yeah, definitely, if he's got good, big air passages. And as his head grows, he's still got Unbridled in him.
---
Horses that outrun their pedigrees. Isn't that the horse in many cases that you're out there trying to find?
---
Chace: It used to be the case where you could steal one without the pedigree; a horse you would try to buy for no money, and now they are bringing a lot of money.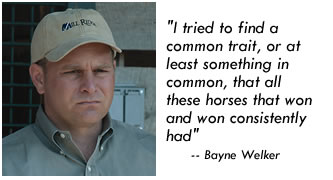 Moynihan: That were great physically, because you didn't have to give a lot of money for them because they didn't have the pedigrees.
Chace: The education has changed so much with horsemen.
Moynihan: The people that are buying.
Chace: The people that are buying; there are so many good people buying horses today, where in the old days, 20 years ago or 30 years ago, I mean people would come down and pay top dollar, and high money...
Moynihan: Much more pedigree driven.
Chace: ...for pedigreed horses, and people would be buying pedigree, and they wouldn't look. And the people who are getting them ready today, they look more like racehorses; they present them very well. And when a horse comes up there without much pedigree, and he's got all the parts, people usually jump on them...if the pedigree is a running pedigree. Now there might be a horse come up there that looks...that has a nice conformation and...
Moynihan: And is by a stallion that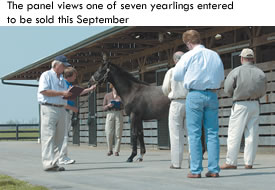 has proven he can't get runners...
Chace: If he can't get runners, well then you're not going to buy him either.
Welker: You could go back and take a catalogue out of the late '70s or early '80s and you could just flip through it page wise and you could pick out the sale topper.
Chace: Right.
Welker: When Wayne Lukas started coming around he had a lot of success buying off of looks and I think that kind of swung the market where people started paying more attention (to conformation) because he had success with it.
Moynihan: He started it.
Welker: He started it, and then people started looking at the types of horses that he was buying and found that these horses were outrunning their pedigrees. It wasn't all these blueblood pedigrees winning grade I races.
Chace: Absolutely.
Moynihan: I remember it was the greatest thing in the world to go to a sale and find a beautiful horse by a first-year stallion. Because when I started buying horses, I couldn't compete with Lukas and Brian Mayberry. Geez, every time you would go in there and try to buy one, boom, they would buy it. That's really how I got into buying foals because I couldn't afford the ones I wanted as yearlings, but I could afford them at the weanling sale. But if you went in there and you found a beautiful first-year horse that stood for say $20,000, a lot of times you could buy that horse for fifty grand. It was great.
Chace: Most of the good horses that I have bought have been (by) first-year sires. I always look for first-year sires. But now everybody is looking for first-year sires.
Moynihan: You'll see a (horse by a) first year stallion bring a million dollars. Remember Indian Charlie two years ago, a million one. I mean it happens like that now.
Chace: I went to two million six on a first-year horse, and you probably could have bought his father for $400,000. (laughter)
---
What are some very identifiable conformation traits you see--you mentioned a bit about Storm Cat--about sires and broodmare sires?
---
Welker: To me, Private Account kind of jumps out at you. You always see something from Private Account as broodmare sire and sire.
Moynihan: They always look like Private Account.
Welker: They're always going to have big shoulders and a pretty, big eye, but they're a little bit slight of hip.
Moynihan: Storm Cat is a lot like that, too. Storm Cat is a very good broodmare sire. You see a lot of horses that are out of Storm Cat mares that look like Storm Cat.
Ward: It appears that Storm Cat mares are producing a very physical ly superior body in their horses with good shoulders. Very well balanced. It appears that the Storm Cat mares are not passing along the unsoundnesses they themselves have had. The Dixieland Band mares seem to be putting a lot of speed and substance into horses.
Chace: Valid Appeal mares, they usually all run; they usually are nicely conformed horses. You get the hip and the hind end, and you might get a little short neck, but you get a nice head and they all seem to fit the bill. They've got a very nice way about them. I think there are a lot of other horses you can talk about, like Clever Trick. You say, 'Well, gee, this horse might be a good broodmare sire; he's going to put some speed into these horses.'
Moynihan: Carson City is another one who is going to be a very good broodmare sire.
Chace: I love Forty Niner. I think Forty Niner is a good sire and I like him as a broodmare sire also.
Welker: Dayjur a little bit right now. The other thing that you do have to remember on the same token, though, is we see horses and we say, 'Well, you know he wasn't a great sire, but you know he's turned out to be a good broodmare sire.' But you've always got to remember, too, that that same sire had a hell of a book of mares.
Moynihan: Which was Dayjur's case.
Welker: That's right. In his first two or three years, so he should theoretically be a pretty good broodmare sire, because of the genetic traits.
Moynihan: There's a lot of female genetics even though the horse wasn't a successful stallion per se; there's so much genetics through those great female families that were bred to that horse, say, over the first two or three years.
Chace: I like Deputy Minister mares.
Moynihan: Yeah, a lot.
Chace: I really like Deputy Minister mares. Going back a little further, I like Saratoga Six mares.
Moynihan: Makes very pretty horses.
Chace: Very pretty horses.
---
And Deputy Minister, even though he cooled a little bit, now is becoming a sire of sires; all of a sudden the sons are hot.
---
Welker: It happens. It happens with all good horses. They get hot and they cool off for a while.
Moynihan: I know with me personally, when I find a horse that I love physically, then I look down and I see he's out of a broodmare sire that I like--such as Saratoga Six, Deputy Minister, or Carson City--that gives me a whole lot of...I don't know how to describe it, it gives me a whole lot of incentive that not only do you have confidence in your ability to pick out a horse just from the physical attributes of the horse, but there's something else there that you feel is an added incentive that will really give you a boost that that horse will be a good horse.
Chace: Absolutely.
Ward: As far as sires go, from the 2-year-olds in training sales this year and from what I saw last year, I've been pretty well impressed with the Swains. I think he's probably the sleeper horse right now. I never thought his horses would have this much early pace. The Awesome Agains, I really like the way they mature physically. They're very immature horses as yearlings, but they are horses that seem to come on. And I think the Skip Aways are the same thing. I think they're sleepers as far as you've got to look past their yearling stage into their old horse stage. In other words, they are going to be a whole lot better looking 3-year-olds and 4-year-olds than they are as yearlings.
---
How did you personally develop your eye for conformation?
---
Farrell: Well, my dad sells a lot of horses back in Ireland, so obviously I was put to work, so I was watching how they did as we went to the sales. But what I did try to do, and I still try to do it, is I went racing. I go racing a lot and I love to watch all the horses that are in the stakes races, and I like to try and see what similar traits all those horses have and what you can live with. And we were talking earlier about faults and things that they run with. I always try to watch at the sales what eminent people buy which horses. I always look at the sale results, and if I for whatever reason missed a horse, I will go back and see what they saw that I might not.
Ward: My father was at one point a yearling selector for Keeneland. We also broke so many yearlings for so long that I developed an eye for young horses because I got to see all these tremendously well-bred horses that came in to be broken. What the conformation was when they came in around the first of August and then how they developed into 2-year-olds and 3-

year-olds. As far as the business is concerned, I have probably seen more classic-lined horses. I've seen a tremendous amount of Ribots. I've seen Mahmouds. I've seen all the old-line horses. And that's the way you develop your eye.
The other way you develop your eye is look at a lot of yearlings at the sales. I believe that every stallion, every sire produces a certain kind of horse. When you see that sire stamp his horses, then I think that's a sign that you have a prolific animal. And I tend to lean toward those horses that stamp their animals.
Moynihan: A lot of people learn about looking at horses by a certain individual teaching them. I wanted to know what the finished product looked like so I spent a lot of time in the paddock at Belmont Park before big stakes races. The majority of those horses all have similar characteristics. And I never really thought I could learn a lot by looking at yearlings at a yearling sale or at any kind of sale. I think you need to go to the racetrack and although you're going to hear people say, 'Well, they come in all different shapes and all different sizes.' That's true to a small degree. But the real top horses you see, 90% of them have a certain look to them. They may be big, they may be small, they may be incorrect, they may be correct, but they all are engineered in a certain fashion to run. There was one horse in particular that I remember. Groovy was just a, whew, I mean you saw him and you just wanted to take a picture, a template...you wanted to cut out the middle and when you came to a yearling sale just see if you could get them to fit in the template and say that's what you're looking for. He was a beautiful horse.
Bandoroff: A horse I remember like that in the paddock at Belmont was Slew o' Gold. It was like, if I was a horse in the paddock I would say take me away. Don't put me up against him. He was awesome.
Moynihan: You develop a mental picture. Like with me personally, I developed a mental picture of what I consider one of the best looking horses that I've ever seen. Unbridled's Song, to this day he is one of the most physically impressive horses that I've ever seen period at a yearling sale or a 2-year-old sale. He even got more impressive when he went into training. When we had Hennessy in the Breeders' Cup, I'll never forget seeing this big gray son of a gun walking in there and I said, 'Oh my God, this is unbelievable.' This horse had grown so much and filled out.
He was big all of his life, but boy when this horse was in training, my God, he looked bigger and stronger than the horses that have won the (Breeders' Cup) Classic. The horses that came in for the Breeders' Cup Classic that day, he was much more physically imposing than they were. He was a tremendous horse.
---
Earlier when we were talking about Storm Cat, you mentioned sire potential. Now Groovy and Slew o' Gold, neither one of them was what you call a great sire.
---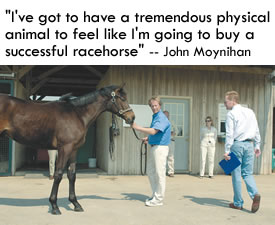 Moynihan: But physically you've got to be quantitative. Have a sense that you know what you're looking at, at a yearling sale, or a weanling sale, or a 2-year-old sale. You're not thinking in terms of what's going to be a stallion; you rely on the pedigree for that. I've got to have a tremendous physical animal to feel like I am going to buy a successful racehorse. And if I had seen Groovy at a yearling sale, if you've got the budget, if you've got the owner who has the confidence in you, you just say this is the one...you've got to buy this horse.
Welker: Both of my parents came up with show horse backgrounds, and they both judged line as well as hunters and jumpers, so I was around that. I saw a lot, so I learned a type I thought was a pretty type. Later on that evolved into kind of a sales orientation when my father worked with Lee Eaton back in the days when he was the premier consignor in the country. My father did a lot of inspecting for him. There were a lot of good horses that went through that consignment that I saw as young horses and then saw later on as older horses. After I got out of college, I worked as a racing official for seven years. I wasn't going to make a career in racing, but I watched every horse that ever went in the winner's circle. I tried to find a common trait, or at least something in common, that all these horses that won and won consistently had. Because I knew from the sale ring that the well-conformed, well-bred horses were going to bring a lot of money. But it didn't mean that they always won. I can remember being younger and coming up in the late '70s and the early '80s--you know in the real boom--and there were some ridiculous prices back in those times. And the market changes, too. I mean there are different tastes. Back in the time when pinhooking was starting to explode everybody was looking for a shorter coupled, big assed horse that was going to work an eighth, so the market started breeding for that. Now they want that more classic look, two-turn horse that is going to be able to have some speed and carry it, so you've got to see what the market is doing. What's going to be marketable? What's not going to be marketable?
Chace: I started out at a riding school with show horses. When I went to work with Thoroughbreds I thought I knew everything until I had a rude awakening. I worked for Mr. Adams in Newport, Rhode Island. He brought all the horses from the West Coast, and from there went to the racetrack, worked on the racetrack, and lived on the racetrack. I rubbed horses, and then I went to work for a veterinarian. I used to run the blood tests for him. We used to collect blood for blood counts. There was this one man who would take a blood test every two days, and I was only a kid, and I said, 'Boy this guy, he really doesn't know what he's doing.' There were five horses and by the fifth time he took the blood, he dropped all the others and just looked at the one. All of a sudden this horse is in the entries. And the veterinarian said to me, 'Buzz, we're going over to worm some horses.' I said, 'Oh my God, I'm not going to go over there. I'm going to stay here and bet on that horse.' He asked, 'What horse?' I said, 'That horse over there.' So he said, 'Well OK, why don't you do that, and bet 50 and 50 for me.' To make a long story short, the horse won by eight lengths. He was a first-time starter. He paid $58. His name was In Reality. I thought maybe I better start looking at horses.
You had to get him up to take him over to the races. He just lay down all day long, and he had a boggy hock and two days before he ran he trickled out of one of his nostrils. A runner is a runner is a runner. And I was only a kid at the time. I was like 20 years old, 21 years old. From then on, I worked on a lot of good horses, like Buckpasser and Kelso. I mean I was fortunate to have my hands on a lot of good horses, and hopefully something rubbed off.
So then I went back to "Sunshine" Calvert and I said, 'Mr. Calvert, there was nothing wrong with that blood. His blood was perfect.' He said, 'I didn't want to know how bad it was; I wanted to know how good it was to see how much I should bet on him.' I just picked up on it; it was one of them things; I got lucky.

Part One | Part Two | Part Three