Bandoroff: You know, it seems like the longer that I've been doing this, it's almost like you look at these foals at 30 days, and you know. You know if they're going to be any good. Or, when you talk about balance, look, frame, you know keeping them correct is one thing. You can. The other interesting thing you see is they may lose it for a while, but they always seem to come back. The good one comes back to it. Would you agree with that?
Welker: I agree with that.
Moynihan: I bet this filly here, when she was born, was a beautiful filly type-wise. She was probably just like that, except she was big. Usually horses that have balance like she has, they've had it all their life. It's very rare to see a big, gangly horse all of a sudden get balanced.
---
OK, I think we are ready for the Silver Charm, am I right (hip No. 7)?
Out of the Valid Appeal mare. Buzz, you want to start?
---
Chace: I thought this horse was light boned under his knee and had a short neck, kind of a plain head, low back. Good walk; offset knees. Toed in. Considering everything, even though he was an early foal, he looked like he was immature also. I might have been a little hard on him, but you got that Valid Appeal in there.
Farrell: He's got that.
Chace: I'm not going to go out on a limb and say...you know...he might change.
Farrell: I thought he was a fairly balanced, heavy-bodied type of horse. He had a good walk. I thought he was a little bit flat chested, a little light through his gaskins. But he had good low hocks and walked off pretty well. I actually thought he was one that might have a little distrustful nature. You know he just kind of came out and sort of looked at us a little bit.
Ward: He had a very straight shoulder; short-backed; maybe a little low in the back. Would not be a horse that I would consider. He's short-backed and short-coupled and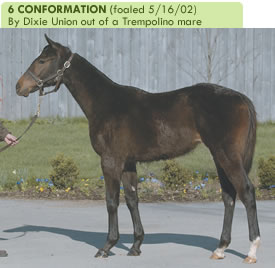 wouldn't be my type.
Moynihan: The first thing that I noticed about him, he looked mature but he looks short. You know what I mean. I think I may have asked Craig if he was the first foal out of the mare. His legs, he looks to be short for his age. I mean he's a Feb. 14 foal and I look at a lot of yearlings this time of the year, and you develop a kind of a broad frame; you know the general size that certain horses are at certain points in their life. And I would think, although he's mature body-wise, he's got a lot more maturity body-wise than the filly we just discussed. He just doesn't look like he's ever going to grow up to be a real tall horse to me. The first thing that I wrote down is he's short for his age. And I wasn't crazy about his hocks and his hind leg. I think they sit out a little bit, and his hind end, the way it tied in to his hocks was a little bit of what I would consider a weakness. I graded him a five.
Welker: The first thing I took into consideration was his foaling date and his size. He just didn't have quite enough leg for his size. I do take into consideration he's out of a Valid Appeal mare; you're not going to get any great big horse. They're not big, strapping, or leggy. But being a mid-February foal, you would still think you would see a little more leg under him than that. His hind end was a little bit sloppy. His hocks sat out behind him. He had a decent quarter, but it didn't drop down into his gaskin like I would like to see it. It didn't look real powerful. He was kind of a heavy fronted horse; short necked. And although he could go on and be a racehorse, I don't think from a commercial standpoint he's going to be a horse that everybody is going to be flocking back to. Of everything I saw, outside of the Red Ransom, he was the least attractive to me.
Chace: I'd agree with that.
Bandoroff: He's a half-brother to a filly that looks like she's got a lot of talent. But his size...I send these owners conformation reports every month, and I pulled it out, and from day one...small, small, small. I was hoping he might get by with the Valid Appeal, but it doesn't sound that way.
---
We've been through all the yearlings. So why don't we finish up. How do you think your eye for a horse may differ from someone else's?
---
Welker: I'll start things off. I think each of us here looks at horses for different reasons but the end result is the same--finding a racehorse. I find myself being more critical because when I go around looking at horses, I'm looking at them to sell. I kind of know what fits the sale mode. So I'm going to be more critical on conformation, knowing that there might be horses I like that have some physical flaws, and are pretty racehorses, racy kind of individuals, but they are going to have limitations in the sale ring. So, I'm looking at it more from a seller and advising clients, and that point of view, and not from being on the other side, having to buy these things and then please my clients.
---
So you look at them a little differently? I know you said the end result for everybody is the racehorse. But say you are at the farm and here's a client with homebreds and here's a client who's commercial.
---
Welker: No question. It shouldn't be that way, but it is.
---
Buzz, how do you think your eye
might differ from someone else's?
---
Chace: Well, like Bayne said, sometimes you look at horses with different perspectives or different attributes (based) on what you have to do with them. But I think the people who are here and who are looking at horses are people who have a good eye or supposedly have a good eye. I mean I think there's a lot of people that have a good eye, and I don't think I would be any different than someone else that's real good at picking out horses.
---
Somebody mentioned earlier how a lot of the same people end up on the same horses. Is that what you're talking about?
---
Chace: What I'm talking about is there are so many good people looking at horses today. I mean, you know, people who really know what they are doing. You used to be able to get a horse bought without too many people looking at him. Now there are a lot of people looking at him. So yes, I think people flock on the same horse.
---
Before we go on to Marette, the two of you mentioned a background in show horses. Did that influence a little bit the way you look at horses?
---
Welker: I think what it does is my first impression of a horse is what I have imprinted in my mind as a well balanced, attractive horse. I work with some other people who come from strictly racing backgrounds. You see a horse with what they call a runner's head and it's not a pretty head but yet the frame and everything is there and they will like that horse a lot better than I will. You take a good, correct horse, one plain and one pretty, and you're going to sell that pretty one 10 times over the plain. That's just how realistic the market is.
Chace: People look at horses. I can remember Tosmah when she was running. She was the nastiest horse you would ever want to be around. But she just had that look about her. She was just a little bit different than the average horse. Things didn't bother her. She didn't go back in her stall. The more you see, the more you're exposed to them...some people can be around 100 years and never know. I mean I've seen that happen too. It does happen.
Moynihan: There's a lot of people that have been around a long time, that you would expect to know a lot more than they know, but...
Chace: Like someone said once, 'Well I've been around for 20 years.' The response to that was, 'I've been wearing this watch for 20 years; I ain't no jeweler.' (laughter)
---
You asked about one trainer that you said, 'Here's a guy I would like to have on this panel because I've never been able to figure out what he likes.' So there are people like that?
---
Welker: That's certainly true from a consignor's standpoint. That's always what you're trying to figure--what do I have that so and so is going to like, knowing that each person is going to like something a little bit different. You know a good horse is a good horse. And that's what Buzz is saying. You can go around and look and very few good horses fall through the cracks. Maybe when you get to the later days of September, when you have time restrictions, a good horse is going to fall through there, a good physical. And that's just because there are time restraints and everybody can't look at everything.
---
Twenty years ago at Keeneland a consignor was complaining about what barn he had been put in and Bob Courtney said, 'If you've got a good horse you can take him out there and tie him to the flagpole and they'll find him.'
---
Moynihan: And he's right. We stick around there until the wee hours of an 11- or 12-day sale. Each day toward the end (of the sale) I'm like, 'This has got to be the last day.' And then just that thought of you missing one or that thought of one going through there that's great bringing nothing, you've got to go back out. And then you go out there and it always brings plenty of money.
---
OK, Marette, on the question of how your eye might differ a little from someone else that is looking.
---
Farrell: Well, I really don't know how to answer that. For me, I have a couple of hats, because the main people I'm looking for are Tim McMurry and Eric Anderson, who buy for Stan Fulton. So I have to try and be aware at all times of what they want, and what they want is a classic type of horse, something with pedigree that might make a stallion prospect down the road, and obviously something that is sound. So I have to keep that in the back of my mind as I'm going through the first looks. And then pinhooking for myself, obviously I'm trying to be as cheap as possible, find what I think will work and be a valid racehorse that I can stand behind to sell to somebody, as well. So, I don't know how that differs from any other people. You just have to be aware all the time. I did find that actually one time just after I came over here to America, somebody said to me I should look at broodmares. I used to just toodle around the sales in November. So I started to test myself and I would see a mare come into the ring, and before I looked at the catalogue I would try and see what I thought that mare might have done or not have done and then open up the page and see. I thought that was a great challenge and a great test for myself to try and improve my ability to pick what I thought might be a racehorse. Granted, some of those old mares that were gimping along and whatever, you would think they wouldn't have done anything, and they're grade I winners.
Moynihan: There is one thing I can honestly say, and I think probably everybody here can--each year I look at horses, I learn something.
Chace: Absolutely.
Moynihan: It's not like you get to a point and you just know everything you need to know to go buy somebody a horse. Each year I see something different that I hadn't seen, or I may buy something that's maybe a little different than I bought before, or I haven't seen before and you learn; you're constantly learning. In addition to what Marette was saying, any time I have the opportunity in November--you know I'm primarily buying weanlings in November--to look at a great race mare, especially just off the racetrack, I take advantage of those opportunities. When horses are retired to stud, I love going around and looking at them. Sometimes you go look at them and you say, 'God, I can see it; he's a beautiful horse.' Sometimes you'll look at them and say, 'I can't believe this horse has earned three million dollars.' It's a constant learning experience.
Ward: My eye differs because when I buy horses, I select the horses that I train. I have to train them. So therefore, I have to live with my mistakes or have had to live with my mistakes. You start selecting horses with certain traits that you can train that other people can't. Horses that maybe have an offset knee, I probably have a better shot at training because I make sure that horse has a good hindquarter. Then the offset knee isn't quite as bad.
But, because we buy a lot of fillies for the broodmare band, we have to make sure these fillies are well-conformed animals and don't have too many glaring faults. With my colts, I have to be extremely picky too, because if we have a colt that makes it, we want him to go back to be a stallion, and so therefore, these horses have to be pretty correct.
---
Craig, you mentioned earlier about one yearling, 'Gee, if you saw the mare.' Do people very often ask to see mares? When they look at yearlings do you sometimes say to them, 'If you've got a couple of minutes I would really like to show you the mare?'
---
Bandoroff: You know when we're selling expensive horses, we'll have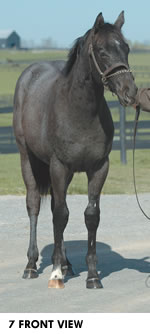 the race records and videos or pictures of the mares.
Moynihan: The one thing I have done, if I'm buying an expensive horse, as a foal, and even sometimes as a yearling...if I'm concerned about size for whatever reason, maybe it looks short for its age or if I have any kind of concern, I want to go look at the mare, and if that mare is a little bitty mare...
Welker: You're going to stay away.
Moynihan: I'm off.
Welker: As a consignor, the number one question that goes back to the mare is if somebody is on the fence about the size of the yearling. How big is the mare? That's the question that you get because that's going to give you a little indication.
Moynihan: You usually get, 'Oh, she's great big. Don't worry about it.' (laughter)
Chace: I watch an awful lot of races, and I've been around the racetrack and watched a lot of good horses run. And you can really see when a horse goes to stud if he's going to be a good stallion or not. You have a good opinion whether he's going to be a good stallion or not. And there are a lot of horses that go to stud, that get a lot of advertisement, and I just walk right by them. By watching races I think you can determine if a horse is going to get precocious offspring or sire plodders.
Moynihan: You know what he was, and generally speaking they get those kind of horses.
Chace: But false reputations...I mean you can get really caught in a trap, so you've really got to watch that aspect of it. There are certain sire lines that you can follow and be successful and others you can hope to be successful.
---
If a large number of people you respect are bidding on a horse that you rejected because of conformation, do you ever go back and look or reconsider?
---
Moynihan: You know we personally do so much pre-sale work, we know where we're going. Very rarely, I mean you can count them on one hand, have we made a decision to buy a horse right before he entered the ring. With the advent of the repository and the pre-sale vetting...if somebody is going to spend a lot of money on a horse, chances are they want to pre-sale vet the horse. I look at them enough to know whether I want them or not. I'll go back once, twice, three or four times in some cases, because I want to be confident that I like the horse.
---
I assume also that quite often there's one that's bringing a good price that you thought would but you still didn't like it for a certain reason?
---
Moynihan: Yeah, plenty of horses. There are plenty of horses that bring a lot of money that for one reason or another I've decided that I don't want to try to buy that horse. It may be because of pedigree; it may be because of conformation.
---
Maybe going back to what you were talking about, because of pedigrees and trying to make stallions early on...
---
Moynihan: You look at the results and you say, 'Well I'm surprised that horse brought that kind of money.' You may have had a bad experience with a certain conformational fault that other people have never had a bad experience with...it doesn't bother them, but it may stop you dead in your tracks. It may stop you dead in your tracks because you remember the last two that you bought had a problem and you don't want to get in that situation again.
---
Marette, you mentioned that when you first got started.
---
Farrell: Yeah, that's right. It might be just a personal issue that you had, that may not necessarily stop the horse, but something that you experienced and you don't necessarily want to go try and buy that type again.
Moynihan: I've seen people that I respected go and buy the horse and I still said, 'I don't want any part of that horse.'
Ward: If a horse that I have eliminated brings a lot of money, I don't have any second thoughts about it. I've got a lot of confidence in my ability to select animals and, for the most part, I wind up selecting the same animals as Wayne Lukas and Bob Baffert. We all wind up selecting about the same animals. So usually the horses that bring a whole lot more money that we're not on are usually European-type horses. Their pedigree and conformation wouldn't be suited for the dirt.
---
Bayne, Buzz, anything to add to that?
---
Chace: If I've looked at a horse and made up my mind, and when that horse goes in the ring and I see a lot of people bidding on him, I wish them well.
It's just something that maybe I didn't want to get involved in, or I wasn't comfortable with, but that doesn't mean to say he's not going to be a nice horse. And I just wish them well and never think about it again. Never look back.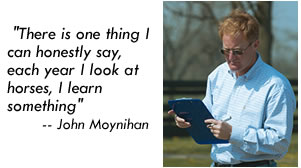 Welker: I have to agree. I think from a consignor's standpoint, I mean especially when you're selling good horses--and I'm talking about select type horses in the earlier days of the Keeneland (September) sale--good consignors are predominately going to know who's on that horse and who's not on that horse. And you know they might come back for a final look before that horse goes in the ring and they might still be on or might be off.
Moynihan: I think they talk themselves out of it. I do that a lot.
Welker: That's right. So you never know. It doesn't matter. All the vetting and everything else doesn't mean that horse is going to go up there and bring a lot of money. Because I've seen it happen too many times; people get off the horse. It's not that they're trying to talk themselves into it, they're trying to talk themselves out of it.
---
Let's kick that around a little bit. You said you can count on one hand the times that 10 minutes before, all of a sudden, you said, 'Here's one I like.' How many times have you had one on your list for quite a while, and 20 or 30 minutes beforehand you talk yourself off?
---
Ward: Because we prescreen and vet these animals so hard, usually when a horse gets to the holding ring, unless there is a conformation fault that I just entirely missed, we usually stay locked on. So when we get our short list, our short list stays very true right through the sale. Most of the times the vets talk me out of the horse. Because part of the process is to let the vet eliminate a certain amount of them, and then we go back with what remains, and look at those, and then we make a determination whether they stay or go. But it's usually not a last minute determination. Once we've stated yes, we stick with it.
Moynihan: Most good horses that I've loved, I know immediately within 30 seconds of them walking out.
Chace: That's right.
Moynihan: The horses that I like, I put on my list to re-inspect, I'm hard on a horse. I'm purposely hard on a horse grade wise the first time I look at them, because I want to be hard on them, and if I want to re-inspect them, I want to like them more the next time I re-inspect them, Most every good (conformation) horse I've bought that turned out to be a good racehorse, I knew within 30 seconds that was what I felt was a top, top prospect. The ones that I've got to re-inspect, if I find myself trying to talk myself into it...if I would have walked away from all those horses I would have been much better off.
I look at everything that I buy for my clients. I don't have anybody looking for me. You've got to stop after a while because you don't want to get taxed and fatigued. You don't want to show up at Craig's barn and have him pull out a horse and make me be too hard on it. Because you want to start with a fresh mind, you look at a lot of horses and you've got to be careful because you have to have an open mind when you look at everything.
Welker: Because another thing that happens, when you go and you're looking at numbers and numbers and numbers. And it's funny, you might start off and you look at five or six real good horses, and then you'll look at 40 or 50 horses that are just horses. By the end of that list you can look at a pretty good horse, but you're so tired of looking at mediocre horses, that you might be a little too critical.
Moynihan: I give those kinds of horses the benefit of the doubt. Usually I'll mark them down to re-inspect even if I kind of know in the back of my head I'm going to come back tomorrow and not like that horse. I would rather come back tomorrow and go through the exercise of not liking him than have the potential, as Bayne said, of missing him.
---
Anybody can chime in here. It was mentioned how you become fatigued and obviously the horses when they get pulled out a lot, they become fatigued too. Do you like to look at them at the end of the day when they've already been pulled out a lot?
---
Moynihan: I do that, but I would much rather look at a horse first thing in the morning.
Chace: I would rather look at them first thing in the morning, look at them first before anybody looks at them. Now, they're taking horses out of the stall that are really not showing as best as they could. They're jumping up and down, a lot of times that makes you work even harder because you have to come back and re-inspect a lot of these horses that you thought for one reason or another you should see again. I'm talking about early in the sale...there's a lot of people who don't show up until the day before the sale starts, but if you're really doing your homework you have to be there.
Ward: In general, horses usually show the best mid-morning. Horses that have just shipped in and you start to look at them don't show well. So it's usually best to give horses time to really settle in and show for about five or six hours before you go to look at them. Late in the day, if a horse is very tired, then I usually will go back and look at that horse again when he's fresh. The ones you inspect at the end of the day, you've got to be a little forgiving for their being tired.
---
The other day a trainer was quoted as saying about a horse, 'He's a typey type.' Do different body types suggest to you different types of runners? When you look at the conformation, do you think dirt, turf, short, long?
---
Chace: Absolutely. A horse could be a sprinter type, a miler. Absolutely.
Moynihan: The Cat Thief, irrespective of his foaling date, you would predict to be an early, dirt looking 2-year-old. The Dynaformer on the other hand would look like a late-maturing grass horse.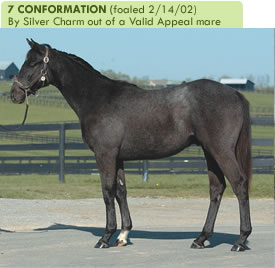 Ward: I think there is a very definite difference between sprinters, routers, and grass horses. A sprinter is usually short-coupled, straight shouldered and doesn't have a long, flowing kind of a walk. A router for the dirt is usually a nice medium to better horse with a good, sloping shoulder and a good, long walk. And a good free walk, with plenty of heart space, lung space, big barreled. I do not like horses that are long necked and high headed, which means they are unbalanced. Grass horses can be a little bit sickle-hocked; they can be a little bit offset in front, but they mainly have to have a good foot and a good long walk, and be what you would call angular. Dirt horses need to be very muscular, whereas grass horses can be not quite as muscular. They're skeletal-shaped they can be a little bit more skeletal than muscular.
Welker: But there are certain times you see a horse with a dirt pedigree, you know, that might be better suited for the grass. You will see a horse that is a little inverted, and a lot of times he's going to run better on the grass than on the dirt, or you see a horse with a big rear end and hocks low to the ground and a good straight hind leg, and you think he's going to be fast. He won't go real far, but he'll get there fast.
---
Then you get one like Lure, he was fast on the dirt and then something told them to eventually try him on the grass.
---
Welker: But there are horses that have a grassy look or have a speed look.
Moynihan: Then you have one that has a grass pedigree...
Chace: And you get Cigar.
---
That's a good example. Is there anything else you would like to mention?
---
Bandoroff: I have a question. You touched on this a little bit. Has the pendulum swung too far to conformation?
Chace: I think the bottom line is when you get right down on the wire, to have some pedigree.
Moynihan: I agree with that.
Chace: I mean you've got to have some pedigree in there somewhere.
Moynihan: At the quarter pole.
Chace: You have to have it. And as far as the heart machine is concerned and all that stuff, when you get down around the eighth pole, that's when the heart machine turns on, and that's when the pedigree usually turns on.
Welker: I think it's swung back, personally. We were out there where it was totally pedigree. I feel it's coming back now. I see that too with repository issues, and a little bit with conformation, that there have been too many good horses that have gone out there that have had physical flaws that have been good runners.
Chace: Empire Maker will take care of that.
Welker: Sure he will. There's your pedigree coming out.
Bandoroff: You look at some of these prices, predominantly at the 2 year-old sales but you see it at the yearling sales too, and you look at the page and you say how did this horse bring that kind of money.
Chace: Everybody says that.
Bandoroff: Because you know the pendulum is way over here on the physical horse. I mean pedigree without the physical horse isn't worth anything, but you still...
Moynihan: You go through the July books and the Saratoga books and then you see a horse like you sold, Real Quiet. I mean you know every year you go into the Derby picture there are a lot of horses sold for not an exorbitant amount of money.
Welker: But to me you take a Real Quiet, and especially when you look at him from the side.
Moynihan: Oh, he looks like a runner.
Welker: Right, he looks like a runner. But you take that pedigree that he has and I mean, to me I can see that. You can see how that happened.
Moynihan: You can see why it happened. And I think too it all depends on what you've had. You've had a tremendous amount of luck as I have buying a lot of horses that have pedigree and that's how you kind of get into the physical aspect...great looking physical horses and then when that happens you tend to kind of go with what you've had success doing. And then when you couple that with going and buying a horse that has a lot of pedigree, it gives you even more confidence.
---
What you're saying is those are the kind of horses that make their pedigree?
---
Moynihan: Yeah, they do.
Chace: Oh absolutely, especially fillies. I mean you know you've got a chance, if you've got a good physical, to go on and make a good pedigree for herself.
Moynihan: I personally have never bought a horse that wasn't physically what I would normally require, that had a lot of pedigree. Never have I ever bought one that was successful. Never. I've proven for me it doesn't work.
Chace: When I bought Artax, I always liked Apalachee mares. And that is one of the biggest reasons I bought him. Now, he also had Marquetry. He won the Meadowlands Cup way back when it was good, and the race was full of speed--the race was full of speed, and he just ran away and hid from the speed. Like I remember when Forest Wildcat ran at Keeneland, that race was full of speed, and he just ran away and hid from the speed.
That's how I came to buy Artax, and Artax became the fastest horse in the world. He had the Apalachee and the only reason that I could validate buying a horse by Marquetry was Marquetry himself the way he ran away and hid from the speed.
---
That goes back to what you were talking about, watching a lot of races.
---
Chace: Right.
---
It comes back to help you later on.
---
Chace: It means a lot; sticks in your mind.
Moynihan: When you see that brilliance on the racetrack, that really sticks.
Ward: We used to try to find a horse that outran his pedigree, but now we've changed in the type of horse and the program that we do. And pedigree is extremely important to us in what we do, so we try to find a horse that can run up to his pedigree. We're looking for the well-bred animal that we hope can run up to his genetic ability. If that happens, then we've got a very valuable commodity. We've eliminated that no pedigree horse out of our system, but we still look at a lot of horses late in the sales that have potentially good pedigrees. It might be deep down, it might be third dam, it might be by a young stallion, and it might have very good dosage. So we will look at those kinds of horses. They don't have to have black type all over the page but they do have to be genetically sufficient.

Part One | Part Two | Part Three