Veterinary Form for Thoroughbred Auctions
Download this Blood-Horse Special Report for FREE!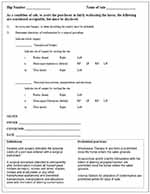 A free printable veterinary form for disclosing acceptable procedures performed on a Thoroughbred prior to sale at auction.
You will receive an email that includes a link to your BloodHorse.com report. By submitting your information above, you are eligible to receive special offers and discounts from Blood-Horse LLC, our affiliates and trusted partners.