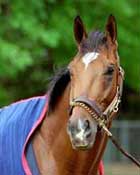 Universal Pictures has yet another Barbaro film in the works. The feature film follows in the hoof prints of two national documentaries that premiered in the past couple of months on NBC and HBO. Peter Berg will direct and co-produce the film, tentatively titled "Gone Like the Wind" and based on a magazine article by Berg's cousin, Buzz Bissinger.
Wednesday, July 11, 2007
Moviegoers got their first taste of "Seabiscuit" the movie this week with the debut in theaters of the preview promoting the coming summer's blockbuster.
Saturday, December 28, 2002