The Flying Wallendas appeared at Old Friends in Central Kentucky for a July 14 performance that was part of a fundraiser.
Monday, July 16, 2007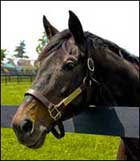 Old Friends, a Thoroughbred Retirement Facility near Georgetown, Ky., will soon host its annual homecoming/fundraiser, and this year it's a three-day event. The festivities, which begin the evening of July 13 and continue through July 15, will be highlighted with performances by circus stars the Flying Wallendas and Sopranos actor Frank Santorelli.
Monday, July 09, 2007