Steve Haskin's Belmont Wrapup: Show Stopper
Updated: Wednesday, June 19, 2002 2:38 PM
Posted: Tuesday, June 11, 2002 12:59 PM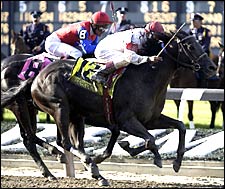 Photo: Mike Corrado
Sarava drives to upset Belmont Stakes victory.
Published in the June 15 issue of The Blood-Horse
"What a day. What a life."As the sun set on the Belmont backstretch following one of the most energy-charged afternoons of racing in New York history, trainer Kenny McPeek finally was able to express his feelings in simple words. In the paddock two hours earlier, as many of the record 103,222 in attendance for the 134th Belmont Stakes (gr. I) were cheering every move by Kentucky Derby (gr. I) and Preakness (gr. I) winner War Emblem, McPeek gave jockey Edgar Prado a leg up on 70-1 shot Sarava. No instructions were necessary. McPeek had been quietly confident for several days, and his parting words to Prado were, "Go shock the world." Approximately 15 minutes later, the world was shocked. But the immediate disappointment of War Emblem's failure to become the first horse to sweep the Triple Crown in 24 years began to lessen for most everyone in the sport as soon as it sunk in that the popular McPeek had won the race. For the past two years, McPeek and his wife, Sue, have gallantly dodged every obstacle life has thrown at them, from Sue's battle with cancer, to the death of several loved ones, to the loss of early Derby favorite Repent, to Kenny's boken leg suffered prior to the Derby, and finally to Kenny's untimely and abrupt dismissal four days before the Belmont as the trainer of multiple grade I winner Harlan's Holiday, the pride and joy of the stable who had been the favorite for the Kentucky Derby. But to the McPeeks, life has been sweet, regardless of the setbacks. Sue has conquered her battle, and 20 months ago gave birth to their first child, Jenna. The stakes wins have piled up, and, in their minds, the McPeeks are the luckiest people in the world, bonded by their undying love for each other. After the race, they became separated. When Kenny finally saw her, his face lit up. "There she is!" he said. After they kissed and embraced, Kenny said to whoever was listening, "You know what, every day I'm married to her, the next day I love her more." "Sure there have been some rough times," Sue said. "But the bottom line is that the big picture has been positive. We've been taking three steps forward for every one step backward. I'm just so happy for Kenny. He's stuck by me through difficult times. I've watched him grow as a horseman and a man, and if anyone deserves to win it's him. He deserves to be a part of history, and I'm so proud that he now is. Nobody can ever take that away from him." There were numerous twists and turns that led to this latest step forward for Kenny and Sue McPeek. It all started on Preakness Day when, a few hours before the big race, Kenny sent out Sarava, a relatively unknown European import, to win the listed Sir Barton Stakes at 1 1/16 miles. No one thought Belmont Stakes, and certainly no one dared mention Sarava in the same breath as War Emblem. No one except McPeek. It didn't take long for him to announce that Sarava would be sent to Belmont Park to take on Bob Baffert's "black" stealth bomber, who was primed and ready for his assault on the record books. After his Belmont Stakes debacle with Pineaff in 1999, when he sent the horse to New York three days before the race, only to see him fail to handle the track, McPeek vowed never to make the same mistake again. This time he came early, shipping Sarava 10 days before the race, accompanied by exercise rider and assistant Hanne Jorgensen, who also served as groom. That set up the Belmont's No. 2 love story. Jorgensen's boyfriend just happens to be Mick Jenner, the exercise rider for War Emblem. "Mick does his job and I do mine," Jorgensen said several days before the race. "We both wish each other well, and we share each other's joys and sorrows. I was so happy for him in the Derby and Preakness, and I'm sure he'd be just as happy for me if we won. This isn't a hard situation for me personally, because we're here as a longshot. But he's training super and I'm just hoping for the best." The journey that led Sarava to McPeek's barn at Gulfstream Park this past January was strange enough to make one believe fate was playing a hand. Purchased at last year's Fasig-Tipton Calder 2-year-old sale by bloodstock agent Richard Galpin for $250,000 for owners Paul and Susan Roy, Sarava, named after a Brazilian musical, was sent to trainer Brian Meehan in England, where he had little success racing on grass. Because he had trained well at Calder before his sale, it was decided to send Sarava back to the United States. Half-interest in the son of Wild Again was sold to Gary and Kitty Drake, and Sarava wound up in the barn of Burk Kessinger Jr. at Churchill Downs. In his U.S. debut there on Nov. 21, he was sent off at 36-1. In the race was a Hennessy colt named Sip'n, trained by Kenny McPeek and owned by Jack and Laurie Wolf, who also owned the promising 2-year-old Harlan's Holiday. "Sarava really whipped us that day," McPeek said. "I went up to Gary Drake after the race and said, 'Wow, your horse was impressive. Is he for sale?' He said no and that was that. Winter comes and I get a call from Gary. He says, 'You know, it's cold and frozen up here in Kentucky. My trainer doesn't want to go south; would you be interested in taking this colt?' I wanted to talk to Burk first, because he's a friend of mine, but he was in South Africa at the time and I couldn't reach him." Sarava was sent to McPeek, who shortly after had to deal with the "worst quarter crack" he'd ever seen. It eventually became infected, and blacksmiths Bruce Scott and Jim Brummitt worked on it, applying a sugar iodine pack to drain out all the infection. "That was a nasty quarter crack," Brummitt said. "It was at least an inch and a quarter wide and we had to clean it all out and reconstruct the hoof by cutting about 25% of it away." Sarava ran twice for McPeek in April, finishing second both times in the slop. Then it was on to Pimlico for the Sir Barton. Fast forward to June 5. A Tex Sutton 727 jet lands at Republic Airport in Farmingdale, Long Island. The first horse to emerge from the plane is War Emblem. After attempting to cow kick one of Tex Sutton's handlers, America's most famous and notorious racehorse is led into one of the four awaiting vans. Proud Citizen, runner-up in the Derby and third in the Preakness, is next, followed by other Belmont starters Perfect Drift and Wiseman's Ferry. Then another horse is led off--a bay with a blaze who is not on the passenger list that was released. "Guess who that is," said Tex Sutton vice president Paul Holthus. "That's Harlan's Holiday. He's going to Todd Pletcher." The Florida Derby (gr. I) and Toyota Blue Grass Stakes (gr. I) winner, who was coming off a fourth-place finish in the Preakness, had been removed from McPeek's barn on June 4, the day after the trainer left for New York. Only "heartbroken" assistant trainer and exercise rider Helen Pitts was there to bid farewell to the colt, since McPeek had already departed for the Belmont. "I'm hurt and disappointed," McPeek said. "I've been fired more than once, but we had been doing so well and I thought we were having fun with this horse. When a guy gives me a horse, I thrive on giving him that big victory. I put a lot of energy into it, and I want the people I train for to love it. It gives me more satisfaction to see them feel good than it does myself. We won a lot of big races with 'Harlan' and I thought I did a really good job with him, and that they had a good time. We kicked some butt with that horse. Then it all fell apart. I was always honest with them and I trusted them."
Continued...
FREE! E-Newsletters from The Blood-Horse!...
Follow the top stories of major racing events, racing previews and results with FREE e-newsletters from bloodhorse.com. As news develops, we'll deliver updates to your inbox. Follow important events moment by moment, step by step!