War Emblem Gets First Feel of Belmont Surface
by Steve Haskin
Date Posted: 6/6/2002 3:33:51 PM
Last Updated: 6/8/2002 10:26:44 PM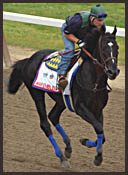 War Emblem gets his first feel of the Belmont surface Thursday.
Photo: Skip Dickstein

The photographers were ready. The TV cameramen were ready. The print journalists were ready. They all gave a passing glance to Like a Hero and Medaglia d'Oro, who were circling near the gap, then re-set their sights to Barn 7, where assistant trainer Jimmy Barnes sat atop the stable pony Cisco. Finally, after hours of anticipation, the "black" presence of War Emblem came strolling out of the barn and headed to track, with trainer Bob Baffert leading him..Photographers and cameramen grabbed a few quick shots, then scurried closer to the track to get a few more. Baffert brought the son of Our Emblem on to the track and turned him loose, then headed up to the trainer's stand to view the action."This track is too big," Baffert said, as he struggled to locate his horse on the backstretch. It took The Thoroughbred Corp's Terence Collier to point out the colt's whereabouts.War Emblem, under regular exercise rider Mick Jenner, galloped once around, well out in the middle of track, and went smoothly throughout. "It looked like he handled the track really well," Baffert said.



Copyright © 2015 The Blood-Horse, Inc. All Rights Reserved.