Triple Crown Heroes: Affirmed
Date Posted: 6/6/2002 10:41:01 AM
Last Updated: 1/27/2011 1:53:53 PM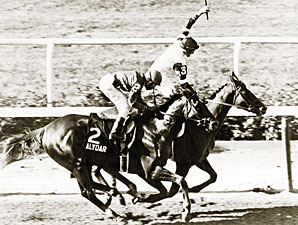 Affirmed noses out Alydar in the Belmont Stakes to claim the 1978 Triple Crown.
Photo: NYRA
Editor's Note: In the last of 11 installments on previous Triple Crown winners, here is an excerpt from the June 19,1978 issue of The Blood-Horse on Affirmed winning the Belmont Stakes to complete the Triple Crown.
If you care anything about horse racing, you must have seen the Belmont Stakes (gr. I) unless something else happened that was very important. If you saw it on television, then you know that it was a great race--maybe the greatest you have seen or ever will see--and you know about the coolness of the riders and the courage of the horses. You know that Alydar went at it the only way he could, since he had been beaten using his own style. He went to the throat of Affirmed early, a mile or so from the finish, and he fought on Affirmed's ground, at Affirmed's game.
Alydar could not risk it with a stretch run, a late kick that has run by every other horse he has met and on occasion even got him by Affirmed. He could not risk that again, because in the Preakness (gr. I) and other races he had gotten to terms and had not been able to make it to the front.
If you saw it on television, you know that Alydar did everything he could, and you know that Affirmed stood up to him again, fought back when Alydar caught and passed him, and ran on desperately and won by a head. If you watched on television, you know all about the Belmont.
What you missed is hard to measure, but you would have liked it better if you could have been there.
There is no way to generalize about how 65,000 people react--some might have been bitter that they lost money, others only anxious to cash, some might have been disgusted at the length of the betting lines and food lines, and some simply might have missed watching the race. There is no way to describe 65,000 people as if they were one, but there were a lot of them there who knew it was better to be at Belmont Park than to be anywhere else June 10.
There was a reaching out to those horses, albeit one way, that could not exit across the air waves. ...
We sat in a section of the crowd where those around us were not directly involved with the Turf, not owners or trainers or jockeys' wives or officials. Around us grew unabashed sound, enormous sound, at once high but low, shrill but growling. Once Affirmed and Alydar were locked in the stretch, the sound was locked in, too, and around us after the race there were looks of amazement. Many appeared to have had no particular choice in the race, simply had been overwhelmed by the beauty of the struggle, and afterward they cheered Alydar almost as loudly as they cheered Affirmed. There was a winner and a loser, but the brilliance of each made a hero of the other.
If you saw it on television, you know all about the Belmont, but you missed hearing hardened New York race fans on the MTA Belmont Special. You missed the black lady in the green scarf and the plump, middle-aged white man in the yellow pullover, taking about two horses, calling them by their names and never "the two horse and the three horse," remarking over and over how great they both were, and never putting the knock on the jock who happened not to be on the winner.
What you missed is hard to measure, but you would have liked it better if you could have been there.
(Afternote: Affirmed's Triple Crown also made a sensation of his teenage rider, future Hall of Famer Steve Cauthen. Affirmed and Alydar met once more, in the Travers Stakes at Saratoga, but the race ended on a down note after Affirmed, under Laffit Pincay Jr., interfered with Alydar and was disqualified from first. Affirmed met the previous year's Triple Crown winner, Seattle Slew, in the Marlboro Cup in the first-ever meeting between Triple Crown winners and finished second. As a 4-year-old, Affirmed won his last seven of nine races, and earned a second straight Horse of the Year title. As a stallion, Affirmed is represented by 75-plus stakes winners. Affirmed, who died Jan. 12, 2001, ranks No. 12 on The Blood-Horse Top 100 Racehorses of the 20th Century.)
Copyright © 2015 The Blood-Horse, Inc. All Rights Reserved.