Triple Crown Heroes: Seattle Slew
Date Posted: 6/5/2002 9:04:45 AM
Last Updated: 1/27/2011 2:17:16 PM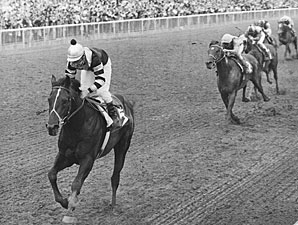 Seattle Slew brings home the Triple Crown with this decisive win in the 1977 Belmont Stakes.
Photo: Coglianese Photos
Editor's Note: In the 10th of 11 installments on previous Triple Crown winners, here is an excerpt from the June 20, 1977 issue of The Blood-Horse on Seattle Slew winning the Belmont Stakes to complete the Triple Crown.
Seattle Slew is about out of answers, but only because racing is about out of questions. Speed?--Plenty, whenever needed. Stamina?--Name the distance and he'll run it. Heart?--See For The Moment and Cormorant. Class?--Absolutely.
One blank left unfilled on the report is that beside History. This is up to outsiders. Where does he fit in the annals of the Turf. Seattle Slew is not concerned personally, here, all he does is run. It is a free choice to those who watch him and hear of him to decide whether he is at or near the top of his kind.
Comparison of horses of different years is universally said to be impossible, and it is universally engaged in--with relish. All foals are born amid hope of success, a dream of glory, but not even the horse breeder--perhaps the most optimistic of human forms--has ever had any solid ground for looking at a new foal and musing: "Looks like the one for the Triple Crown. Probably go undefeated."
Until last week, there never had been such a horse, never a winner of the American classics--the Kentucky Derby (gr. I), Preakness (gr. I), the Belmont (gr. I)--that never had tasted defeat. There was much precedent for winning the Triple Crown, nine examples of the ultimate for a 3-year-old, but there was no precedent for an unbeaten Triple Crown winner. ...
On Belmont Day, the last morning of the argosy of the trilogy, trainer Billy Turner noticed something different about Seattle Slew. For many months he had seen him daily, for hours, watched him in the morning, touched him, studied him. Now, he saw something slightly different, and it pleased him.
"His eyes were not with us. He looked different, I told Mike Kennedy (exercise rider), 'I've never seen him so determined.' "
Seattle Slew was to gallop around the huge 1 1/2-mile Belmont track which has been his headquarters for most of the year, but Kennedy pulled him up after only a half-mile.
"He was afraid he could not hold him," Turner said. "I had warned the outriders, too. This horse might have gone around two or three times."
Safely returned to Turner's barn, Seattle Slew was bathed and then walked around a ring nearby, still the darling of photographers and television crews. Watching were some of his people, "the troops," they call themselves. (Mickey and Karen Taylor own the horse in partnership with Dr. Jim Hill and his wife, Sally, and all have been close to the colt virtually every day since his 3-year-old campaign began in Florida.)
Were they glad it was about over?
"We will be if it has a happy ending," Mickey Taylor said, but Billy Turner, often one to joke, said, "Oh, no. I wish there was one more race, actually." Then he wandered off to talk with jockey Jean Cruguet. ...
Slew's handlers are ardent admirers of the colt, but they realize that no horse can go through a fall, winter, and spring without a loss and not be lucky. It does not necessarily take good luck, but it certainly requires an absence of bad luck.
"You can make your own luck to a degree," said Hill. "I immunized him for everything I could think of, and we worm him regularly, but still, this entire year has been like a dream. It just seems that everything has gone right, and if it continues to go right for a few more hours we'll be the happiest people you ever want to see." ...
The futility of the chance was not completely apparent until more than a mile had been run. Spirit Level and Run Dusty Run had moved abreast of the leader (Seattle Slew), as Cruguet sat still. Everything in control, but no horse can be absolutely certain of getting 12 furlongs until he really does it, so there was some question left of the outcome when Sanhedrin made a quick spurt into second and Run Dusty Run continued to stay in tough.
Nearly the quarter-mile pole, Seattle Slew burst away, losing touch in perhaps six strides, and he had a daylight margin while straightening for the final three-sixteenths of a mile. Through the stretch, Cruguet hit him lightly a couple of times, but it was a needless gesture. Run Dusty Run, gritty colt that he is, came back on the inside and passed Sanhedrin again to be second, assuring that the order of the first three was the same as in the Kentucky Derby. ...
(Cruguet) also for a moment was an overly exuberant one, for he stood up, prior to the finish, and waved his whip, just the sort of thing to make a trainer's heart leap to his adam's apple.
The vision of his rider tumbling to the turf a few feet from the finish may crop up now and again in a Billy Turner nightmare. But it did not happen on Belmont Day. Cruguet stayed aboard, and Seattle Slew glided under the wire, America's 10th Triple Crown winner. The margin was four lengths and could have been greater, The time was 2:29 3/5 and could have been swifter.
(Afternote: Seattle Slew's unbeaten streak ended three weeks later when J. O. Tobin, Affiliate, and Text finished in front of him in the Swaps Stakes at Hollywood Park. That was it for Seattle Slew for the year, but he returned the following season to beat 1978 Triple Crown Affirmed in the Marlboro Cup at Belmont Park in the first-ever battle between two Triple Crown winners. The two met again in the Jockey Club Gold Cup, but this time distance star Exceller got to the wire first by a scant margin over a determined Slew. As a stallion, Seattle Slew sired 1984 Kentucky Derby/Belmont winner Swale, plus such other stars as Belmont winner and Horse of the Year A.P. Indy, as well as the brilliant champion filly Landaluce. Seattle Slew died May 7. He ranks No. 9 on The Blood-Horse Top 100 Racehorses of the 20th Century.)
Copyright © 2015 The Blood-Horse, Inc. All Rights Reserved.