War Emblem In 'Awesome' Final Work for Belmont Stakes
by Ray Paulick
Date Posted: 6/4/2002 9:35:15 AM
Last Updated: 6/5/2002 8:52:37 PM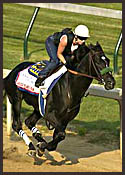 War Emblem, with Dana Barnes aboard, worked at Churchill Downs Tuesday morning.
Photo: Anne M. Eberhardt

Triple Crown hopeful War Emblem had his final serious work for Saturday's Belmont Stakes when he worked five furlongs in 1:01 at Churchill Downs Tuesday morning. "Whew, I'm glad that's over," a relieved trainer Bob Baffert said as the colt pulled up.Under his regular exercise rider, Dana Barnes, the son of Our Emblem strode out effortlessly while clicking off fractions of :12 1/5, :24 1/5, :36 2/5, and :48 1/5 en route to the final clocking over a fast track. Churchill Downs clockers did not provide a gallop out time, but Baffert clocked the colt in 1:14 3/5 for six furlongs. "I shut him down before the turn," Baffert said. "I didn't want him to go strong around the turn."Baffert immediately called Richard Mulhall, who manages Prince Ahmed Salman's Thoroughrbed Corp., that owns the colt, and said, "He went awesome."After his call to Mulhall, Baffert said of War Emblem, "He's a tough son of a gun. He is one tough hombre."Temperatures were in the upper 70s by the time War Emblem worked after the 8:00 renovation break. But Baffert said War Emblem has not been bothered by the unseasonably hot, humid weather. "I just keep his electrolyte level up," Baffert said. "The heat bothers me more than it bothers him.""I think he's ready," said Baffert. "If he were a big heavy horse, it (the Triple Crown campaign) would have zapped him pretty good. But he's a very light horse; he's very tough. He's exciting to even watch work because you don't hear him coming -- he's just so smooth. I'm very excited at this point. These races bring out the little kid in us, but a lot of things can go wrong in this business. So we've just got to keep our fingers crossed and hope everything goes smooth from here on out."War Emblem is scheduled to depart Louisville, Ky. for New York at approxiomately 8:00 a.m. Wednesday.



Copyright © 2015 The Blood-Horse, Inc. All Rights Reserved.