Unshaded Injured; To Undergo Surgery
by Steve Haskin
Date Posted: 9/8/2000 10:20:07 AM
Last Updated: 9/11/2000 8:51:02 AM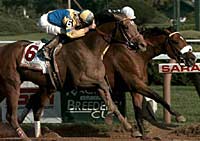 Unshaded (6), passes Albert the Great (on rail) en route to victory in this year's Travers Stakes.
Photo: Associated Press/ Jim McKnight

Trainer Carl Nafzger told bloodhorse.com on Friday that Unshaded came out of his Travers Stakes victory with a strained tendon in the left front leg and will undergo surgery at Rood & Riddle Clinic in Lexington, Ky., on Monday. The injury will force the 3-year-old son of Unbridled to miss the Breeders' Cup."He came out of the race with a little heat in the leg, and an ultrasound confirmed the damage," Nafzger said. "We flew him to Kentucky and put him on anti-inflammatory medication. You couldn't even see it, and we thought no surgery would be needed. We re-ultrasounded it, and Dr. (Larry) Bramlage recommended surgery. We could have turned him out and let it heal, but we've had such a high success rate with Dr. Bramlage's technique, we thought it best to go ahead and have the surgery done."Bramlage described the injury as a "small bow" to the tendon. The renowned veterinary surgeon will utilize a procedure he developed 15 years ago in which the tendon is split in a small area, allowing it to heal back with scar tissue in the area of the incision. Bramlage said Unshaded's check ligament also will be cut, allowing it to grow longer. "We do about a dozen surgeries like this every year," Bramlage said, "and some horses have had very good results. Retraining the horse is an important part of the process." Bramlage said a study of horses that had undergone the surgery showed the average amount of time needed to return to the races was just over 10 months. He added that if the surgery goes well, Unshaded could start retraining in as little as four months.Unshaded is a gelding, and Nafzger and owner James Tafel are still hoping to have him around for a long time."We decided to do the surgery as a precautionary measure," Nafzger said. "It will be better in the long run. I've dealt with this 20 to 30 times and have had unbelievable success. For a horse of this stature, I've never had one who failed to come back as good as before."In addition to winning the Travers, Unshadedcaptured the Lexington Stakes at Keeneland and placed in the Belmont Stakes, Peter Pan, and Jim Dandy.



Copyright © 2015 The Blood-Horse, Inc. All Rights Reserved.