Triple Crown Heroes: Citation
Date Posted: 6/3/2002 8:12:09 AM
Last Updated: 1/27/2011 2:48:18 PM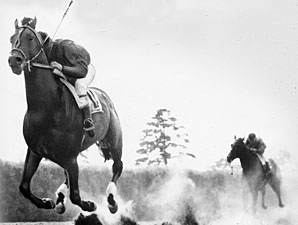 Citation takes the 1948 Triple Crown with this classic stretch drive in the Belmont.
Photo: File Photo
Editor's Note: In the eighth of 11 installments on previous Triple Crown winners, here is an excerpt from Joe Palmer's Sidelights column in The Blood-Horse issue of June 19, 1948 on Citation winning the Belmont Stakes to complete the Triple Crown.

Citation was passing the half-mile pole, three lengths ahead. Behind him Arnold Kirkland swung Escadru to full stride, and around the turn the margin shortened. Three furlongs away it was a scant two lengths, and the whole lone searching Belmont stretch lay ahead. It looked long to me; maybe it looked interminable to Citation. No Bull Lea had ever managed a top twelve furlongs, and I thought, with an odd constriction, that quite possibly Citation's banner was coming down.
And this was an unusual thing. I have no particular preference between Warren Wright and W. L. Brann, nor between Jimmy Jones and Ed Christmas, being on friendly terms with all four. In another race I would have been reasonably impartial.
But this wasn't another race. It was Citation, which I had watched grow in stature for almost a year, now, with the slowly crystallizing hope that here, at long last, was the horse we'd been looking for since a great golden chestnut roared to a stop at Kenilworth Park back in 1920.
He had come to the Belmont with undiminished brilliance, because those minors affairs behind Saggy and Bewitch had no more real significance than Upset's Sanford Stakes. Class and speed he had shown in abundance, the test of stamina was at its straining utmost, there on the turn. And Citation was yielding ground, with more than a quarter-mile to go.
I knew that he might stagger in. But if Citation was the horse I thought he was, that wouldn't have been enough. A gasping, barely-win victory would have been almost as bad as a defeat, and I would have been sorry for either, and I would have written a bad story, and afterward I would have behaved illogically.
I could not see Arcaro move. But with some slight dropping of the hands, he released the swelling energy of the great racer beneath him. Citation opened away. He was three-sixteenths away but he was home. The Belmont crowd began to roar, before he hit the furlong-pole. This observer dropped his classes, climbed over assorted cameramen, and went downstairs to get into the champagne.
(Afternote: Citation, who won the Jersey Derby in between the Preakness and Belmont, was in the midst of his modern-day record 16-race win streak. His greatness was underlined many times that year, but perhaps none more so than when he captured the mile Sysonby Handicap and came back three days later to win the two-mile Jockey Club Gold Cup. Citation also won the Pimlico Special in a walkover. In his first two years of racing, he won 27 of 29 starts, and his record at the time of his retirement was 32 wins from 45 starts and record earnings of $1,085,760. Citation sired a Preakness winner in Fabius and a Hall of Famer in the filly Silver Spoon while standing at Calumet Farm near Lexington. He ranks No. 3 on The Blood-Horse's Top 100 Racehorses of the 20th Century.)
Copyright © 2015 The Blood-Horse, Inc. All Rights Reserved.