War Emblem Breezes at Churchill in First Post-Preakness Work
by Ray Paulick
Date Posted: 5/29/2002 1:42:12 PM
Last Updated: 5/29/2002 2:58:35 PM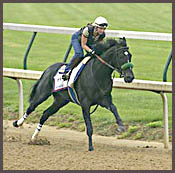 War Emblem, breezing at Churchill Downs Wednesday in preparation for the Belmont Stakes.
Photo: Anne M. Eberhardt

Triple Crown hopeful War Emblem had his first serious work since his May 18 Preakness triumph, breezing five furlongs in 1:00 3/5 Wednesday at Churchill Downs.Ridden by exercise rider Dana Barnes, the bay son of Our Emblem broke off down the backstretch with an opening furlong in :12 3/5, a quarter-mile in :24 4/5, and a half-mile in :48 2/5 on trainer Bob Baffert's stop watch. Baffert caught War Emblem galloping out six furlongs in 1:13 1/5, and seven furlongs in a strong 1:26 3/5.The official time for the workout was also 1:00 3/5, with fractions of :12 4/5, :25, and :49 . The official gallop-out time was 1:13 3/5."Looks like he hasn't lost it, huh?" Baffert said to a group of media and horsemen watching the workout from the track's clubhouse. "It was a good work for the way he did it. He could have gone a lot faster."Baffert then asked Barnes via two-way radio what she thought of War Emblem's work and Barnes responded, "He went great." A few minutes later Baffert asked the exercise rider, "Is he blowing much?" Laughter came over the radio speaker from Barnes, who simply replied "No."Assistant trainer John Goode, who accompanied War Emblem to the track on a stable pony, said to Baffert, "He barely broke a sweat."Baffert wanted to give War Emblem a more demanding workout at Churchill Wednesday than he had given the colt prior to the Preakness Stakes, when he was timed in 1:03 1/5 for five-eighths of a mile. Baffert said Victor Espinoza, who rode War Emblem in the Preakness and in his previous victory in the Kentucky Derby, told him the colt was rank and the trainer thought a stiffer workout might take a little of the edge off and prevent him from wanting to do too much early in the race.Baffert has scheduled War Emblem's final workout for next Tuesday at Churchill one day before shipping the colt to New York for the June 8 Belmont Stakes.



Copyright © 2015 The Blood-Horse, Inc. All Rights Reserved.