Triple Charm: Will Baffert Win It This Time?
by Ray Paulick
Date Posted: 5/21/2002 4:07:58 PM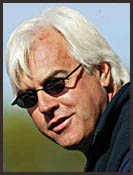 Will third try for Triple Crown be the charm for trainer Bob Baffert?


Published in the May 25 issue of The Blood-Horse
Will the third time be the charm for Bob Baffert? No other Thoroughbred trainer in history has accomplished what Baffert has in a remarkable six-year span--point three different horses to the Belmont Stakes (gr. I) with the Triple Crown on the line. Baffert is 0-for-2 following heartbreaking losses by Bob and Beverly Lewis' Silver Charm in 1997 and Mike Pegram's Real Quiet in 1998, but thinks fate may owe him one with this year's Kentucky Derby (gr. I) and Preakness Stakes (gr. I) winner War Emblem. Only the father and son training team of Ben and Jimmy Jones, Hall of Famers who worked for Calumet Farm during its glory years, has been in the same position more often. Ben Jones trained 1941 Triple Crown winner Whirlaway, and the two shared the training duties with Citation in 1948. Ben Jones trained Pensive, the Derby-Preakness winner who lost the Belmont by a half-length to Bounding Home. Jimmy Jones won the first two legs in 1958 with Tim Tam, who was defeated by Cavan in the Belmont while running on three good legs. Two other Hall of Fame conditioners, "Sunny Jim" Fitzsimmons and Max Hirsch, have had more than one run at the Triple Crown. Fitzsimmons conditioned the 1930 and 1935 Triple Crown winners, Gallant Fox and Omaha, respectively. Hirsch won the 1936 Derby and Preakness with Bold Venture, who bowed a tendon before the Belmont. Ten years later, Hirsch won the 1946 Triple Crown with Assault. With the Joneses, Fitzsimmons, and Hirsch, Baffert is keeping some pretty good company. "I've always thought I was a good trainer," Baffert said, "but when I think of the great trainers who were around when I started with Thoroughbreds, I think of people like Laz Barrera or Charlie Whittingham. I've never put myself in their league. But to win the Triple Crown would be special--not for me but for my parents. My dad got me in this business, and my mom is my biggest supporter--even though she was against it when I first started. I really want them to be part of this if it does happen." Baffert also thinks the horse industry would benefit from a Belmont win by War Emblem, particularly since the sport lost 1977 Triple Crown winner Seattle Slew on May 7 and for the first time since 1919 does not have a living Triple Crown winner. He also wants New York racing fans to see it happen, since they've come out in big numbers when the Triple Crown was on the line, beginning with Silver Charm's 1997 attempt, when on-track attendance was 70,682. Two years later, when D. Wayne Lukas-trained Charismatic was going for the Triple Crown, attendance soared to 85,818. Terry Meyocks, the president of the New York Racing Association, said the potential for a Triple Crown winner will help ensure a big day. Last year's Belmont day attracted 73,857 fans, the largest crowd in track history when the Triple Crown wasn't on the line. "Racing is on a roll right now," Meyocks said the day after the Preakness. "We're getting great coverage in New York, especially on WFAN radio and local television, and we're really benefiting from what the NTRA (National Thoroughbred Racing Association) and Churchill Downs have been doing. Tim Smith (NTRA commissioner) and I spoke earlier today, and we'll have some additional co-op advertising to promote the Belmont. CNN has been out here filming this week, the Discovery Channel has been here, and we're getting all kinds of media requests now." The Triple Crown sponsorship by Visa, the credit card company that will pay a $5-million bonus for a series sweep, has also boosted business. Visa has heavily promoted the Triple Crown through its television advertising campaign, and company CEO Carl Pascarella is eager to give out the $5-million check. "It's not about the money," Baffert said after War Emblem's Preakness victory gave the trainer and Prince Ahmed Salman's The Thoroughbred Corp. their fourth consecutive Triple Crown race victory. Point Given took last year's Preakness and Belmont after disappointing as the favorite in the Derby. "This is about history, and it's about giving those fans something they want. We've been to New York with a chance to win it all twice now, and the fans really came out and cheered for a Triple Crown. They're hungry. They deserve it." He also knows no one is going to hand it to War Emblem on a silver platter. "If they're going to win the Triple Crown, they've got to earn it," Baffert said. Not that Silver Charm or Real Quiet didn't earn it. Touch Gold caught Silver Charm in deep stretch of the Belmont, winning by three-quarters of a length. Baffert maintains Silver Charm never saw Touch Gold coming down the middle of the track. If he had, the trainer said, Silver Charm would have fought back and won. Real Quiet was nailed in the final jump by Victory Gallop after opening a clear lead at the top of the stretch. Critics said Kent Desormeaux moved Real Quiet to the lead too soon, but Baffert has been steadfast in his refusal to criticize the ride. "If it's meant to be, it's meant to be," Baffert said. "Fate owes me a Triple Crown. It owes Bob Lewis one, Mike Pegram, and the prince one, too." Baffert said he wouldn't have changed a thing about how he trained Silver Charm or Real Quiet up to the Belmont, and plans to follow a similar path with War Emblem. The son of Our Emblem returned to his Churchill Downs barn the morning after the Preakness where he was scheduled to walk for several days. He will train up to the race in Kentucky, shipping to New York three days before the Belmont. "I really think it's going to happen this time," Baffert said. "This horse is brilliant, and the way he came out of the Preakness is unbelievable. I think he's actually feeling better after the race than he was before. Point Given came out of the Preakness the same way last year. I really think this dude is going to put on a show Belmont Day."



Copyright © 2015 The Blood-Horse, Inc. All Rights Reserved.