Steve Haskin's Preakness Story: Battle of Baltimore
by Steve Haskin
Date Posted: 5/21/2002 11:42:39 AM
Last Updated: 5/22/2002 12:08:47 PM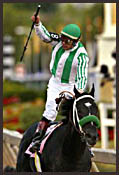 War Emblem, after winning Preakness Stakes.


Published in the May 25 issue of The Blood-Horse
It was no longer about buying the Kentucky Derby (gr. I), or Saudi Arabian politics, or lawsuits and bonuses. The 127th Preakness Stakes (gr. I) was about a white-haired man and his free-spirited black horse, and the history they will be attempting to make in the Belmont Stakes (gr. I) on June 8. What better year for a black horse named War Emblem to attempt a sweep of racing's Triple Crown? On the Chinese calendar, this is the "Year of the Black Horse." Of its five subtitles, this marks the first time since 1942 that the "Black Horse" has been the "Horse in the Army." Maybe the Chinese know something we don't. While some may have perceived the white-haired man and his black horse as villains, that was hardly evident as they walked down the Pimlico stretch to the paddock on Preakness Day. The explosion of cheers from the grandstand was deafening. The white-haired man waved back and the cheers grew even louder. The black horse paid little attention. He was already in the zone. It was like going back in time to 1997 and '98 when Bob Baffert and his white locks blew into racing's spotlight like a much-needed breath of fresh air. Since then, his popularity in some corners had taken a nosedive. Then a golden giant named Point Given came into his life, and many people began to flock to Baffert's side once again. Now, a year later, with his black horse following behind, the people came charging back in droves, just as wild and vociferous as they were in the past. Suddenly, all the negative press clippings meant nothing. Baffert was back on the path to glory; his horse was snorting fire; his parents and his brothers were at his side. All was right with the world. "Everybody says they hate me and all that," Baffert said, "but the fans, they don't hate me. Maybe there's just a lot of jealousy." To begin the story of Preakness 2002, and all the events that led up to this moment, we need only go back three days. It is 11:10 a.m. May 15 and the Tex Sutton Boeing 727 comes to a stop outside a cargo terminal at Baltimore Washington International Airport. The first horse off the plane is the Derby winner, his black coat shining in the late morning sun. There is nothing wild about the beast as his groom, Roberto Luna, leads him into one of the back stalls on the waiting Sallee horse van. Luna continuously strokes the bottom of the colt's chin, and he just stands there, occasionally looking out the window at this foreign environment. This is the first time the horse has ever flown. He looks nothing like the colt who attempted to savage two hotwalkers back at Churchill Downs earlier that morning. By the time he arrives at Pimlico, Baffert is there waiting for him. Also on the flight are the pint-sized Booklet and his trainer, John Ward Jr., winner of the 2001 Kentucky Derby with Monarchos. Although most felt this time Ward brought a zip gun against a howitzer, he did come well prepared with an arsenal of verbal ammunition. With the loquacious D. Wayne Lukas already at Pimlico, having accompanied Derby runner-up Proud Citizen and Table Limit on an earlier flight that day, the mind games began. Ward wasted no time in heading the posse that would go hunting for the thief who had the audacity to steal the coveted Kentucky Derby trophy right out from under the noses of racing's top riders and trainers. Ward promised to fire the first shot and "ambush" the evil black horse. Bobby Frankel, trainer of Medaglia d'Oro, a troubled fourth in the Derby, assured that history would not repeat itself if his colt got a clean break. Lukas, the fierce competitor that he is, brought a secret weapon in Table Limit, winner of a pair of sprints, to go along with Proud Citizen. Even the little- known Menacing Dennis, a California-bred rocket, was sent to Baltimore despite the obvious suicide mission that awaited him. Baffert referred to War Emblem as a stealth bomber--fast, deadly, and able to fly undetected under the radar screen. He still was fast and deadly, but the radar had picked him up after his Derby raid, and all guns were now pointed at him. "What is (Ward) trying to do, psyche me out or something?" Baffert asked. "Some of these guys are going to make it as tough on me as they can. They don't understand, this horse is fast, but he's got so much stamina. You can't psyche anyone out in this game. When they turn for home, it all comes down to one thing--who's got the heart?" Ward enjoyed hurling the verbal daggers at War Emblem and Baffert through the media, stating that the start of the race "will look like the Indy 500," and that his rider, Pat Day, "will have a loaded gun in his hands. "That's the fun of this kind of racing," said Ward, who almost bought War Emblem himself last fall, before Baffert had a chance to purchase him for Prince Ahmed Salman's The Thoroughbred Corp. But Ward backed out when X-rays taken by another interested party detected the presence of ankle chips. "We'll poke fun at one another, and we'll joust with one another, and we'll play a mind game here and there," said Ward. "But it doesn't matter what Bob and I say or do, because we're not out there. But we will be visiting each other early in the race." War Emblem, whom Baffert said "can be sweet at times," returned to his irascible ways once bedded down in his stall. His gallops over the next several mornings showed he was as powerful as ever, and he just glided over the Pimlico surface. It took all of exercise rider Mick Jenner's strength to pull him up. There was no doubt he was ready for whatever the enemy was going to throw at him. At the post position draw, the mind games continued. War Emblem, with only the first or 13th choice for selection order remaining in the two-step procedure, lucked out by drawing number one. Baffert, Salman, and racing manager Richard Mulhall had decided on post four until they found out there would be only single loading, from the inside out. Not wanting the colt to stand in the gate too long, they changed course and went for post eight. By the time the draw was over, all the other speed horses, with the exception of Medaglia d'Oro, had lined up outside War Emblem. They had all sacrificed the more desirable inside posts in order to be able to keep an eye on the Derby winner. It was a move that baffled most people, especially the locals, who dread the outside at Pimlico. "I went outside to force those guys to go inside," Baffert said, "but they didn't go for it. Now, they'll have to use their horses to outrun him." Despite the bull's-eye on War Emblem's back, Baffert remained confident, as he saw the colt improve and get stronger by the day. "If it's a dogfight, he'll pass," he said. "He's a tough horse. The question isn't whether he can rate; it's whether the others can keep up with him. They're going to need a rope to tow 'em if they want to stay close to him. I know those other trainers respect him now, because they're scared to death of him." Eddie Thomas, who has worked part-time as a hotwalker, groom, and foreman for Baffert the past six years and who worked closely with Affirmed for his "adopted" father, Laz Barrera, had been called in from his home in Saratoga Springs, N.Y., to help out through the Triple Crown. When he was asked one morning at Pimlico to remove War Emblem's poultice, he had to refuse. "I told them, 'I'm not touching him,' " Thomas said. "I didn't know him well enough to be put in that position. I broke out in a sweat just thinking about being around him, because he was giving off so much energy. He's at such a high level now."Continued...



Copyright © 2015 The Blood-Horse, Inc. All Rights Reserved.