MRLS Problems Resurface; Officials on Alert
Updated: Tuesday, May 7, 2002 12:28 PM
Posted: Monday, May 6, 2002 4:21 PM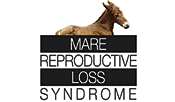 Thoroughbred foals with symptoms similar to those associated with last year's Mare Reproductive Loss Syndrome are being brought to veterinary clinics in Central Kentucky, officials said May 6."It's definitely here," said Dr. Doug Byars, an internal medicine specialist with Hagyard-Davidson-McGee near Lexington. "It's not as consistent thus far, but a few farms are bringing us foals routinely. On some farms, there is significant early fetal loss; on others, it is sporadic."While the number of problem foals and foal losses is down tremendously from last year, Byars reported the neonatal portion of the hospital is full. He said there has not been the daily influx of eight or 10 foals at a time like in 2001; they are seeing two or three foals a day admitted with symptoms similar to last year.Dr. Bill Bernard, an internal medicine specialist with Rood and Riddle Equine Hospital near Lexington and president of the Kentucky Association of Equine Practitioners, said there seems to be much less of a problem than last year, and that foals admitted to the hospital don't seem to be as sick as last year. Byars said the foals generally have a low white blood count, low glucose levels, eyes that are sunken (indicating clinical dehydration), and a majority were associated with red-bag delivery (the placenta becomes detached from the uterus and is delivered before the foal). The foals also have respiratory problems and don't breathe at birth, Byars said.Some farms are doing resuscitation on site and getting the foal to the clinic alive, but the death rate is high in those foals at the farms. There also are some symptoms in mares, Byars said."Some (mares) are agalactic (don't produce milk), and the placenta is thickened and endematous in the region of the umbilical cord where the alpha Streptococcus is found," Byars said.Last year, scientists noted higher than expected findings Actinobacillus equuli and Streptococcus species, bacteria which grow best in low-oxygen situations.MRLS was detected just before the 2001 Kentucky Derby when a series of events took place in Kentucky and surrounding states that resulted in 516 late-term abortions and 2,998 early fetal losses in Kentucky's Thoroughbred industry alone. There also were about 60 cases of pericarditis and 50 cases of unilateral uveitis reported in Central Kentucky horses. In 2002, there have been only two cases of pericarditis and two cases of uveitis reported. Byars and Bernard had each seen one pericarditis case thus far, and Bernard said eye expert Dr. Claire Latimer reported a couple of cases of uveitis the week of April 29.Byars said some veterinarians are using sulfa drugs (antibiotics) and pentoxifylline (a medication to improve circulation) on at-risk mares. "It's a shot in the dark, but we hope to spot something that gives us a therapeutic approach (to prevention)," Byars said.Preliminary results from a University of Kentucky study noted a correlation between early fetal loss and exposure to caterpillars, especially caterpillar frass, or excrement. Veterinarians emphasized farms should limit pregnant mares' exposure to both. More than 30% of the anticipated 2002 Thoroughbred foal crop in Kentucky was lost due to MRLS. The economic cost to the state from losses suffered by all horse breeds was estimated at nearly $336 million, according to a study commissioned by Kentucky Governor Paul Patton and conducted by the University of Louisville's Department of Equine Business. A review of this year's weather pattern shows temperature fluctuations in Central Kentucky have not been as extreme this spring as they were last year.On April 7, 2001, the high temperature in Lexington was 84 degrees (23 degrees above normal). On April 17, the low in Lexington was 29 degrees (19 degrees below normal). On April 18, the low in Lexington was 28 degrees (14 degrees below normal). On April 23, the high in Lexington was 82 degrees (16 degrees above normal). The highest temperature in April of 2002 was 84 degrees on April 18 and 19. The lowest temperatures were 28 degrees on the April 5; 30 degrees on April 4; and 32 degrees on April 6 and 7. All of these figures are from the National Weather Service station at the Lexington Bluegrass Airport.From December 30, 2001 to April 27, 2002, 524 equine abortions had been submitted to the Livestock Disease Diagnostic Center (LDDC) for examination. During this same time period in 2001, 493 equine abortions had been submitted for examination. During this same time period from 1996-2000, an annual mean of 506.4 equine abortions had been submitted for examination. Four late fetal losses submitted April 26th and 27th indicated laboratory findings consistent with losses associated with MRLS in 2001.On May 1, 2002, the University of Kentucky College of Agriculture released preliminary results from a collaborative project involving the departments of entomology, veterinary science, and the LLDC. Early results from this ongoing research project show elevated levels of foal loss in mares exposed to both the Eastern tent caterpillar and the caterpillar's waste, which is called frass.The Kentucky Thoroughbred Farm Managers' Club will hold its monthly meeting on Tuesday evening, but has changed its subject matter to focus on MRLS issues. The meeting will be at 6:15 p.m. at the Embassy Suites in Lexington. For information call (859) 296-4279.
FREE! E-Newsletters from The Blood-Horse!...
Follow the top stories of major racing events, racing previews and results with FREE e-newsletters from bloodhorse.com. As news develops, we'll deliver updates to your inbox. Follow important events moment by moment, step by step!