Champion Tempera Buried at Jonabell
by Kimberly S. Brown
Date Posted: 5/6/2002 1:55:01 PM
Last Updated: 5/15/2002 2:43:41 PM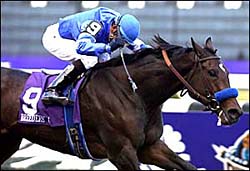 Tempera, winning the 2001 Breeders' Cup Juvenile Filllies.


Godolphin Racing's Tempera, last year's champion 2-year-old filly and one of leading contenders for this year's Kentucky Oaks, was buried at Sheikh Mohammed's Jonabell Farm in Lexington, Ky. following her death due to colitis and laminitis.Tom Albertrani, assistant to trainer Saeed bin Suroor, said the filly had a slight fever on Friday morning, April 26, but that it subsided later that day. On Saturday morning, the fever was back and Tempera was acting a little colicky. She was taken to Hagyard-Davidson-McGee veterinary hospital in Lexington, Ky., as a precaution. The filly was suffering from colitis, and she almost immediately developed laminitis, resulting in her euthanasia on Sunday evening, April 28. Since Sheikh Mohammed purchased Jonabell from the John A. Bell family last year, the farm has been undergoing a complete renovation, according to Jimmy Bell, son of the former owner. He said homebred Tempera was very dear to the family and the operation.Old barns and fences have been removed at Jonabell, and some new fences have been constructed. However, said Bell, the land will be allowed to "rest" for 1 1/2 to two years before horses are returned to the property.Joe Osborne, the managing director of Sheikh Mohammed's Kildangan Stud in Ireland, is acting in an advisory capacity in the construction of the farm."But we're in no mad rush to have horses on the farm," said Bell. "We have the luxury of time to develop the property."He said Sheikh Mohammed is very conscious of having plenty of acreage per horse, and letting land lie fallow for periods of time to keep it fresh and not "over-horsed" and over-grazed."I'll be interested in what comes off those fields the first couple of years," said Bell.



Copyright © 2016 The Blood-Horse, Inc. All Rights Reserved.