Steve Haskin's Derby Story: Emblematic
by Steve Haskin
Date Posted: 5/4/2002 6:27:31 PM
Last Updated: 5/11/2002 6:12:44 PM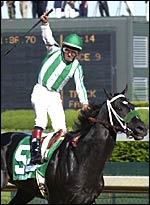 Victor Espinoza celebrates as War Emblem wires the field in the 2002 Kentucky Derby.
Photo: Mike Corrado

Published in the May 11 issue of The Blood-Horse
H. L. Mencken once wrote, "The theory seems to be that as long as man is a failure, he is one of God's children, but that as soon as he succeeds he is taken over by the devil." On May 4, the "devils" got their due...again. Bob Baffert and D. Wayne Lukas have now both experienced first-hand the heaven and hell of human emotions following their rise to power. But to many, they still are gods, and to those who worship them, this was a day for rejoicing--thirteen-hundred dollars and eighty cents worth of rejoicing to be exact. Baffert and Lukas, the same two masters of the racing universe who captured five consecutive Kentucky Derbys (gr. I) from 1995 to 1999, were allowed to team up with 20-1 War Emblem and 23-1 Proud Citizen for the largest exacta payoff in Derby history. Just as Lukas had to endure the wrath of his detractors in the mid-to-late '90s, Baffert felt the height of their fury this year after entering, and then scratching, Danthebluegrassman in the Derby. This came on the heels of his 11th-hour purchase of Illinois Derby (gr. II) winner War Emblem, a move criticized by some as being a last-minute fix to relieve the addiction of being part of racing's biggest day. Some also felt Lukas was diving in prematurely with Proud Citizen, whom they felt was being rushed into the Derby following his upset victory in the Coolmore Lexington Stakes (gr. II). But, in the end, the Derby's dynamic duo proved their grasp of the Run for the Roses is as tight as their horses on the first Saturday in May. Both have already demonstrated their uncanny ability to prepare horses for the Derby over a long period of time. And now, they showed off another side to their skills. Yes, Baffert only had War Emblem for a little over three weeks prior to the Derby, but he showcased his expertise by making a quick study of a talented, but difficult horse, putting him through a crash course of his program, and producing a professional running machine who was able to gallop 17 opponents into the ground on the front end--something that had been accomplished only twice in the past 25 years. Lukas was able to bring Proud Citizen back from a seven-month layoff, then put him through his own crash course. The colt had won just one 5 1/2-furlong maiden race at two but Lukas got him ready for the Derby with two starts in two weeks. "It took me 10 to 12 years to figure it out, but the experience factor is paramount," Lukas said. "These younger guys come in here and think it's another race. It's not another race. You've got to be in that arena a number of years before you figure it out. There was no room for error with this horse. I had to be on target every day." Let's go back to the weeks leading up to the Santa Anita Derby (gr. I) to see how the story of Kentucky Derby 2002 unfolded. Baffert and Lukas had seen one Derby hopeful after another fall by the wayside. It seemed apparent the two trainers who had paved so many new routes to Churchill Downs were heading smack into a dead end. Each day, they would ask each other, "Got anything yet?" The response would always be, "No, nothing." Then, just before the Santa Anita Derby, Lukas told Baffert, "I think I've got one." That one was Proud Citizen. Lukas put the colt, who had been working sensationally, into the Santa Anita Derby cold off the layoff in a bold and daring attempt to leap back into the Derby picture. Baffert had to rely on Danthebluegrassman, whose best running had come in his three forays up north at Golden Gate Fields. At the finish, Proud Citizen was seventh and Danthebluegrassman was eighth and last. The rapidly fading images of the Twin Spires had now all but disappeared from view for the two Derby dominators. But still they forged on, groping their way in the dark, searching for even a flicker of light to lead the way back to their promised land. Lukas had one fleeting chance, and that was to hope for a victory in the April 20 Coolmore Lexington Stakes at Keeneland. Otherwise his journey to Louisville would end some 65 miles short of its destination. Baffert had all but conceded that he would miss his first Derby since splashing onto the scene with Cavonnier in 1996, though he'd be at Churchill Downs to saddle Habibti in the Kentucky Oaks (gr. I). "It bothered me not being in the Derby," he said. "It was going to be weird being there for the Kentucky Oaks and not have one in the Derby. I just had to resign myself to the fact I wasn't going to be in it." But unbeknownst to Baffert, his entire year, and possibly his career, was about to change due to an event that took place shortly after the Santa Anita Derby, 2,000 miles away at Sportsman's Park. It was there that the little-known War Emblem, trained by the little-known Frank "Bobby" Springer, and ridden by the little-known Larry Sterling Jr., demolished his field, including early Kentucky Derby favorite Repent, winning the Illinois Derby by 6 1/4 lengths for owner Russell Reineman. A few days later, Baffert received a phone call from a Daily Racing Form reporter and asked if the writer knew what Beyer Speed Figure Santa Anita Derby winner Came Home had received. He was told 96. Then he asked what the Illinois Derby winner received, and was told 112. "Wow, that horse is a freak!" Baffert thought. Meanwhile, halfway across the world, Prince Ahmed Salman, owner of The Thoroughbred Corp., had watched the Illinois Derby on ESPN and was impressed with what he saw. He called his racing manager, Richard Mulhall, and said, "I really like that horse. Why don't you see if you can buy him?" The prince and Baffert were still haunted by the 2001 Kentucky Derby, and the failure of their budding superstar, Point Given. Not even subsequent victories in the Preakness (gr. I) and Belmont (gr. I) Stakes by the big chestnut could erase the painful images of the Derby. "He was so disappointed, to the point that he still talks about that race, and what might have been," Baffert's fiancée, Jill Moss, said. "We were devastated, because Bob knew what he had. He told me, 'It'll be a long time before I come here with a horse like this'." Springer had decided that War Emblem was not a Derby horse, and would be pointed for the Lexington as a prep for the Preakness. With a million-dollar bonus for winning the Illinois Derby and any one of the Triple Crown races on the line, Springer felt that was the best way to go. Continued...Table with finishes and post-time odds(Chart, Equibase)



Copyright © 2015 The Blood-Horse, Inc. All Rights Reserved.