Steve Haskin's Derby Report (5/3): Crunch Time
Updated: Monday, May 6, 2002 10:50 AM
Posted: Saturday, May 4, 2002 7:55 AM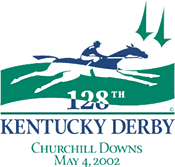 After five months of scrutinizing over this year's crop of 3-year-olds, and two weeks of studying the Derby horses at Churchill Downs, it is finally time to break down all the logic and observations, and attempt to make some sense out of one of the most wide-open and perplexing Derbys ever.Whereas many of the trainers here believe only a few horses are capable of winning the Derby, we feel the race is up for grabs, and that no matter who you like, it's basically a guess.This column is based mostly on the physical aspect the race, as opposed to the numerical aspect – past performances, dosage numbers, and speed figures. We'll tell you which horses have made the most favorable impression, and how to possibly go about wagering on them, based solely on how the horses have trained and looked. Of course, we will take the other factors into consideration to some extent.No horse has been doing better here over the past two weeks than
Came Home
. He adapted to everything immediately, he looks super, and he's enthusastic about everything. That adds up to a happy horse, who is ready for a peak effort. The question is, will that be sufficient? There is the question of whether he can go a mile and a quarter, and his speed figures have regressed as he's stretched out. We do feel that sometimes class can overcome pedigree, and it may here, but as the second choice, we'd be more inclined to give out horses who offer better value. But if you like the horse, and feel he can win, bet him with the knowledge that he's doing awesome.We've had
Harlan's Holiday
on top of our weekly poll for quite a while. Many people here feel he's gone over the top. Sure, he was too aggressive at the beginning of his last work, and he didn't gallop out very strongly. But his works themselves have been solid and professional, and of the all the horses, he needs the least amount of hard training. But, either way, this is not the race to play favorites, and as much as we'd love to see either Came Home or Harlan's Holiday win, for the purposes of this column, we'd rather take a shot with longer-priced horses. We'll also throw some real longshots at you whom we feel have made enough of an impression to suggest they might be worth looking at in the exotics, much as Invisible Ink was last year.With that said, the four horses we're going to concentrate on are
Perfect Drift
,
Saarland
,
Essence of Dubai
, and
Private Emblem
.
Perfect Drift's
works at the Trackside training center have been sensational, and we simply like everything about this horse -- his push-button acceleration, his ability to make more than one move, and the overall class he exudes. He takes little out of himself when he runs, and he'll give you exactly what you ask for. When exercise rider Joe Deegan pushed the button on him at the eighth pole in his last work, the response was dramatic. Eddie Delahoussaye fits him like a glove, and while the horse is a bit of an unknown, having not been seen on a daily basis, and coming off a six-week layoff, we still feel he has a big chance to become the first gelding to win since Clyde Van Dusen.We concede the fact that
Saarland
does not have the past performances you normally look for in a Derby horse, and that he still is suspect in several areas. But his Wood Memorial was a better race on paper than it was visually, and that 25 mile-per-hour headwind in the Wood put him at a disadvantage. More importantly, he has trained brilliantly since his tenectomy to correct a breathing problem. While we didn't see his :47 1/5 half work at Belmont, we absolutely loved his work at Churchill, especially his final eighth in :11 2/5, in which he covered the ground magnificently with those humongous strides. He then galloped out strongly, and was all business. We also like the fact that he appeared to put on weight after only two days here, and his coat brightened noticeably. Nothing he does would shock us, but all signs point to a horse who is blossoming physically and mentally at the right time. And he's also the favorite in the Derby Gods odds.
Essence of Dubai
has been a pleasure to watch since the first day we arrived. He is the proverbial barrel of monkeys wrapped up in a single, spunky Thoroughbred. Whether he's bucking or kicking or bouncing around the shed, he is always on 'go.' He also makes a spectacular appearance, especially the classy way he moves, whether walking or galloping. It took him a work over the track to get focused, but his second work was much more professional, and he galloped out noticeably stronger. His former trainer Eoin Harty said the colt has made tremendous strides in the past couple of months. This could be Godolphin's year.Finally, we come to Arkansas Derby winner
Private Emblem
. We really paid little attention to him for the first week. But he's just kept getting better and better by the day. His second work was a big improvement, especially his gallop-out, in which he was wanting to do a lot more. His gallops have gotten more aggressive, and he just looks like a horse still on an upward trend.Now, if you held a gun to our head to pick one horse, and we knew you intended to fire, we'd have to give a slight edge to
Perfect Drift
, mainly because we've really liked him for a long time, and he should be higher odds than Saarland, who could get bet down. That move he made in his second-place finish in the Battaglia, in which he showed his rapid-fire acceleration and ability to be steered sharply, still is one of the highlights of the season.We would start off by boxing these four in the exotics. But, if you're looking for a megabomb who could snatch a piece of it late, we strongly feel that
Blue Burner
will uncork a big move on the far turn that will cause people to take notice. How far he can sustain it is another matter. But Bill Mott tested him in his last work and he came through beautifully, going in :59, while being asked to run down the stretch. He just makes a good impression out there every day. Let's just chalk up his Wood to an aberration. We've also been impressed with
Wild Horses
, a powerfully made colt who has handled everything beautifully, and who is improving in leaps and bounds with every race. He may be a race away from his best, but horses improving as rapidly as he is should be taken seriously. The final megabomb who has been training super is
Lusty Latin
. While we feel his big run in the Santa Anita Derby was attributed to the others coming back more than anything else, he nonetheless has done nothing wrong in his training, and he's a big, strong horse with a good mind.The one other physical observation we must mention is the dramatic improvement, literally overnight, in
Medaglia d'Oro's
coat. One day his coat looked okay, and the next it was radiant and bursting with dapples. For those wondering if the Wood took too much out of him, that is just what you're looking for to answer that question. He did cough one day, but had his guttural pouch flushed and has been fine since. Based on the coat change, he should be considered from front to back in the exotics.We would play our top four horses in exacta and trifecta boxes, and put Perfect Drift and Saarland on top of the aforementioned megabombs. Perfect Drift would be our main win bet, but watch for Private Emblem and Essence of Dubai to see if they're big prices. Also, you might want to throw a wild saver bet on
Castle Gandolfo
to win, because you never know, and he does have several things going for him. Remember, we're looking for big payoffs, which is why we didn't include Came Home and Harlan's Holiday.If we lose, e-mail us and we'll be glad to explain the reason. Until next year, enjoy the race, have fun, and Happy Derby Day.
FREE! E-Newsletters from The Blood-Horse!...
Follow the top stories of major racing events, racing previews and results with FREE e-newsletters from bloodhorse.com. As news develops, we'll deliver updates to your inbox. Follow important events moment by moment, step by step!