MRLS Test Results Show Caterpillar Correlation
by Kimberly S. Brown
Date Posted: 5/1/2002 12:05:04 PM
Last Updated: 5/4/2002 8:00:06 AM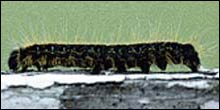 Eastern tent caterpillar


Preliminary results from a study at the University of Kentucky involving Eastern tent caterpillars and pregnant mares resulted in an early fetal loss syndrome similar to that associated with the mare reproductive loss syndrome (MRLS) seen last year in Kentucky and other states. Dr. Bruce Webb, a professor of entomology in the University of Kentucky's College of Agriculture, said researchers saw an apparent association between Eastern tent caterpillars and early foal loss based on the preliminary results.Because of the strong association between Eastern tent caterpillars and foal loss in the epidemiologic survey done by the university last year, researchers wanted to determine if they could reproduce the syndrome. The preliminary answer is yes."There were lots of ideas how Eastern tent caterpillars were involved (with MRLS)," said Webb. "There was the possibility of cyanide, mycotoxins, and hormones (being a factor in foal loss). Rather than focus on one of those, we wanted to test the association to see if anything happened. We needed to see if we could reproduce the syndrome."A group of 29 mares of various breeds and pregnant from 40-100 days were leased by the University of Kentucky for this study. Research assistants Walter Barney and Claire Collins had spent time before the study collecting caterpillar nests from around Central Kentucky so they didn't "import" caterpillars from other parts of the country. "We only have five or six weeks of caterpillars (in Kentucky) each year," said Webb, emphasizing the determined work of his assistants in the lab and on the farm caring for the horses. "We collected caterpillars from along roadsides, from nurseries, and around Spindletop (the university's farm)."The mares were divided into three groups. One was exposed to caterpillars and their excrement (frass) for six hours a day for 10 days. A second group was exposed only to frass for six hours a day for 10 days. The third group of mares received as little exposure to caterpillars or frass as possible, but otherwise was handled and tested the same.Six of 10 mares exposed to Eastern tent caterpillars and their frass aborted. Six of nine mares exposed only to frass aborted. Three of 10 mares in the control group aborted.The mares will continue on another 10 days with a few minor modifications to the experimental program (such as having the control mares farther away from the exposed mares). There was some concern that some caterpillars put in pens had managed to get into the control mares' grazing space despite "traps" that were built surrounding the pens, but it is not known if that contributed to their abortions.One fetus was recovered from a mare in the group exposed only to frass. Webb said researchers at the University of Kentucky's Livestock Disease Diagnostic Center said that fetus had symptoms consistent with those seen last year during MRLS. Other symptoms of mares and fetuses also was consistent, including the finding of high levels of certain bacteria (not thought to be the causative agent).Mares were exposed to higher levels of Eastern tent caterpillars than would be found in normal management settings. "We put 10,000 caterpillars a day on the 20- by 40-foot plot for 10 consecutive days," he said. "So we applied 100,000 or more caterpillars by the end of the first trial and were gradually reducing the space the mares were in (thus increasing their exposure)." It is hoped that this experiment will limit the scope of where researchers will focus their next efforts. Frass and mare samples will be studied for the next several months in the hope of shedding more light on the cause or causes of MRLS.These two studies began April 16 and will conclude May 6. Webb said he was asked before the study started if he thought caterpillars were involved in MRLS, and he said he would give two to one odds that they were not involved. He's changed his mind.
"Based on preliminary results, we recommend that managers avoid exposure of their pregnant mares to Eastern tent caterpillars," said Webb. "We haven't ruled out frass/mycotoxin (as being a contributor or cause), but we've taken samples to look for mycotoxin levels."Webb said there were no symptoms of pericarditis (heart problems) or uveitis (eye problems) with any of the mares, and cherry trees were removed from near the experimental fields."This is an important step, but it is preliminary data," said Webb of the research. "But it puts us in a position to focus our efforts. It's a step toward the answer."



Copyright © 2015 The Blood-Horse, Inc. All Rights Reserved.