Steve Haskin's Derby Report (4/29): Morning Madness
by Steve Haskin
Date Posted: 4/29/2002 3:42:37 PM
Last Updated: 4/30/2002 3:56:30 PM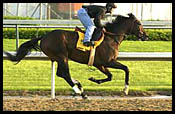 Saarland was among the Kentucky Derby hopefuls working at Churchill Downs Monday.
Photo: Anne M. Eberhardt

If you blinked Monday morning, chances are you missed one of the 10 works turned in by Derby hopefuls. Starting with Proud Citizen's blazing five-furlong work and Sunday Break's six-furlong move in company at about 5:45, and ending with the five rapid-fire works following the renovation break, it was quite a showcase of Kentucky Derby horses.With limited space, it would be difficult to break down and analyze all 10 works, all of which have been reported on Bloodhorse.com. So, we'll quickly go over them, and see what some of the trainers were looking for and whether they got it. Be forewarned, there was nothing resembling a bad work, regardless of how fast or how slow the horses went. Each horse required something different, depending on what their trainer felt they needed. But all in all, this was a very telling morning, even if it did confuse matters even more in some ways.The three works that caught our eye were the ones turned in by Saarland, Private Emblem, and yes, Lusty Latin.Saarland's trainer Shug McGaughey told exercise rider Juice Krajewski to go in about 1:02 and finish up well, and he couldn't have nailed it more dead-on. When the long-bodied, long-striding son of Unbridled is out on the track, whether walking, galloping or working, he looks like a battleship among a fleet of destroyers. Krajewski broke off easily and took Saarland about three or four paths off the rail turning for home. At the eighth pole, he gave him his head and asked him to show what he's made of. Saarland extended his stride and flew home his last eighth in :11 2/5, then galloped out strongly. It's amazing how much ground this horse covers. He showed no signs of holding his breath or any other type of breathing malady and came back with good energy.Watching the colt grazing Sunday afternoon, we noticed that he seems to have put on weight in the short time he's been here. His coat looks better, and he definitely appears to be heading in the right direction. We can see him getting bet down in the Derby.The more we see of Private Emblem the more we like what we see. After his powerful gallop on Sunday, he looked ready to show Steve Asmussen that he no longer was "flat," which the trainer said he seemed after the Arkansas Derby. With jockey Donnie Meche aboard, he coasted through his opening eighths in :12 3/5 and :12 2/5, then began to pick it up beautifully on his own, getting his next eighth in :12 flat and a final eighth in :11 4/5 to complete the half in :48 4/5. As he did in his first work, he jumped over onto his left lead at the wire. Meche let him gallop out strongly, and this was the best gallop-out we saw this morning. Private Emblem never shut it down in the slightest, and was pulling Meche into the turn, while hugging the rail nicely. He galloped out an additional eighth in :13, passing the seven-eighths pole in 1:01 4/5.In his own quiet way, Lusty Latin has been training super, in both his gallops and works. Between him and Medaglia d'Oro, they are quite an advertisement for their sire El Prado, who obviously can sire big, strong, linebacker-type horses. Lusty Latin, with his large girth and powerful quarters, is quite an imposing figure who really seems to enjoy what he's doing. This morning, he rambled down the middle of the track in :23 2/5 for his final quarter to complete his five furlongs in 1:01 before galloping out six furlongs in 1:14 4/5. He'll be up against it trying to make his way around a 20-horse field, but if the leaders back up in the final furlong, he certainly could come late to get a piece of it.In this morning's other works, Proud Citizen nearly blew out the lights that illuminate the track, as he scorched his five furlongs in :58 4/5. Wayne Lukas told exercise rider Stacy Maker to make sure she let the horse do everything on his own, and that's what she did, according to Lukas. As Proud Citizen was about to break off from the five-eighths pole, he came up behind another worker, which may have contributed to his aggressive start. At about the same time, Sunday Break, whose chances of making it in the field seem less each day, worked six furlongs in 1:14 2/5 in company.The third worker of the morning was Saarland, followed closely by Private Emblem's stablemate Windward Passage. The son of Captain Bodgit does not have the speed of Private Emblem, and is more of grinder who will keep coming at you in a more steady fashion, building up momentum the farther he goes. Asmussen gave him a quicker move than usual, with Meche aboard, as the colt got his half in :48 3/5, out five furlongs in 1:02 2/5.Medaglia d'Oro was the first horse to work after the renovation break. Trainer Bobby Frankel said before the work he'd go in 1:13. Under exercise rider Marco Ramirez, who times his works on his watch/stopwatch, the colt went off evenly and went very wide going into the far turn. Once he got to the quarter pole, he was taken several paths off the rail and cruised to the wire in 1:13 4/5, galloping out a slow eighth to the seven-eighths pole in :14 2/5. What was impressive about this work was that it was the easiest of the all the Derby works. Ramirez was up in the saddle and never moved his hands on Medaglia d'Oro.Perhaps the true indication of how this colt is doing is the condition of his coat. While watching him walk the shed Sunday afternoon, we are amazed how radiant his coat was and how many dapples had exploded over it in only the past two or three days. That is just what you want to see, as it is the best indicator that a horse is flourishing and blossoming at the right time.Right after Medaglia d'Oro was Came Home, and while he was more relaxed this time than he was in his previous work, he still was aggressive breaking off and going around the far turn. As we've said this colt has done everything they've asked him; he's eating well and is bright and alert. What we really like about him is how light he is on his feet. With Chris McCarron aboard, he went evenly throughout, throwing in :12 splits, and closing his last eighth in :12 3/5, while working well off the rail. McCarron let him roll past the wire, and he flew to the seven-eighths in 1:13 1/5. McCarron then quickly shut the engine down, not wanting him to do any more. After watching him train all week, it's hard to believe he won't be fairly close to the pace on Saturday, unless McCarron takes a stranglehold of him.Easy Grades worked right on the heels of Came Home. He broke off slowly and just coasted in the early part. He was much more focused and willing than in his first work, and after a quarter in :35 and a half in :49 2/5, he did come home his final eighth in :12 flat.Finally, we had Blue Burner. a colt we still have a nagging feeling about. Somewhere, this colt is going to burst onto the scene, and it's only a question whether he can sustain it. Trainer Bill Mott obviously wants to put some zip into the colt, who does need some encouragement, as evidenced by the blinkers and the whip. After sharp opening splits of :23 2/5 and :35, he received a couple of smacks with a right-handed whip. He passed the eighth pole in :46 4/5, then came home his final eighth in :12 1/5 to complete thee five-furlong work in :59.The major crush of works concludes Tuesday with Harlan's Holiday, Essence of Dubai, and War Emblem, while Perfect Drift will work at the nearby Trackside training center. Mayakovsky, who scratched out of the Derby Trial, also will work.Patrick Biancone said no decision on Mayakovsky's status will be made until Wednesday morning, the day of the draw, meaning perhaps that his connections will be keeping a close eye on Johannesburg. This also gives them the power to keep the Windward Passage and Sunday Break connections guessing until the last minute. Other options for the colt would be the Preakness, Withers, or Met Mile.



Copyright © 2015 The Blood-Horse, Inc. All Rights Reserved.