Steve Haskin's Derby Report (4/26): Taking a Deep Breath
Updated: Sunday, April 28, 2002 10:55 PM
Posted: Friday, April 26, 2002 2:38 PM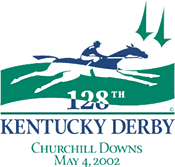 The first week of training is in the books, and it's on to Derby Week. So, what have we learned, if anything, from this past week's works? We learned, as usual, it's best to stay tuned for Week Two. That's when horses will work a bit sharper, especially those who need a little longer to get used to their surroundings. Anyone who sees the massive tents and luxury suites in the infield, and the horde of railbirds looking on, can understand why some horses tend to get a little sidetracked in the early days.Friday brought warmer temperatures, with cloudy skies giving way to sunshine later in the morning. Two new faces -- Saarland and Blue Burner – arrived yesterday afternoon. Now, we just need to get Buddha here, but that won't happen until Monday. One of the more bizarre aspects of this year's Kentucky Derby is that three horses – Perfect Drift, Johannesburg, and Castle Gandolfo – will not be seen until they make their way to the paddock on Derby Day, as they are scheduled to arrive Saturday morning. If the Derby were the solar system, it can be said the Coolmore pair is attempting to soar past all the planets and head straight for Pluto.The most perplexing horse, in his own way, is
Came Home
, who can be considered the Jekyll and Hyde of this year's Derby. The Hyde Came Home is the one on paper, whose pedigree and speed figures say he will not win the Kentucky Derby. The Jekyll Came Home is the one in the flesh, who is everything you want in a Derby horse. He's extremely powerful for a 15.3-hands horse, he is the consummate pro, his coat looks super, he is feeling great and eating great, and his work was a thing of beauty. Now all you have to do is figure out who will win out – Jekyll or Hyde. This morning, his feed tub was a few seconds late, and he let out a nicker, then buried his head in the tub when it did come and never came up for air. Whether he can go the mile and a quarter or not, you have to love this horse.
Saarland
is one of those easy-going, carefree-type horses, who lets nothing bother him. He walked on the track this morning like an old cow, then turned in a beautiful one-mile gallop. We thought for sure he'd be looking around and gawking at the all the sights, but he was all business, galloping with his ears up and his head held perfectly straight. And his lead changes were right on cue. His exercise rider said he's felt a big difference in the colt since he had his tenectomy to help his breathing. From a visual standpoint, his two races this year were not too exciting, but he got exactly what he needed out of both of them, neither of which suited his style of running. Despite our earlier concerns about his having only two starts this year, and whether he was brilliant enough, he's coming up to the Derby in an excellent pattern and looks the part.For those concerned about a horse undergoing a surgical procedure right before the Derby, it is worth noting that the entire procedure took all of five minutes, was done right in his stall, and he was pretty well tranquilized.We haven't seen Buddha yet, so we really can't comment on him at this time, but if there is any horse who is capable of overcoming having only four career starts, it is
Medaglia d'Oro
, the most powerful-looking colt in this field, hands down. And with his humongous stride, he should have no problem bouncing out of that hard race in the Wood Memorial. Bobby Frankel is liking his chances more each day, and so are we. His easy five-furlong work this week should set him up nicely for a stiffer six-furlong move on Monday.
Essence of Dubai
certainly did not have heads turning in his seven-furlong work in 1:28 2/5, but it was useful enough, and he should improve in his next work. We still love the way this handsome colt is doing, and he's no doubt a happy horse at Churchill. He's still a playful kid, as evidenced by all his bucking and kicking, and that could have been why he was not quite 100-percent business in his work. He has a lot of things going for him.Then we come to
Perfect Drift
, and while he will not train at all at Churchill, and will ship the morning of the race, we feel he is a very talented and appealing horse who has looked very strong in the two works we've seen on TV, and who has simply made a great impression. We also love his pedigree, running style, and his quickness and athleticism.These are the horses who have left the biggest impression so far. But there are some interesting longshot possibilities. We will list several, and what they have going for them, then narrow them down next Friday to try to come up with a couple of bombs to throw in the exotics. If there is one horse who has the potential to wire this field it is
War Emblem
, a black, sleek colt, who's built more like a European stayer, even thought he's by the sprinter Our Emblem. He is one horse rival jockeys don't want to forget about and let open a big lead and control the pace. He showed in his last two – both monster ThoroGraph numbers – that he can run you into the ground, then keep going. But this is still a big step up in class, and he does pick up 12 pounds off the Illinois Derby.We are particularly going to pay close attention to
Easy Grades'
work on Sunday. His first work was not much, and certainly would do nothing to boost him as a live longshot, but he seems to have adapted more to his new surroundings, and has been turning in some spirited two-mile gallops the last few days, which should help put some good bottom into him. Now we just want to see how sharp he is. With his awesome pedigree and solid ThoroGraph numbers, and his steady improvement with each race, we think he could be a horse worth taking a second look at. Which is why we're anxious to see his next work. If he does show noticeable improvement, then he might be an interesting exotics play.Two longshots who will be even higher odds are
Wild Horses
and
Windward Passage
. While they look to be a race or two from reaching their peak, they too are capable of picking up a piece of it. Wild Horses, in particular, is a very classy-looking horse, who looks great and has been improving in leaps and bounds with every race.In the forgotten horse category, heading the list is
Request for Parole
. If you do like Perfect Drift, you have to at least consider this hard-knocking, consistent colt, who did look good working yesterday. Steve Margolis is taking an unorthodox approach by not working him again, but it did work for Monarchos.We'll look at these longshots in more detail next Friday in an effort to single out the one or two who could be the Invisible Ink of this year. But right now, the top five horses we mentioned at the beginning are the ones we're focusing on at this point. The key race to hone in on is the Wood Memorial, only because we really have no idea how special those horses might be and how much they're going to improve.No, we haven't forgotten
Harlan's Holiday
. He is the rock of this field; the horse with the fewest question marks, other than the quality of the competition he's been facing as a whole. He showed in his last work he is still sharp after a hard Florida and Kentucky campaign. But he is the favorite, and in a wide-open year like this, there looks to be so many horses who will be attractive prices, it's just too tempting to try to make a killing. He definitely is the horse to beat and should be included in most exotic wagers. But unless you're betting big bucks, we see no value in playing the favorite this year, especially for the $2 bettor.Mick Kinane will not be allowed to ride Johannesburg, meaning there is a good chance Gary Stevens will pick up the mount. That is unless Jerry Bailey decides to ride the champ over Castle Gandolfo.
FREE! E-Newsletters from The Blood-Horse!...
Follow the top stories of major racing events, racing previews and results with FREE e-newsletters from bloodhorse.com. As news develops, we'll deliver updates to your inbox. Follow important events moment by moment, step by step!