California Breeder-Owner John Mabee Dead at 80
by Lenny Shulman
Date Posted: 4/25/2002 12:19:45 PM
Last Updated: 4/27/2002 9:14:28 AM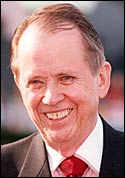 John Mabee
Photo: Anne M. Eberhardt

John C. Mabee, who parlayed a corner grocery store into one of the country's most prominent breeding and racing operations, died April 24 at the Casa Palmera Care Center in Del Mar, less than a week after suffering a major stroke. He was 80.Mabee, a native of Iowa, founded Golden Eagle Farm with his childhood sweetheart, Betty, and together they built the Ramona, Ca., nursery into California's most successful breeding and racing outfits. Their maroon and gold silks, featuring an eagle in flight, has been carried by celebrated runners such as Best Pal, General Challenge, Excellent Meeting, Event of the Year, Dramatic Gold, Souvenir Copy, and Worldly Manner.The Mabees earned three Eclipse Awards in the 1990s as the nation's outstanding breeders, as well as six Thoroughbred Owners and Breeders' Association awards as Californian' leading breeders. In 1992 the Mabees were the leading breeders in North America. In 1991 they bred 25 stakes winners, and topped that in 1998 when they bred a record 26.John Mabee grew up on a farm that boasted no mechanized tools. Horses were used for fieldwork as well as transportation. As a child he suffered from bouts of pneumonia and bronchitis, and rode his horse to the local library to search for areas that might better suit his health. He landed on San Diego.After Betty joined him in the Golden State, the couple bought a small grocery store and parlayed their earnings into a couple of cheap horses at the 1957 summer yearling sale at Del Mar. The grocery store eventually became a chain of supermarkets called Big Bear, and the horses grew several hundred strong.Mabee was fanatical about upgrading his broodmare band. He bought into Kentucky stallions in the mid-'70s, but had more success with his California contingent. Through 1996, 43% of the Mabees stakes winners were produced by homebred mares. Mabee always tried to use his broodmare band to get his stallions off to a running start.He was instrumental in turning a decaying Del Mar facility into the jewel it is today, having served as both president and chairman of the board. He was a founding member of the board of directors of Breeders' Cup Ltd., and also owned a piece of the San Diego Chargers, which he sold to Eugene Klein, a Thoroughbred owner who won the 1988 Kentucky Derby with the filly Winning Colors. Mabee also owned Golden Eagle Insurance Co., which he sold after a well-publicized battle with California's insurance commissioner.Two years ago Mabee suffered a stroke that left his speech impaired, but he remained active in planning the matings of his mares and the bookings of his stallions. The second stroke struck him April 21 at his beloved farm. He is survived by Betty, son Larry, and three grandchildren.



Copyright © 2015 The Blood-Horse, Inc. All Rights Reserved.