24-Carat Crown
by Ray Paulick
Date Posted: 4/23/2002 12:37:17 PM
Last Updated: 4/23/2002 12:48:51 PM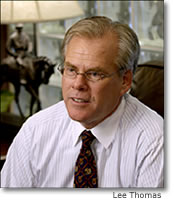 Ray Paulick
Editor-in-Chief



Three jewels in the Triple Crown? Not nearly enough, it says here. The series of classic races that ushers in springtime as much as the crack of the bat on opening day has far too much history, far too many heroes, to say there are only three jewels. Several months ago, the editorial staff of The Blood-Horse began compiling a list of potential gems to include in this special Triple Crown edition. We debated, lobbied, compromised, and ultimately voted on which horses, people, events, landmarks, and characteristics would best represent the Kentucky Derby, Preakness, and Belmont Stakes. This isn't meant to be "the" definitive list of jewels of the Triple Crown, but one that gives the reader good cause to sit back, savor, and reminisce. There are some no brainers. Secretariat is on everyone's Triple Crown list, and many readers continue to scold us for allowing a panel of experts to put Man o' War ahead of the 1973 Triple Crown winner in a special edition of The Blood-Horse and subsequent book ranking the top 100 Thoroughbreds of the 20th Century. No compilation of jewels could omit Calumet Farm, either, with its two Triple Crown winners, Whirlaway and Citation, and a host of other classic heroes. You'll find Calumet's father and son training team, Ben and Jimmy Jones in here, along with Eddie Arcaro, who rode Whirlaway, Citation, and more Triple Crown race winners than any other jockey in history. We felt compelled to include the only unbeaten Triple Crown winner, Seattle Slew, along with the last horse to sweep the series, Affirmed, who shares the stage with his 1978 Triple Crown arch-rival Alydar. Other Triple Crown winners didn't have their tickets punched automatically, though we did include the man who coined the phrase, the brilliant journalist Charlie Hatton. Nor could we leave out Daily Racing Form's Joe Hirsch, a constant presence on the Triple Crown trail for more than a half-century. You'll find some of the great trainers, starting with Sunny Jim Fitzsimmons and D. Wayne Lukas, who have each won 13 Triple Crown races. Another training jewel was Woody Stephens, whose spectacular streak of five consecutive Belmont Stakes wins may never be broken. We looked beyond individuals into memorable renewals of Triple Crown races. There is the fighting Derby finish of 1933 and the misjudged finish of 1957, plus the unforgettable moment in 1990 when trainer Carl Nafzger made perhaps the greatest race call in history, to 93-year-old owner Frances Genter, whose Unbridled won her the roses and made every racing fan feel young at heart. There's longtime Churchill Downs chief Matt Winn, the greatest promoter racing has ever known, along with Kentucky Derby winner Spend a Buck, whose diversion from the Triple Crown in 1985 caused panic among racing authorities who lacked Winn's vision. OK, there are some quirky inclusions. The twin spires of Churchill Downs were nothing more than the product of a young architect's creativity a little over 100 years ago. Today the spires are the most famous landmark in racing. Crab cakes? I can't even look at them without thinking of Baltimore and the Preakness, and I've been told mint juleps go down well with a verse or two of "My Old Kentucky Home." We've also included hats, flowers, and weather vanes, along with the wild and wacky Pimlico infield crowd on Preakness day. All told, we counted 48 jewels in this nostalgic look at the Triple Crown. Why, then, are we boasting of 50 on the magazine's cover? The other two jewels are the people who sustain the sport--all the breeders, owners, trainers, jockeys, officials, and fans--and the horses themselves. A tip of the derby to them all.



Copyright © 2015 The Blood-Horse, Inc. All Rights Reserved.