Santa Anita Race Report: A Star Reborn
by Craig Harzmann
Date Posted: 4/20/2002 8:46:59 PM
Last Updated: 4/23/2002 1:13:52 PM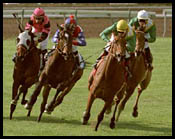 Astra, second from left, takes aim on leader Polaire, yellow cap, in the Santa Barbara.
Photo: Benoit photo

Published in the April 27 issue of The Blood-Horse
Chris McCarron walked by the winner's circle following the $250,000 Santa Barbara Handicap (gr. IIT) on April 20, tossing a congratulatory wisecrack at trainer Laura de Seroux. "I didn't know Azeri could run on the grass, too," he grinned. Amidst the commotion, de Seroux managed an innocent reply. "Did you hear that, too?" Who didn't. These days, there seems to be quite a few people with Azeri on the brain, so even Trevor Denman can be forgiven for a little confusion. Denman, Santa Anita's polished announcer, called Azeri from start to spectacular finish in the 10-furlong Santa Barbara. But that was very much Astra, not her brilliant stablemate, who left the competition in ruins. Of course, Astra's splendor has by now reached levels all its own, making her Santa Barbara romp no surprise. But even her glory has had its cheerless moments. Just months ago, the daughter of Theatrical seemed ready for the world, primed to establish herself as the nation's premier grass filly. Instead, an uncharacteristic last in August's Beverly D. Stakes (gr. IT) sent Astra to the sidelines, leaving her diadem tarnished. That afternoon, most pointed the finger at Arlington's soggy layout as Astra's undoing. As it turned out, the issue was more grave--a nasty abscess, located on the inside of her left front foot, had rendered Astra defenseless in Chicago. Days later, the mare, along with a handful of others, was pulled from the care of trainer Simon Bray and sent to San Luis Rey Downs. There, de Seroux, ever the optimist, gave Astra the once over--and feared the worst. For Astra, a natural-born keg of dynamite, the damaged foot was not the only obstacle. "You take a great big mare like her that's dead-fit and you can't hardly walk her...it was a day-to-day vigil," recalled de Seroux. "It wasn't as simple as leaving her in her stall until her foot grows out. It was scary." At first, the outlook was bleak. With the help of blacksmith Mike Lynn and two months of painstaking attention, Astra was eventually rescued from her personal abyss and found herself back on four healthy feet. From there, she never missed a beat. Yet when Astra finally resurfaced in March for her 6-year-old debut, a passable third in the Santa Ana Handicap (gr. IIT), the spark seemed to be missing. Considering the big girl's late-summer adversity, though, the defeat left her trainer with a smile. "No, I wasn't disappointed at all," she admitted. "I knew she was coming back from a very, very low point of her career, and I knew that we had to just not overdo anything. A mare like this, you want to keep the lid on her as much as you can. Charlie taught me, 'Don't squeeze the lemon.' He wouldn't have been worried about a race like that." Yes, that Charlie. A student of the Whittingham way and one of the original "Charlie's Angels," de Seroux understandably gleaned a wealth of insight during her 16 years of working with the famed horseman. And she's putting the knowledge to good use. Her prudent handling of Astra alone would have made Charlie proud. Astra's performance in the Santa Barbara was a virtual carbon copy of last year's running. Though pinched back at the start, Astra soon settled into an effortless canter at the rail, where jockey Kent Desormeaux simply waited with a finger on the trigger. Polaire managed to walk the field through three-quarters in 1:15.41, affording everyone a chance to attack leaving the backstretch. A furlong later, however, it was over. There was no detectable sound, but the blast was quite clear. Cornering wide as usual--"She can hardly compensate the turn 'cause she's just exploding," Desormeaux said later--Astra caught fire, zoomed past Polaire and right into the books, becoming the first in Santa Anita history to take the Santa Barbara twice. She finished up two clear of Golden Apples, who succeeded in catching Polaire right at the wire. Astra's time, 2:01.48, was purely academic, providing only the benefit of calculating her sizzling final quarter. Pundits figured it around :22 flat. "She's done it before though. She did it when she beat Happyanunoit," Desormeaux reminded, referring to their first collaboration, the dramatic Gamely Breeders' Cup Handicap (gr. IT) two years ago. Back then, of course, Astra's talent was occasionally surpassed by her tightly-wound disposition. Those closest to her, though, say they've seen a change, that experience and time have helped her become a lady. "She was a feisty filly, and she's a mature mare now," praised Desormeaux. "But when the doors open, she's just the same. Good thing she don't have wings, buddy, or she'd leave the ground." No matter. Owned by the trustees of the mare's breeder, the late Allen Paulson, Astra is already flying high. (Chart, Equibase)



Copyright © 2015 The Blood-Horse, Inc. All Rights Reserved.