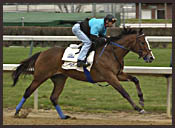 2--Straight Gin, Robby Albarado, 10-1
3--Harlan's Holiday, Edgar S. Prado, 6-5
4--Bob's Image, Lonnie Meche, 8-1
5--Azillion, Corey Nakatani, 3-1
6--Booklet, Jorge Chavez, 5-2When announcer John Henderson noted during the post position draw that the Booklet-Harlan's Holiday rivalry reminded some of the battles between Affirmed and Alydar in the late 1970s, Booklet's owner John Oxley quipped, "I think Jack Wolf and Kenny McPeek have the Affirmed side of the equation right now."McPeek, a Lexington, Ky. native who has a desire to win the top 3-year-old race at his hometown track, said he hopes a victory Saturday will make up for his disappointment with Tejano Run, who finished third in the 1995 Blue Grass. "Redemption will come Saturday," McPeek said.Trainer Jim Cassidy said he would not concede that the Blue Grass is a two-horse race between Booklet and Harlan's Holiday. "They're talking about how it's going to be a match race," Cassidy said. "I hope they've got the wrong two horses. I'm looking to win the race. I'm not here just to pick up a check."Terry Finley, whose West Point Thoroughbreds races Bob's Image, explained that there are about 25 participants in the partnership that owns the Blue Grass entrant.