Santa Anita Race Report: Came Home First Home
Updated: Wednesday, April 10, 2002 4:44 PM
Posted: Saturday, April 6, 2002 7:12 PM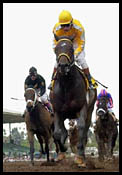 Photo: AP Photo/ Mark J. Terrill
Chris McCarron aboard Came Home, center, stands up after winning the Santa Anita Derby, followed by Easy Grades, left, who came in second.
Published in the April 13 issue of The Blood-Horse
Her voice was starting to break. Her eyes were beginning to well up. And the admiration was undeniable. Trudy McCaffery, suffused with the glow of Came Home's brave victory in the $750,000 Santa Anita Derby (gr. I), stood in the track's posh Director's Room on April 6, extolling the countless virtues of the man who made it all happen. "You talk to trainers around the country, I mean, they have nothing but the utmost respect for him," she praised. "He's my hero. He's my absolute hero because he's a horseman, he adores his horses, he knows exactly when to do it and when not to do it. He sees things that nobody else in the world can see. I think he deserves an Eclipse Award. That's how good he is. Every year he's got a big horse. What he does with his small inventory, to me, is absolutely amazing. I guarantee you, he's right there now, staring in at this horse." Indeed, at that very instant, Juan Gonzalez, the man they call Paco, was on the Santa Anita backstretch, serving up dinner for the residents of Barn 25 and paying guarded attention to Stall 4. There, standing in a bed of fresh straw, was a horse that at one point nobody seemed to want. There, inside, was Came Home, the one that precious few can seem to beat. His latest conquest, No. 6 for those of you keeping score at home, was by far his most important, putting to rest yet another uncertainty, another doubt. It's a habit he's been forming race after race. "He not only answers the question; he makes a statement," said jockey Chris McCarron, Came Home's afternoon partner. "He doesn't respond by saying, 'Yeah, OK, I'm good.' He responds by saying, 'Guess what? I dare you to run by me.' " His triumphs have been smashing, to be sure, yet for the better part of six months now, Came Home's talent has been displayed more as a defense mechanism than a weapon, for it is one race--his lone defeat in the Bessemer Trust Breeders' Cup Juvenile (gr. I)--that has remained etched in the minds of his harshest skeptics. Early theories tabbed Came Home as a colt of limited ability. McCarron and Gonzalez knew better. "After the Breeders' Cup, he was really tired when I pulled him up--exhausted," said McCarron, opining that a fierce headwind and an early duel with Officer helped seal Came Home's fate. "He didn't even want to jog back. He wanted to walk home. I was so disappointed with that race because that morning, I thought he was my best shot to win a Breeders' Cup race. That day, for whatever reason, the fight was in him, but the energy wasn't there. I felt like I got beat a hundred lengths." As it was, Came Home was beaten less than six lengths, yet it might as well have been a hundred. The loss saddled the young colt with the weight of pessimism, a burden he's been trying to shake ever since. "What people don't know is for that race, we went in really short," said Gonzalez, adverting to the puffy ankle that kept Came Home from his fall prep, the Norfolk Stakes (gr. II). "And the best thing we did is we didn't run him back as a 2-year-old. We gave time to the horse." In typical Gonzalez fashion--and with the unflinching support of breeders McCaffery and John Toffan--it paid off. Came Home emerged from his hibernation a bear, knocking off the seven-furlong San Vicente Stakes (gr. II) for fun in his 3-year-old debut in February. And though critics divined that the son of Gone West had reached his distance maximum that afternoon, he showed no signs of slowing down a month later, this time with a performance in the San Rafael Stakes (gr. II) over a mile. The ensuing few weeks, however, Gonzalez would just as soon forget about. One incident saw Came Home cast in his stall one night, producing a sore back that required X-rays, nuclear scintigraphy, and an inopportune break in training. A subsequent fever, forcing him to delay the colt's first breeze since the San Rafael, began to raise eyebrows and cause whispers. Gonzalez, ticked off by floating perceptions that Came Home wasn't healthy, that his works were too slow, that nine furlongs would be too much to handle, soon reached a breaking point. "Everybody said something was wrong with the horse," he sighed, adding that veterinarian Vince Baker provided routine confidence boosts. "I started feeling better in the last week. The horse was training more aggressive, more like himself, like he was healing. I knew he could go the distance because if you watched him the last time when he ran a mile, he just opened up." Nevertheless, the time lost was considerable, and a minor hoof bruise, resulting from a thrown shoe just two days out, kept Gonzalez fretting right up to game day. When Came Home finally stepped to the track in front of an on-track crowd of 36,025, Gonzalez was fully aware that his preparation was less than optimal. "This horse, today, to me was 90% going into the race," the trainer said afterward, noting that Came Home went in with just a trio of light works. "We took the chance that he might get tired." An alert break allowed Came Home to escape the brunt of the commotion caused at the start. Instead, Mayakovsky's stumble and Danthebluegrassman's right-hand turn from the gate squeezed back Lusty Latin, leaving the late-running longshot well behind entering the first turn. As the rest of the field slowly unraveled behind Mayakovsky's first quarter in :23.18, McCarron kept the eager Came Home hot on his trail. For a time, at least, Came Home was giving his rider all the right vibes. When Mayakovsky began to steal away rounding the second bend, however, McCarron stepped on the gas, and the response was only average. By now, Easy Grades had rolled into view on the outside, tackling Came Home as Mayakovsky towed them past the quarter pole. McCarron figured that Came Home, a natural-born warrior, would meet the challenge head on. He didn't--at least not right away. Down inside, Mayakovsky was soon under Pat Valenzuela's whip, and the son of Matty G was beginning to tire. To his right, Easy Grades managed to push a neck ahead before the fire finally ignited. When it did, McCarron's concern faded. Came Home lowered his head, bared his teeth, and fought back. "From the head of the lane to the wire, he really had to keep reaching, keep looking for some energy, and he found it," McCarron later said. "And it takes heart to do that." Came Home was in front passing the eighth pole--the precise spot where some thought he'd cave in--and boldly pulled clear of Easy Grades to win by 21?4 lengths. Meanwhile, Lusty Latin, a $62,500 claim last November, had found his best gear late, and closing from last, just missed catching Easy Grades for second. Their hurdles, it turned out, were rather daunting, making their efforts all the more impressive. Jockey Gary Stevens later cursed the fact the bridle on Easy Grades had been assembled incorrectly, thereby restricting his ability to guide the Honor Grades gelding properly. "He should have won," Stevens said. "Basically I had no control, no communication with him at all. You don't expect that to happen in any race, let alone a grade I. It's very frustrating." Conversely, trainer Jeff Mullins was tickled after finishing third in his first grade I race with Lusty Latin. The El Prado colt galloped out like a monster, but the unfortunate break had diminished his chances.
Continued...
(Chart,
Equibase
)
FREE! E-Newsletters from The Blood-Horse!...
Follow the top stories of major racing events, racing previews and results with FREE e-newsletters from bloodhorse.com. As news develops, we'll deliver updates to your inbox. Follow important events moment by moment, step by step!