Steve Haskin's Derby Watch -- Week 11 (4/3)
by Steve Haskin
Date Posted: 4/3/2002 12:01:21 PM
Last Updated: 4/23/2002 8:49:42 PM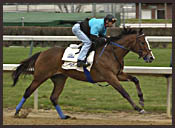 Tony D'Amico aboard leading Kentucky Derby contender Harlan's Holiday, at Churchill Downs on April 3.
Photo: Anne M. Eberhardt

Harlan's Holiday remained on top as there were little changes this week in the rankings of leading Kentucky Derby contenders compiled by senior correspondent Steve Haskin.1 --Harlan's Holiday/Kenny McPeek; Harlan-Christmas in Aiken, by AffirmedHe's plenty racing tough and has a good foundation under him. Blue Grass will be a good test for him. Basically, you can put anyone in the top spot and make a some kind of case, but the truth is, there simply is no favorite for this year's Derby.2 -- Repent/Kenny McPeek; Louis Quatorze-Baby Grace, by CipayoWorked a sharp 6 furlongs in 1:12 4/5. Should win the Illinois Derby and should change leads fine. He'll go into the Derby not having faced any of the heavy hitters, but McPeek feels this schedule is what's best for the horse.3 -- Saarland/Shug McGaughey; Unbridled-Versailles Treaty, by DanzigHe'll be facing several Young Turks in the Wood Memorial who are looking to knock off the old familiar faces and establish themselves as the new tough kids on the block. His race in the Gotham, in which he ran a 1:09 4/5 six furlongs, should help him fend them off.4 -- Essence of Dubai/Saeed bin Suroor; Pulpit-Epitome, by SummingSome like him, others give him little chance. But he certainly fits the profile of the kind of horse with whom Godolphin will win the Derby. He is blossoming and learning to take back and make one run. Who knows? In a year like this, we don't see how anyone can throw him out.5 -- Medaglia D'Oro/Bobby Frankel; El Prado-Cappucino Bay, by BailjumperIf he's as good as he looked in the San Felipe, he'll be very tough to beat in the Wood Memorial. He'll be bucking history with only four career starts prior to the Derby. But others in the same boat have run 2nd and 3rd. We still don't know what his running style is.6 -- Perfect Drift/Murray Johnson; Dynaformer-Nice Gal, by NaskraHe'll also be bucking history in several ways, mainly going into the Derby off a six-week layoff; last time it was done was in 1956. He's also a gelding. So, why is he ranked fifth? To put it simply, we just like the horse. But that six-week lull still is a major concern and makes us tread very carefully. 7 -- Blue Burner/Bill Mott; French Deputy-Haiati, by AlydarHe'd love a fast, hotly contested pace in the Wood, but probably won't get it. We like to see a horse win at least one race leading up to the Derby, but all he really needs is to be getting stronger in the final furlong. No one is really talking about him, but if he can get the 1 1/4 miles, he could be the dark horse this year. And he's one Repent defeat away from getting Bailey in the Derby.8 -- Sunday Break/Neil Drysdale; Forty Niner-Catequill, by Storm CatThe last thing we needed from him was more question marks. Switched leads six times in his allowance victory. Each time he ducked in, it was after he jumped back on to his left lead. Just a totally bizarre performance. We have no idea what to expect in the Wood.9 -- Came Home/Paco Gonzalez; Gone West-Nice Assay, by Clever TrickIf he can get the better of Mayakovsky and keep going, then at least it'll earn him his ticket to Louisville. Then he can worry about the mile and a quarter. Right now, he just needs his talent to take him the next step.10 -- Johannesburg/Aidan O'Brien; Hennessy - Myth, by OgygianWe'll at least get some kind of indication what we're dealing with after he runs at Lingfield on April 6 or the Curragh on April 7. He needs a very strong race, but also needs to beat good horses who can toughen him up for the big one four weeks later.11 -- Azillion/Bob Hess; Alzao-Olivia, by Ela-Mana-MouHe'll get Corey Nakatani for the Blue Grass and Derby. With Nakatani's strength and his natural stamina, that should be a perfect fit. Off his race in the Spiral Stakes, he seems to fit with the top horses and should only keep getting better.12 -- Windward Passage/Steve Asmussen; Captain Bodgit-Storm Runner, by MiswakiThe more we watch the Rebel the more we're impressed with his long, smooth strides. He's a different horse since leaving Fair Grounds, where he had ulcers and wasn't eating well. Now he's "eating like a maniac."13 -- Buddha/James Bond; Unbridled's Song-Cahooters, by Storm CatRunning speed numbers horses with his lack of experience are not supposed to run. But judging by the monster number he ran in his last start, he's ripe to "bounce" in the Wood Memorial. He's a big, powerful colt, and even if he does regress, he still should run a good race and make a big jump forward on Derby Day. But having only three starts (one virtually a non-race) still is bothersome.14 -- Request for Parole/ Steve Margolis; Judge T C-Madison's Quest, by Deputy MinisterWill run in the Blue Grass Stakes. He's one horse who really doesn't need a hard race, coming off two head-to-head stretch battles, and having a hard 2-year-old campaign behind him. Pat Day has opted to ride Buddha in the Wood Memorial.14 -- Mr. Mellon/Elliott Walden; Red Ransom-Mackie, by Summer SquallAnother horse Pat Day jumped off on April 13. He heads for Arkansas Derby off his impressive score in the Rushaway. Needs to step up against better competition, but Arkansas Derby will be the lightest of the three big preps that day, so he should move forward. He has the breeding and the talent; now we'll have to see how far they can take him.16 -- Castle Gandolfo/Aidan O'Brien; Gone West-Golden Oriole, by Northern DancerHe'll run where Johannesburg doesn't. He's pretty much a guess right now, never having run on the dirt, but he's certainly bred for it, and he's been the Derby distance. If you can get some juicy odds on him, this is the year you want to take a shot on this type of horse. 17 -- Danthebluegrassman/Bob Baffert; Pioneering-Stay With Bruce, by Grey Dawn IIHe could be the smart pick in the Santa Anita Derby at the odds, as the two favorites still have question marks regarding distance capabilities. If he can rate nicely, we see him sitting right the leaders, then engaging them around the three-eighths pole. Then it's a question of who can keep going. He's shown he's a tenacious fighter and that will help him. Baffert's last chance to make the Derby, so you know he'll have him cranked for a big effort.Rest of Contenders



Copyright © 2015 The Blood-Horse, Inc. All Rights Reserved.