Graded Earnings to be Used for Oaks Eligibility
by Deirdre B. Biles
Date Posted: 4/1/2002 7:15:35 PM
Last Updated: 4/2/2002 3:36:54 PM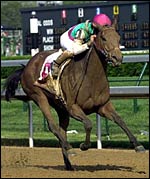 Flute was almost denied entry into last year's Kentucky Oaks, which she won.
Photo: Mike Corrado

Churchill Downs has changed the conditions of the Kentucky Oaks (gr. I) to give preference to 3-year-old fillies with the highest lifetime earnings in graded stakes. Previously, when the race was oversubscribed, preference was given to fillies with the highest career earnings regardless of whether races were graded.Last year's Oaks winner, Flute, almost didn't make it into the field even though she was considered one of the favorites after she finished second to Golden Ballet in the Santa Anita Oaks (gr. I). It took a late defection by Scoop the morning entries closed to open up a spot in the Kentucky Oaks for Flute, who had earned only $96,200. The Oaks is limited to 14 starters.While entries for last year's Oaks closed with a full field, only 13 fillies ran after the late scratch of Raging Fever. In 2000, 14 started after two fillies were excluded because they didn't have enough earnings.The change in the conditions for the Oaks puts it in line with the Kentucky Derby (gr. I), which uses lifetime graded earnings to enforce its 20-horse limit."I can't tell you why the conditions for the Oaks and the Derby were different," said John Asher, Churchill's vice president of racing communications. "But Flute's situation brought (the difference) to our attention. It wasn't something that we had really had to think about before. But it would have been unfortunate if a filly of Flute's caliber had not been able to run in the Oaks. This is a decision that, I think most people would agree, makes sense."



Copyright © 2015 The Blood-Horse, Inc. All Rights Reserved.