Seattle Slew Moves to Hill 'n' Dale
by Kristin Ingwell Goode
Date Posted: 3/31/2002 5:14:01 PM
Last Updated: 4/4/2002 10:52:53 AM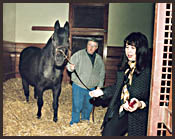 As he settled in to his stall at Hill 'n' Dale Farm on Monday, Seattle Slew awaits an apple from co-owner Karen Taylor, right, while groom Tom Wade holds the horse.
Photo: Tony Leonard

Triple Crown winner Seattle Slew moved from Three Chimneys Farm near Midway, Ky., to Hill 'n' Dale Farm near Lexington on Monday, April 1. Mickey Taylor, who with his wife Karen, has co-owned Seattle Slew since he was a yearling, said in a release Sunday, "I believe that it is in Slew's best interest to be in a setting which allows him to be more isolated from mares coming to the breeding shed. Hill 'n' Dale provides that opportunity."Hill 'n' Dale is owned by John G. Sikura Jr., and is about six miles away from Three Chimneys, which is owned by Robert and Blythe Clay. Seattle Slew has been at Three Chimneys since 1985, when he came to the farm from Spendthrift Farm. Since then Tom Wade has been his main caretaker. Wade is making the move to Hill 'n' Dale with the 28-year-old stallion. In late February, Seattle Slew suffered from spinal cord compression due to arthritic changes in the vertebrae and was removed from stud duty on Feb. 25. It was his second bout with the illness--the first, in 2000, resulted in a surgical procedure that fused a Bagby basket between vertebrae No. 6 and 7. In February, Slew was diagnosed with a similar problem between the No. 4 and 5 and No. 5 and 6 vertebrae. He has been recovering well from a second surgery performed on March 2, and returned to Three Chimneys on March 6. However, since the farm is a breeding operation, the horse has apparently been agitated by the mares coming to be bred to other stallions. In the release, Clay said "We have been honored to have had the opportunity to care for and manage Seattle Slew since 1985. We will be forever grateful to his original owners, Karen and Mickey Taylor and Jim Hill, and to the Seattle Slew syndicate for entrusting us with this great champion. We wish him all the best as he recovers from his most recent surgery."



Copyright © 2015 The Blood-Horse, Inc. All Rights Reserved.