Steve Haskin's Derby Report (3/29): The Derby Gods Odds
Updated: Tuesday, April 23, 2002 8:31 PM
Posted: Friday, March 29, 2002 5:05 PM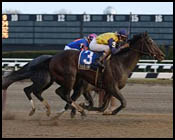 Photo: Adam Coglianese
Saarland, shown winning the 1 1/8-mile Remsen last year.
There were no big 3-year-old stakes this weekend, and the void proved too difficult for us to cope with. We need our Derby fix. So, our mind started racing – how do we put this unwanted respite to good use? How do we come up with a potential Derby winner when the only meaningful race of the week was the spasmodic allowance victory by Sunday Break?When Sunday Break twice veered sharply to his left, looking more like an Indy 500 car blowing its left, front tire, we realized once and for all that this year's Kentucky Derby may just be impossible to handicap using the normal, rational means of prognostication. And when normal and rational are cast aside, it usually means the Derby gods are cooking up some plot.We realize we've been told that we have a tendency to play up the Derby gods angle too often, even in jest, and we have cut down quite a bit over the past few years. But there are times when the ethereal is simply more logical than the material...not to mention more fun.So, we have decided to list the Top 5 choices for this year's Derby based on what the Derby gods might be concocting rather than whether Came Home can go a mile and a quarter, and whether Johannesburg can win off of one start, and whether Saarland can win off of two starts, and whether Medaglia d'Oro can win off of four career starts, and whether Perfect Drift can win off a 6-week layoff, and whether Repent, Sunday Break, and Mayakvosky can run straight.So, here goes. Who knows, this may make as much sense as the past performances:1--
Saarland
(2-1)-- We all know the Derby gods love elderly, classy owners who have paid their dues and/or are great role models for the sport (Mrs. Frances Genter, Paul Mellon and his trainer Mack Miller, W. Cal Partee, William T. Young, John Oxley, Bob Lewis). No one in racing has been as classy an owner for so many years as Ogden Phipps, who lost the Derby by a neck with Dapper Dan 37 years ago and hasn't come close since. The last of the classy, old-time private stables, the Phipps Family has come up empty seven times with the Wheatley Stable of Phipps' mother, Mrs. Henry Carnegie Phipps; three times with Ogden, and once with Ogden's son, Ogden Mills. Now we have the big, grand-looking Saarland, owned by Derby first-timer Cynthia Phipps, Ogden's daughter who has maintained the Wheatley Stable colors. With Ogden now in his 90s, how fitting for his daughter to win the Kentucky Derby in her first try in the famed silks of her grandmother. We can't believe the Derby gods haven't thought of this one before.2--
Blue Burner
(3-1) -- So, Bill Mott can't train 3-year-olds. So, no racing gods will ever smile down on George Steinbrenner. Why not? Mott, first of all, fits right in the profile of recent Derby-winning trainers Neil Drysdale and John Ward, both veteran trainers known for their conservative training methods. Both had enough respect for the Kentucky Derby not to attempt to conquer it just because it's there. The horses have always come first for them, as they do for Mott, who showed with Cigar in 1995 and '96 that he is all class and a great spokesman for the sport. Steinbrenner is a winner, and he sure hasn't made any enemies among the baseball gods. The truth is, winning the Derby would be as special, if not more so, than winning the World Series. Steinbrenner loves his horses, as he's shown by his affection for Dream Supreme. And from what we've observed, we believe he respects them more as athletes than baseball players. Who better than to thrust racing into the national spotlight than The Boss himself.3--
Essence of Dubai
(7-2) -- We've lost count how many millions of dollars Sheikh Mohammed has donated to the various September 11th relief funds, including all the money earned by his horses in last year's World Thoroughbred Championships. Sheikh Mohammed wants to win the Kentucky Derby very badly, and has geared his entire 2-year-old campaign in America and 3-year-old campaign in Dubai toward achieving that goal. He's learned his lessons along the way, all the time expounding on the virtues of the Run for the Roses and how special it would be for Godolphin to win it. He has surrounded his horses with the best horsemen he can find, and his horses get the very best of everything. When they come here, you can see the results in their resplendent coats. If you ever come back to Earth as a Thoroughbred, you want to be a Godolphin horse. Last year, the Derby gods had their mind set on presenting John Ward and John Oxley with a well-deserved Derby victory, and in order to do so, they eliminated Godolphin's Street Cry, who came down with an injury shortly after arriving in America. We all saw in the Dubai World Cup what Street Cry was capable of at 1 1/4 miles. But Sheikh Mohammed took it all in stride and came to the Derby, passing up the 2,000 Guineas, to root on his second-stringer Express Tour. And don't forget about all the neats gifts they give away during Derby Week, like Godolphin hats and jackets and shirts. Now, Godolphin is back with a horse who has the pedigree, the fitness, the running style, and the 2-year-old form in America, and he's already won at 1 1/4 miles. Could be the pieces are coming together.4--
Repent
or
Harlan's Holiday
(4-1) -- In 1995, Kenny McPeek finished second in the Kentucky Derby with Tejano Run to Michael Tabor's Thunder Gulch. In the 2001 Breeders' Cup Juvenile, he finished second with Repent to Michael Tabor's Johannesburg. Twice, his chance at national fame was thwarted by the Coolmore giants. This year, we could have as many as three Michael Tabor/Coolmore horses in the Derby. Did anyone say McPeek-Tabor exacta? Well, even a McPeek-anyone exacta would be fitting. McPeek, with his wife Sue, their new daughter and their old lovable Black Lab Blinkers, make an ideal First Family of racing. There was Sue overcoming a serious illness two years ago and the heartwarming victory of their filly She's A Devil Due in the 2000 Alcibiades Stakes. There would not be a more popular victory this year than the McPeeks taking home the roses.5--
U S S Tinosa
(15-1) -- Jerry Hollendorfer is still an iffy proposition, as we don't know yet whether the Derby gods are ready to finally reward him after so many cruel blows or if they're still out to get him. In 1998, Hollendorfer had the brilliant Event of the Year training sharply at Churchill Downs when the colt suffered a fractured knee eight days before the race. In 2000, Globalize was out on the track two days before the race and got kicked by his lead pony, suffering a severe gash that forced him to miss the race. This year, he had Yougottawanna ready for a big effort in the Santa Anita Derby, only to have him fracture a bone in his foot. Now, he's down to U S S Tinosa, who will contest the Santa Anita Derby. If he runs well enough to head for Kentucky, keep a close eye on him. Then the big key will be whether or not he makes it to the starting gate. If he does, then just maybe the Derby gods finally have something good in store for Mr. Hollendorfer.Other possibilities are:--
Equality
or
Changeintheweather
, both owned by the Pin Oak Stable of Josephine Abercrombie, a long-time pillar of Kentucky breeding who represents the classy old school and certainly has paid her dues.--
Mr. Mellon
, if the Derby gods feel his trainer Elliott Walden has suffered enough from those back-to-back, heart-breaking seconds with Victory Gallop and Menifee, and has one coming to him.--
Buddha
and owner Gary West, if the Derby gods are in a fun mood and got a big kick out of the Dollar Bill talking horse website. To have that much fun while your horse is getting into so much trouble every race could please the gods.
FREE! E-Newsletters from The Blood-Horse!...
Follow the top stories of major racing events, racing previews and results with FREE e-newsletters from bloodhorse.com. As news develops, we'll deliver updates to your inbox. Follow important events moment by moment, step by step!