Kentucky and Florida in 'Horse Capital' Battle
by Tom LaMarra
Date Posted: 3/28/2002 8:37:54 AM
Last Updated: 3/29/2002 3:23:17 PM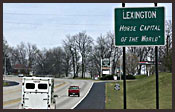 A horse van passes by a sign near Lexington proclaiming the city the "Horse Capital of the World."
Photo: Anne M. Eberhardt

Is the "Horse Capital of the World" Lexington, Kentucky or Ocala, Forida.? According to the United States Patent and Trademark Office, it's Ocala and the surrounding area in Marion County.Numbers have nothing to do with it. Texas and California lead the way by far in terms of number of horses of all breeds by state. But Kentucky and Florida, in a sort of friendly rivalry, have often gone back and forth on the issue of which state is the horse capital.The Louisville Courier-Journal reported March 28 that Lexington and Fayette County could face legal challenges should it continue to call itself "Horse Capital of the World." There are 40 signs in the Lexington area that have the slogan.Dick Hancock, vice president of the Florida Thoroughbred Breeders' and Owners' Association, said he obtained the trademark on behalf of Ocala and Marion County. He applied for the trademark about three years ago, but said Florida has been using it for about seven or eight years."It's good promotional material for everybody," Hancock told The Blood-Horse. "But to actually define what is the horse capital of the world, you can use all kinds of things to determine that."Hancock acknowleged other states have more horses. But he said four regions in the world have a large concentration of horses in a small area: Newmarket, England; Chantilly, France; Lexington; and Ocala. He said there is a "uniqueness" to those areas in terms of horse population.Maria Hernandez, a spokeswoman for the patent office, told the Courier-Journal only the holder of the trademark can use the slogan. An attorney for Lexington/Fayette County said he is "prosecuting" the case, and hopes Lexington can continue to use it on signs and other materials.Kentucky is known primarily for Thoroughbreds, but like Florida it is home to many other breeds, including Quarter Horses and Arabians. Hancock said Kentucky is known for a much larger Thoroughbred population, but Florida is the place where many of those horses train in the winter."To make sure there were no hard feelings, we didn't go after the word 'Thoroughbred' (in our slogan)," Hancock said. "We don't want to dimish Lexington's role in the Thoroughbred industry. It sets a mark we would love to achieve."Hancock said the Ocala area has trademarks for "Horse Capital of the World" and "Ocala, Marion County, Horse Capital of the World." He said he didn't know if Kentucky interests could use some variation."It comes down to the U.S. Patent Office," he said. "This is one for the lawyers to figure out." According to the American Horse Council, Texas and California clearly lead the way by total number of horses (all breeds) with 678,000 and 642,000, respectively. Florida is third with 299,000, followed by Oklahoma, Illinois, Ohio, and Colorado. Kentucky is eighth with 150,000, according to the Horse Council.



Copyright © 2015 The Blood-Horse, Inc. All Rights Reserved.