Florida's Horse Art Auction Nets $846,000
by Ben Baugh
Date Posted: 3/25/2002 10:04:14 AM
Last Updated: 3/25/2002 10:10:09 AM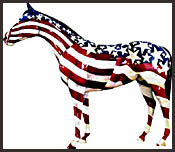 "Old Glory" brought the top price of $85,000 at horse art auction in Ocala, Florida.
Photo: Don Frazier Photography

When the Marion Cultural Alliance was formed, no one had any idea how successful the concept of Horse Fever would be. On March 22, the auction of 52 fiberglass horses brought $846,000.The project was spearheaded by event chairman Laurie Menard and Marion Cultural Alliance chairman Paula King, along with the Florida Thoroughbred Breeders' and Owners' Association. The fiberglass horses, which had been on display at various locations in Marion County from late September through early March, were up from grabs during the auction at Live Oak Stud."The event is a lot of fun," auctioneer Ryan Mahan said, "We were part of a similar event last year in Kentucky. We've been coming to Ocala for so long for the sales. It's great to be a part of the community."Hip No. 13, called "Old Glory," was the sale-topper at $85,000. The buyer was Padua Stables. The horse was sponsored by Donald Dizney's Double Diamond Farm and painted by artist Kimberly Samson.Half of the total proceeds will go the charity of the buyers' choice, and the rest to the Marion Cultural Alliance to support the arts in the Ocala area."Horse Fever has a life of its own," King said. "It has been more than a year of hard work. Horse Fever has helped people realize that art is an important part of the human experience."Several of the fiberglass horses will stay in the area. "I bought three horses," said Richard Simon of Sez Who Thoroughbreds. "This is a great project and it's for a great cause."



Copyright © 2015 The Blood-Horse, Inc. All Rights Reserved.