Fair Grounds Race Report: Well Connected
by Gary McMillen
Date Posted: 3/24/2002 7:23:45 PM
Last Updated: 3/26/2002 2:51:36 PM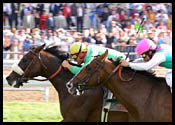 Sarafan edges Beat Hollow in the Explosive Bid Handicap.
Photo: Fair Grounds/Natalie Ardoin

Published in the March 30 issue of The Blood-Horse
$19.40. From the students, came the collective sound of frustration--thud. After Gary Tanaka's Sarafan prevailed by a neck in the $700,000 Explosive Bid Handicap (gr. IIT) on March 24, you could hear the synchronized slapping of palms to foreheads and programs beat into a pulp. C'mon guys. Lighten up. By now we should have this figured out. Whenever Neil Drysdale sends a racehorse east of the Mississippi, you can go to the window. Talk about depth. Breaking from post 11 in the field of 14, Sarafan had his work cut out for him. Eight different runners were graded stakes winners and the 5-year-old Sarafan was not one of them. Fan Club's Mister set the early pace with credibility. Even the Score sat close behind solid fractions of :23.86 and :48.27. For the first six furlongs, Sarafan was far back in eighth place, saving ground and finding his rhythm. At boxcar odds of 74-1, Even the Score took the first peak at the finish line when the field turned for home. Beat Hollow, under Alex Solis, commenced a huge rally that propelled him to the lead. Jockey Corey Nakatani steered Sarafan to the outside where the horse had a clear target to aim at. Sarafan began to take on the look of a horse that knew where he was going and what he had to do. The finish was an adrenaline rush. The two horses that had shipped together from California earlier in the week were flying again as a pair toward the wire. Tiring slightly, Beat Hollow was second as the public's choice, 2 1/2 lengths clear of Even the Score. Final time for the 1 1/8 miles was 1.48.88. "For sure, I thought he was good enough to win this race," said Nakatani. "That was why we came here in the first place. He was training really great back home and I just put him in the spot where he could win it on his own." "He's been unlucky in his last couple of starts," Drysdale said from California, where he had saddled Bella Bellucci to win the Santa Paula Stakes. "He got beat in some races he should have maybe won."
Who said connections don't mean anything in horse racing? It was the second straight victory for owner Gary Tanaka in the Explosive Bid, following Tijiyr's winning effort in 2001. b (Chart, Equibase)



Copyright © 2015 The Blood-Horse, Inc. All Rights Reserved.